Ghanaian singer and afro fusion artist Gyakie was recently in the United States for the first time where, among other stops, she performed at the It's About Time concert in New York headlined by compatriots Sarkodie and R2bees.

She's been out and about promoting her second EP, titled My Diary. Released in July, My Diary is a smooth and compact six-song collection builds on the promise hinted on Seed, her first body of work which was released in 2021.
My Diary is a more personal record, one that has the 23-year-old vocalist born Jackline Acheampong,ruminating on the ups and downs of romantic entanglements. The EP benefits from the confidence of a young woman who, having completed her university studies, is now for the first time able to focus squarely on her music career. It also helps that she signed an international record deal with Sony Music Entertainment /RCA Label Group UK and is able to benefit from the privileges in terms of production and distribution support.
We caught up with Gyakie who called in from Los Angeles and chatted about her latest EP, her future plans and the joy of working with women.
---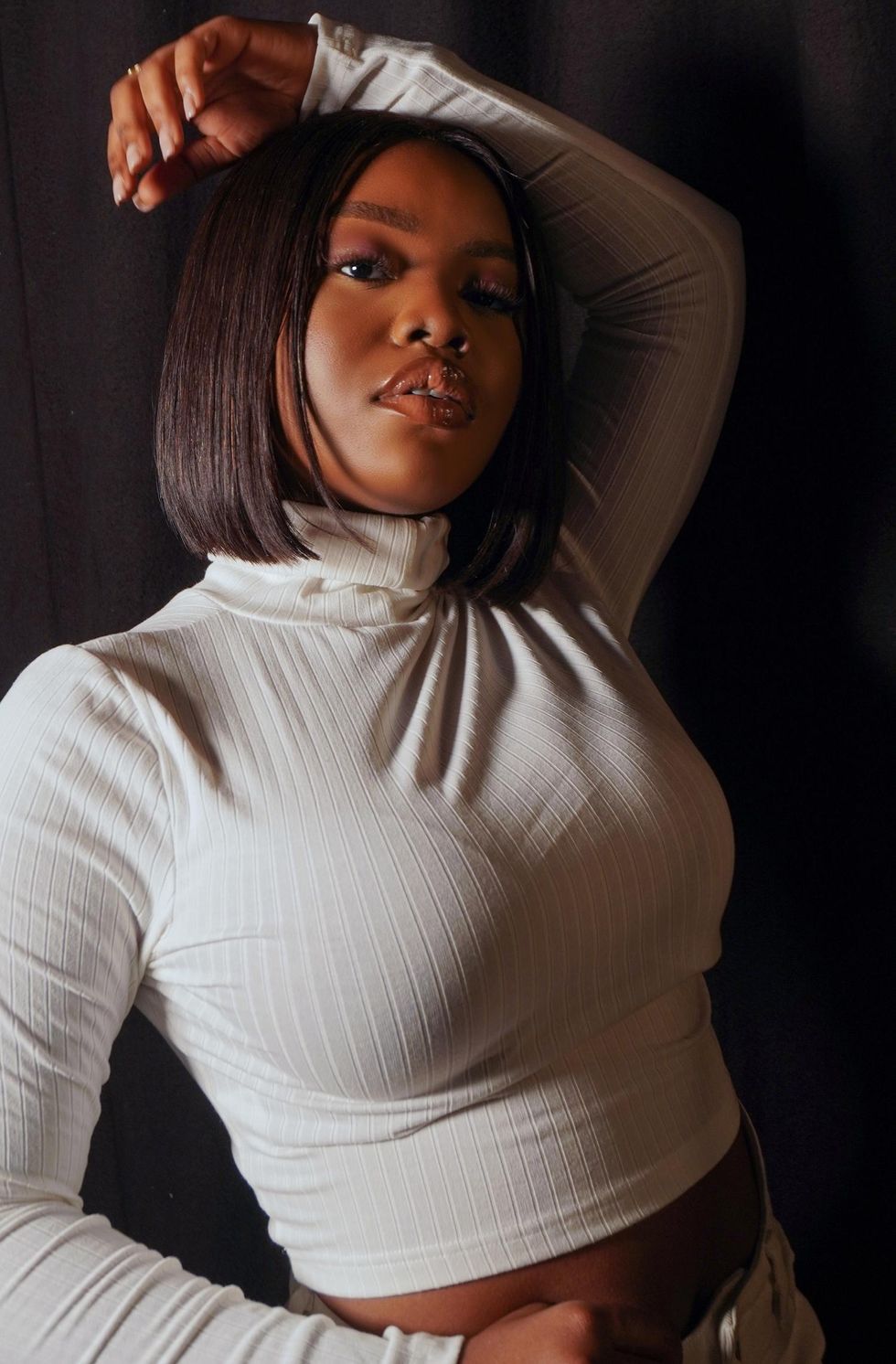 Photo courtesy of Sony Music Entertainment.
What are you hoping to communicate with MyDiary? The title suggests a more personal record.

This project is called My Diary because it is more personal and more intimate. Whatever you hear in the record is me inviting you into my world and my personal space.
Why is now a good time to open up and let people in?
I felt this is a good time because I have had quite an interesting journey. I have been performing for three years now and a lot of things have happened to me and around me since then. It has been smooth and rough at the same time, and I felt like this was the best project for me to voice out all the things that have been on my mind that I have never said outside to anybody.
Does it make you feel vulnerable, letting people in and performing these songs publicly?
Inviting my fans or listeners in is safe for me because these are things that I feel comfortable sharing at this time.
What are some of the most remarkable things that have happened to you since you started your musical career?
Combining music with school was hard. So many times, I had to make tough decisions. I had to choose between attending a show or going for classes, or even to the studio to work on a project. Thankfully I am done with school now and most of these reflections you will hear them on the last song on the EP titled WakaWaka.
Congratulations on finishing school. Are you focusing on music full time?
At the moment, I am focused on the music 100%. When I was about to graduate a lot of things had to be put on hold so there is so much to do and catch up on. Perhaps in the future I am hoping to diversify my interests but for now it is all music.
What informed the choice of "Faraway" as the lead single?

"Faraway" is a lot of emotions and I wrote a full story to the song. It's a blend of reggae and R&B. It is a love song that details the heartbreak of someone who goes to extremes to make sure the person they thought they loved is okay.
You also have Davido on "Flames." How did that happen?
My team and I were in Nigeria at the time and ended up in the same environment with Davido. I played a couple of my unreleased songs for him to listen to, and he really loved Flames so he decided to jump on it and record a verse.
What has it been like for you navigating the industry and trying to reach new audiences across West Africa and now in the United States?
It has been amazing, when I look back at how everything started out for me from my first single, I have come to realize that every single or project I have released has had the good fortune of introducing me to a new market or bigger audience. My fan base keeps getting bigger with each project and I am very proud of this and excited about the future.
How would you describe your music?
I am an afro-fusion artist. I blend in all genres of music that fall under the African sound. [My single] "Far Away" for instance has some reggae in it and afro style. "Waka Waka" has some dancehall reggae as well as some afrobeats. "Audience" is jazz with a little bit of African feel.
Your dad is highlife veteran Nana Acheampong, and you are an afro-fusionist. Is there any conflict at home?
I actually have done highlife. The two songs I have recorded with Bisa Kdei, "Sor Mi Mu" and "Sika" are both highlife. Also I have recorded lots of highlife songs that are yet to be released. Highlife is in my genes and will always be blended into my sound alongside other genres.
How do you approach making music?
I always like to record in dark places with no lights. I want to freestyle at first before I write the lyrics into the song. I listen to the beat and then try to imagine what I want the song to be about and what I want to say. Then I do some melodies, freestyle and then write the lyrics. I go back and listen to the song from start to finish. It is a feeling I get when I know the song is done. I just know.
What has the reception for the EP been like?
Since this EP came out, the reception has been flames I will tell you. people have been sending me positive vibes, they really love the songs, and it makes my team proud because we were looking forward to this. We worked really hard for it and we wanted people to appreciate that the wait for something new was worth it. We prepared and planned for this so I am glad that the numbers are shooting up and the charts are welcoming.
Is it harder for you as a woman making music in Ghana's music industry?
It is a male dominated industry in Ghana so as a woman I feel like you always have to do it two or three times harder. One good thing though is we are now getting the recognition we deserve compared to before and I am hoping that in the future it is going to get better so more of us can come in and thrive.
Who is your dream collaborator?
There are so many artistes on my bucket list, and I have just been recording new music and getting ready for anytime I get the chance to work with any one of them. Aṣa is maybe top of my list. H.E.R. as well, Popcaan and Tiwa Savage.
What would you be doing if not music?
I would be in the corporate world still doing things around business. I actually have plans of building a school sometime in the future for people interested in music. It doesn't necessarily have to be singing, it could be playing specialized instruments, music business, etc.
Listen to Gyakie's 'My Diary' EP below.