In the studio, Zimbabwean-born and Cape Town-based musician Hanna puts her foot down to achieve what she wants sonically. "Can we do that again?" she prompts GT Beats, an engineer she is working with on a hot day in November of 2020.
Having dropped her mixtape titled The Girl In The Durag in October, she is in Johannesburg for press runs and making music with artists she has acquainted over the internet.
Hanna was constantly being referred to as "the girl in the durag" by members of Tall Racks, Nasty C's label, which was hosting a competition called Lift As You Rise in 2019. Rappers were called to record sixteen bar verses on a beat put out by Tall Racks, in order to be considered for the competition. Hanna was one of 11 artists chosen to join Nasty C and other Tall Racks members at the Cape Town Red Bull Music Studios to record their songs.
With a co-sign from Nasty C and many industry greats, the mixtape landed on willing ears.
With a vibey soundscape, The Girl In The Durag will take you through a lot of emotions—she raps about issues ranging from heartbreak to lessons taught by her father. Hanna's background in playing piano, guitar and marimba has equipped her to understand melodies, directly influencing her style of rap. It further builds on her soundscape which she always challenges.
---
The mixtape comes after being chosen as 1 of 100 artists on Mr Eazi's emPawa Africa competition in 2019. The competition supports the next generation of African artists equipping them with tools to advance their careers. When Hanna was chosen, she went on to record a song called "Peace" and filmed a video for it through the support of emPawa. This was the competition that linked Hanna to Lift As You Rise which connected her to the management team she is currently with.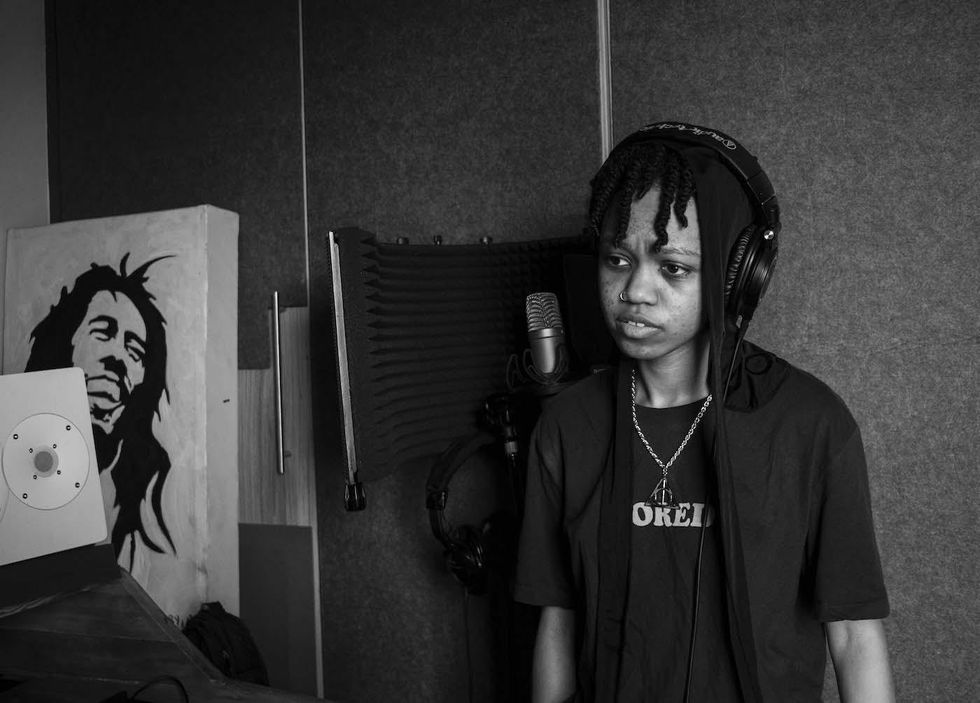 Hanna in the studio.Photo by Andy Mkosi.
Fellow rapper Luna Florentino, who features on the intro of Girl In The Durag with a voice note and also raps on "Bad Habits", is in the studio with Hanna on the day. In Luna, Hanna found a friend and confidant. Speaking of the friendship Hanna says she does not just take advice from anyone but when it comes from Luna she knows it's genuine and will always be considered.

Hanna speaks highly about the internet and how it helped get her career to where it is now. She refers to it as the "bread and butter" of her career. Hanna has been using social media to upload videos of herself rapping before enrolling into the University of Cape Town in 2017 where she's currently studying. People were enthused by the content, but it was a video she posted in early 2018 which would go viral on the internet. She says every trajectory that pushed her career forward came through social media.
On "OTW", the last song on the EP, Hanna raps:
"I was just a little kid/ posting up my verses on the internet/ I didn't talk about my feelings, so I had to find a way to deal with shit/ To my surprise the n*ggas around me were feeling it and that shit went viral on the internet"
In the interview below, Hanna speaks about getting into hip-hop, her ascent, collaboration, being seen and more.
Note: This interview has been slightly edited for length and clarity.

You rap, "16 I have been doing this since I was 16." Please take me through the early stages of your career.

It all started in high school, I started getting put onto hip-hop. In the beginning, it would be me just reciting verses that already existed. Then I started adding things and rewriting some of the stuff. When I came to the University of Cape Town in 2017, I joined the UCT Hip Hop Society. They have cyphers every week, I started rapping at the cyphers. After the cyphers, I started dropping videos on my Instagram and that is where things started to take off. My following began to grow and around that time I started getting attention from people in the industry. The likes of DJ Clock and Nasty C. People were retweeting them and sharing them. That was 2018. In 2019, I did Lift As You Rise and I did eMpawa Africa by Mr Eazi. Lift As You Rise was the turning point that is when I think it became really serious, both of those competitions put me on really big.
Why was it so important you make The Girl In The Durag with your friends and individuals whom you had identified as potential collaborators?

I was at a point where before I started working and recording the mixtape I had the opportunity to work with some really big South African artists and put out a project that is like, 'oh shit who is this person who is featuring all these people? What is the point of that, you know? The whole premise of The Girl In The Durag is how I became the person I am and who that is. Working with people outside of my immediate circle did not make sense. These people are part of my music journey, I would not be making music if it was not for them. So it made sense for me to work with them. It was great and it would not have been what it is with anyone else on the project. Weirdly, collaboration was never part of my process, only to an extent. I have grown into being more receptive to it. I also think it depends strongly on who those people are. If somebody I do not know would come into the studio and start telling me what to do we would have a problem. But with someone like Luna who is a really good friend of mine, someone I trust wholeheartedly musically, I can listen to what he is saying. Collaboration is important because sometimes people can hear things you don't. But also, it is a very fine line between taking the wrong advice and taking the right advice.
"Daddy Said" is descriptive of the relationship you have with your father. You open it up with such a strong line, "I am blessed" and the song offers a different narrative in terms of a father figure in a rapper's life.
I never actually thought about it that way. The whole point of the song for me was in the story of the mixtape. Coming right after the lowest point which is bad habits, it is just a light in the tunnel. Sometimes you just recall all of the things, we all have people in our lives who remind us of who we are and things we are capable of. I do not have a shortage of people like that. For some reasons I recalled all of the things my dad has told me. It was just important to me because it was the easiest way for me to speak to myself in a song. It was the closest to home.
How did you end up working with Beat Sampras?
I met them because my management team works with them in publishing, we were all in Cape Town. I was having a show and they were having a meeting. We linked up and I realised Dylan who plays guitar and sings for them was someone I had seen at Lift As You Rise. Someone on my team was like I should really link up and try to make some music together. We became good friends and we started making some good stuff. And we made "LowKey".
Hanna - Low Key (Lounge Performance) with Beat Sampraswww.youtube.com
Your name has come up in so many interviews and conversations in mainstream media. How does being seen make you feel?

There is a lot of value in that. It is lovely to feel recognised but there is also like a completely different dark side of that conversation. I mean being seen means you're being watched and that is kind of unsettling. My value of self in this music journey is far above everything else. I am very very concerned with my mental health, my feelings, my thoughts and my rights you know. It can go sideways quick. But I am grateful because they helped get me into conversations, rooms and opportunities that I probably wouldn't have had. I am cautiously optimistic.
What impact would you say Lift As You Rise had on your career?

Lift As You Rise was the most life-changing. The most pivotal probably. It linked me to so many dope artists, it also linked me to my management team.
You have transitioned from running your own ship to having a team dedicated to you. How has that been?
It has been interesting. It's not all that it seems to be, I do not mean that in a bad way. I mean there is no situation where you are not involved in your career. It's a joke to think that if you get management you are going to relax. You're still very much in all conversations and I like to be very much involved with what is happening. I guess the difference is influence, network and resources, right? There is a change in the admin work and the stuff that I have to deal with and worry about. It is a very interesting situation. It is really weird when you have people trying to make your dream happen. First and foremost, though, you have to be that person for yourself.
Which audience interaction do you prefer: live or online interaction?
They both have their pros and their cons. Online people can start going this way, you know. Online stuff is great and accessible. People from all over can join, to be able to interact with people who are not physically there is a huge reach. I am a people's person, so I thrive very much off of being around people. But it also has its conseCOVID.
Stream The Girl In The Durag by Hanna on Apple Music, Spotify and everywhere else.