The culture, religion, music and aesthetics of the continent have long been a go-to source of inspiration form some of the biggest artists of our day, and when we say big, we mean Beyoncé big.

Beyoncé has looked to African artists and creatives for artistic direction on numerous occasions, and their influence has helped produce some of her most notable works.
Most recently, her and Jay-Z referenced the classic 1973 Senegalese film Touki Bouki In their On the Run II promo poster.
---
This, of course, is just one example of Beyoncé's affinity for African culture. Below are nine previous instances when Beyoncé looked to the continent for creative vision.
"African-Inspired" Push Party
Ahead of the arrival of their twins Rumi and Sir Cater, Bey and Jay threw an "African themed" push-party that had guests show up in their best African inspired garb. Beyoncé—whose sported ankara print effortlessly on a number of occasions—donned a colorful ankara-style wrap-around skirt and blouse, with henna embellishing her belly. While Jay-Z kept it simple in a black fila and African continent chain.
Beyoncé's 2017 Grammy Performance
While still pregnant with the twins, Beyoncé gave a moving performance of at the 2017 Grammys. The singer performed adorned in a gold beaded number and halo crown, once again paying homage to the Yoruba Orisha Osun.
Beyoncé Channels Orishas In Viral Maternity Shoot
She channeled Yoruba spiritualy once again in her interenet-breaking maternity shoot announcing her second pregnancy. Shot by Ethiopian fine art photographer Awol Erizku, a portion of the shoot featured Beyoncé floating underwater, draped in bright yellow garments reminiscent of the Yoruba orishas Oshun and Yemoja.
'Lemonade'
Beyoncé's seminal work was packed with references to Afro-diasporic religion. In the standout video for "Hold Up," Beyoncé channeled the Yoruba goddess of fertility Osun as she emerged from water wearing a flowing yellow gown, drawing on popular depictions of the deity.
In the music video for "Love Drought" the singer drew on the story of Igbo Landing, the mass suicide in 1803 of a group of Igbo captive, who instead of submitting to slavery in the United States, decided to resist by drowning themselves in the ocean instead.
Several African creatives were commissioned to bring the project to life. Somali poet Warsan Shire's work, which also draws on themes of Yoruba and Santeria, provided the visual album's unforgettable narration, while Nigerian visual artist Laolu Senbanjo provided his Sacred Art of the Ori in the music video for the single "Sorry."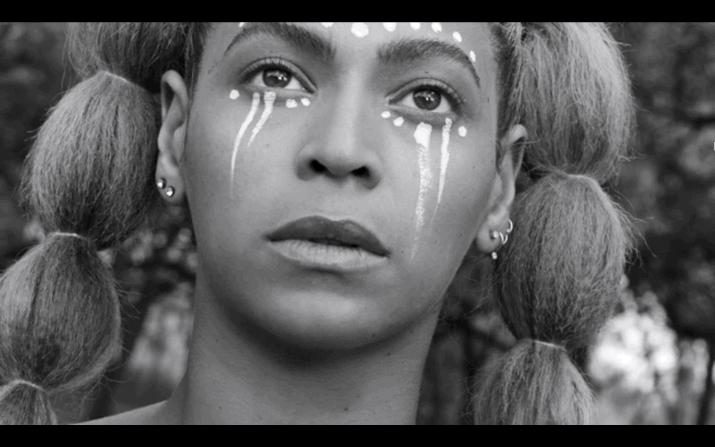 "Grown Woman"
"Grown Woman," an afrobeat-inflected bonus cut from Beyoncé's self-tiled sixth studio album, featured striking vocals from Guinean singer and dancer Ismael 'Bonfils' Kouyaté, whose chants appear throughout and illuminate the song's bridge.
Beyoncé quotes Chimamanda Adichie on "Flawless"
The singer sampled the famous words of Nigerian writer Chimamanda Adichie on her 2013 single "Flawless," which Adichie gave in her unforgettable TED Talk, "We Should All Be Feminists."
Beyoncé's Fela-Inspired Album
Back in 2015, R&B singer and producer The Dream, revealed that Beyoncé had recorded a 20-track album inspired by the music of Fela Kuti prior to the release of her 2011 album 4. Though the album never saw the light of day, it did inspire one of 4's standout tracks "End of Time."
Beyonce x Pantsula
For the music video for Run the World (Girls) her lead single from the album 4, the singer sought out Mozambique's Tofo TofoDance Crew, who helped create the video's intricate dance number, inspired by their popular Pantsula dance routines.
Fela Kuti Musical

Back in 2009, Jay-Z, Beyoncé and fellow moguls Will Smith and Jada Pinkett Smith signed on as co-producers on the Broadway hit Fela!,chronicling the life of the legendary musician. Jay Z, like many hip hop artists, is inspired by Kuti's music and revolutionary prowress. The artist named Kuti's 1976 antimilitary anthem "Zombie" one of his "songs for survival" on his 2016 Tidal playlist.