The year's best streetwear, accessories, books and more from Africa and the Diaspora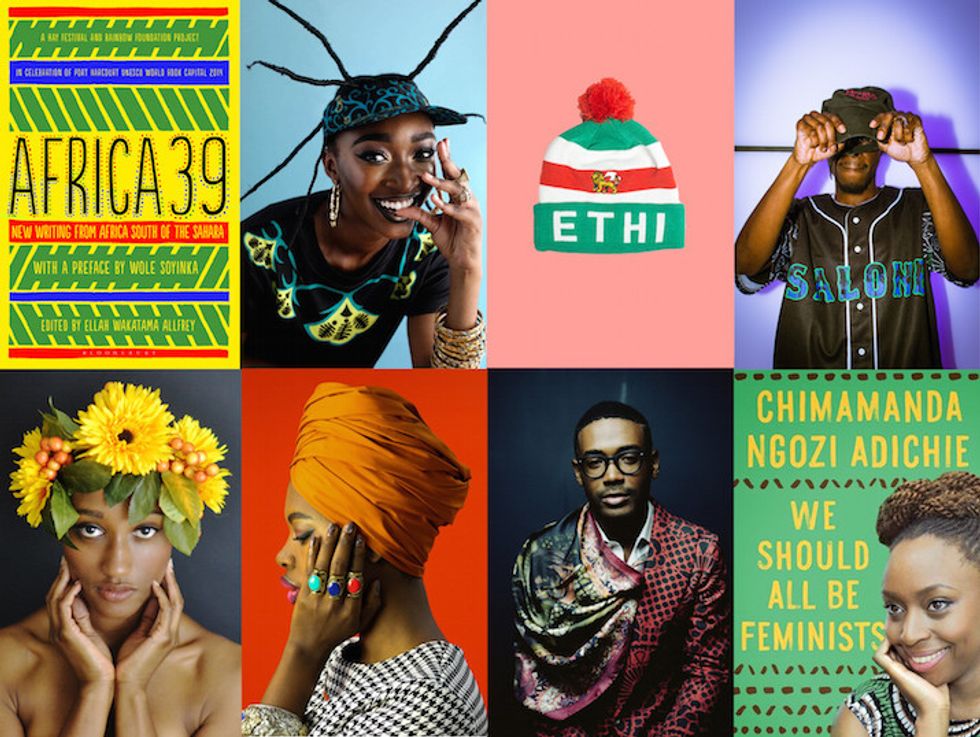 Top Left to Right: 'Africa39: New Writing from Africa South of the Sahara; STREETCHIEF; Modern Pharaoh; Mizizi. Bottom Left to Right: Caven Etomi; Fanm Djanm; Ikire Jones; Chimamanda Ngozi Adichie's 'We Should All Be Feminists.'
Throughout the year, we here at Okayafrica have spotlighted hundreds of small business owners and creatives making outstanding strides in fashion, film, art and beyond. With the holiday season upon us, what better time to delve deeper into these entrepreneurs' one-of-a-kind works than now?
We've rounded up the best and brightest brands and products guaranteed to eliminate any last-minute shopping crises and elevate one's gift-giving game. The creators behind these picks selection hail from all over; their signature styles as distinct as their home bases, representing cities like Monrovia, Brooklyn, London, Abidjan and Washington D.C. So, it's safe to say that there's something for just about everyone on your holiday gift list. Browse through our entire guide for some overall inspiration or head straight to a particular category by clicking below.
---
SHOES, ACCESSORIES & BEAUTY ITEMS

Fanm Djanm Fall 2015 Lookbook. Photographer: Joey Rosado. Creative Director: Paola Mathe. Makeup artists: Lanea Singleton, Nori Rane.
Fanm Djanm, which means "strong woman" in Haitian Kreyol, is an appropriate name for Paola Mathe's headwrap and lifestyle company. The young designer founded the company as a means of inspiring women everywhere around the world to live boldly.

As a winner of the 2015 CFDA Vogue Fashion Fund, designer Aurora James has made quite the impression on the fashion world with her Brooklyn-based brand Brother Vellies. Footwear fanatics will totally dig these boots, shoes and sandals, all of which are individually handcrafted by artisans in South Africa, Kenya and Morocco.

Burgundy Wine Zuzu Ori. Source: HairbySusy.
Protect your own strands from the harsh elements of winter with a Zuzu Crochet wig custom made by celebrity hairstylist Susy Oludele. Or, perhaps a set of box braids, faux locs or Marley twists are more up your alley. At only 24-years-old, the cosmetologist's impressive portfolio already includes Beyonce, Solange, Zoe Kravitz, Brandy and many more A-list celebrities. But as the owner of the NYC-based salon HairbySusy, Oludele also lends her unique behind-the-chair styling skills to everyday women.

Heat Free Hair's Royalty Wig Collection. Source: Heat Free Hair.
For your loved ones who are natural hair chameleons, look no further than Ngozi Opara's hair extension company Heat Free Hair. "Ultimately, I just don't sell hair," the Washington D.C.-based entrepreneur told Black Enterprise. "I manufacture it and I can vouch for the integrity of my product."

Curl Sistas' Chima Extensions. Source: Curl Sistas.
Another young company offering curly and kinky hair extensions for daring naturalistas is Curl Sistas. Run by wife-and-husband duo Joy Adaeze and Obi Okere, Curl Sistas caters to hair aficionados seeking a one-stop-shop by providing not only clip-ins, wefts and closures, but also natural hair essential kits and a DIY hair products book. "We are giving women options that are true to who they are," Joy said in an interview with Cocotique.

Jessica Wig and UShape Jessica. Source: Catherine Marion.
Inspired by their experiences transitioning to natural hair, Nigerian sisters Abby and Ivie Omoruyi teamed up to launch Catherine Marion a few years back. The online shop has grown to include quality weaves, wigs and natural hair products catering to African American hair of all textures.

Photo: J. Quazi King. Courtesy of An African City Bags.
An African City Bag is an excellent gift choice for those friends or family members who go hard for their city.

Mawusi FW '15: Sane Momo. Photo: Jane Odartey. Courtesy of Mawusi.
The winter holiday season calls for knitwear, and if you're on the hunt for more quirky designs, head to Mawusi. For design ideas, founder Jane Odartey looks to her fellow Ghanaians' sense of fashion, which she describes as "incredibly colorful, festive, and wonderfully eclectic."

Photo: Dex R. Jones. Courtesy of The Wrap Life.
The dynamic young company Wrap Life has become a quick favorite among fashion lovers eager for vibrant headwraps, handmade jewelry and carefully curated incense bundles. Founder Nnenna Stella started the company after her online quest for modern day headwraps proved futile. "I Googled for three days and I was so upset," the African-American entrepreneur tells Madam Noire. "I was like, 'Really? Nobody's selling head wraps?' I imagined that there were other women who wanted to start wearing them, as well, and they couldn't find fabrics and prints that they liked, so I decided to start."

Source: @nubianskin on Instagram.
In October 2014, British-born former financier Ade Hassan took on the task of providing women of color with realistic nude lingerie options with the launch of Nubian Skin. In July, the London-based brand made its official debut at the American retailer Nordstroms.