News
Dec. 14, 2015 08:20PM EST
Okayafrica's 2015 Holiday Gift Guide
The year's best streetwear, accessories, books and more from Africa and the Diaspora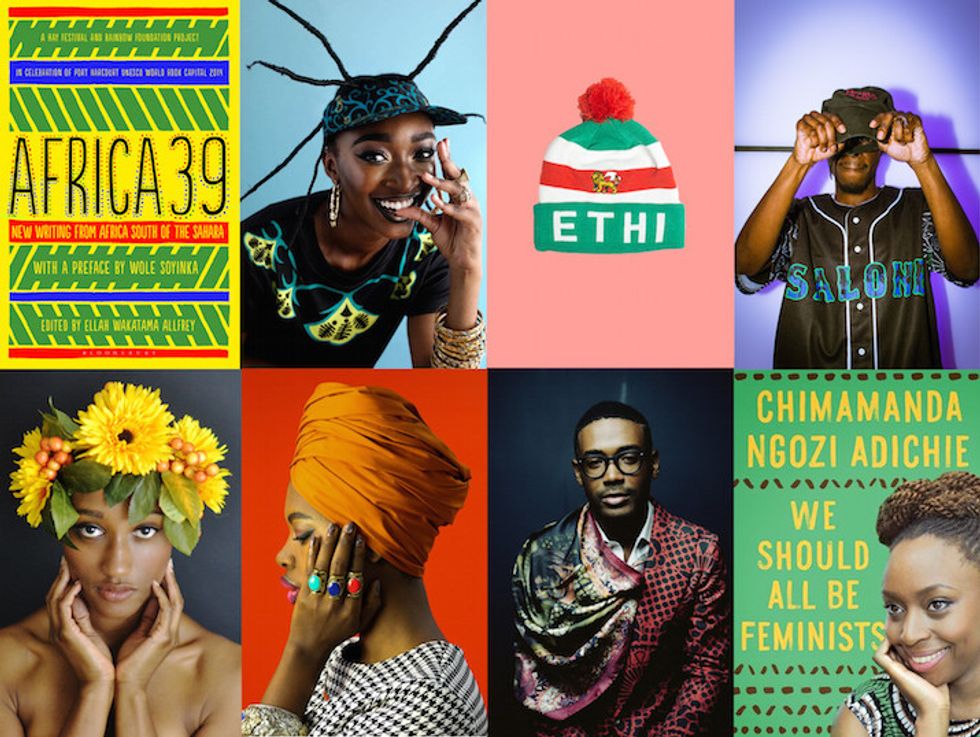 Top Left to Right: 'Africa39: New Writing from Africa South of the Sahara; STREETCHIEF; Modern Pharaoh; Mizizi. Bottom Left to Right: Caven Etomi; Fanm Djanm; Ikire Jones; Chimamanda Ngozi Adichie's 'We Should All Be Feminists.'
Throughout the year, we here at Okayafrica have spotlighted hundreds of small business owners and creatives making outstanding strides in fashion, film, art and beyond. With the holiday season upon us, what better time to delve deeper into these entrepreneurs' one-of-a-kind works than now?
We've rounded up the best and brightest brands and products guaranteed to eliminate any last-minute shopping crises and elevate one's gift-giving game. The creators behind these picks selection hail from all over; their signature styles as distinct as their home bases, representing cities like Monrovia, Brooklyn, London, Abidjan and Washington D.C. So, it's safe to say that there's something for just about everyone on your holiday gift list. Browse through our entire guide for some overall inspiration or head straight to a particular category by clicking below.
---
ART & HOME DECOR
Founded by Anita Terrell, Reflektion Design offers home decor products for culturally inspired people who love unique, vibrant pieces that reflect their eclectic personalities. Throw pillows, floor/meditation pillows, curtains, wall art and bedding are just a few of the items included in the Los Angeles-based company's product line, which specifically incorporates globally-sourced Ankara fabric as the primary textile.
When launching OT&O Home Interiors, Nigerian mother-daughter duo Enitan and Tosin envisioned a "one-stop shop for iconic African-inspired home accessories" guaranteed to transform their clients' homes in an instant. Make sure to check out their scene stealer headwrap rugs, colorful cushions and Gele wall art.

Source: Pottery by Osa on Etsy
New Orleans-based, Nigerian-American artisan Osa makes functional, durable and creative terracotta ware that would make great presents for any decor lover in your life, especially those with a penchant for indoor plants.

Source: AdamaMakesArt on Etsy
In her 2008 exhibition Cornrows, Afro Puffs & Joy, photographer Adama Delphine celebrates the magic of young, carefree Black girls enjoying each other's company. Note cards featuring the endearing images and the exhibition poster are now available for purchase in Delphine's Etsy store.

Source: Lauraeltantawy.com
Any art collectors on your list would certainly appreciate a stunning print snapped by Egyptian photographer Laura El-Tantawy. Inspired by questions on her identity, El-Tantawy's photography explores social and environmental issues relating to her global upbringing in Egypt, Saudi Arabia and the U.S.