Niniola's new album, Colours and Sounds, opens with an invitation: to dance night and day. The Nigerian singer offers plenty of opportunity to do so throughout the album, but this first track on her sophomore release makes sure that the Niniola fans have come to know and love is still very much here amongst the success that's followed since her debut 2017 album, This Is Me.

"It's still Niniola," she tells OkayAfrica. "My originality is still there, but definitely, you'll see growth in everything, from the first album to the second one." This Is Me carried the tracks "Saro," "Magun," "Sicker" and "Maradona," which earned her the accolade of becoming the first Nigerian female artist to cross the one-million stream mark on Spotify. Dozens of awards and nominations later, including being named one of OkayAfrica's 100 Women of 2019, Niniola wears the moniker Queen of Afro-House well.
---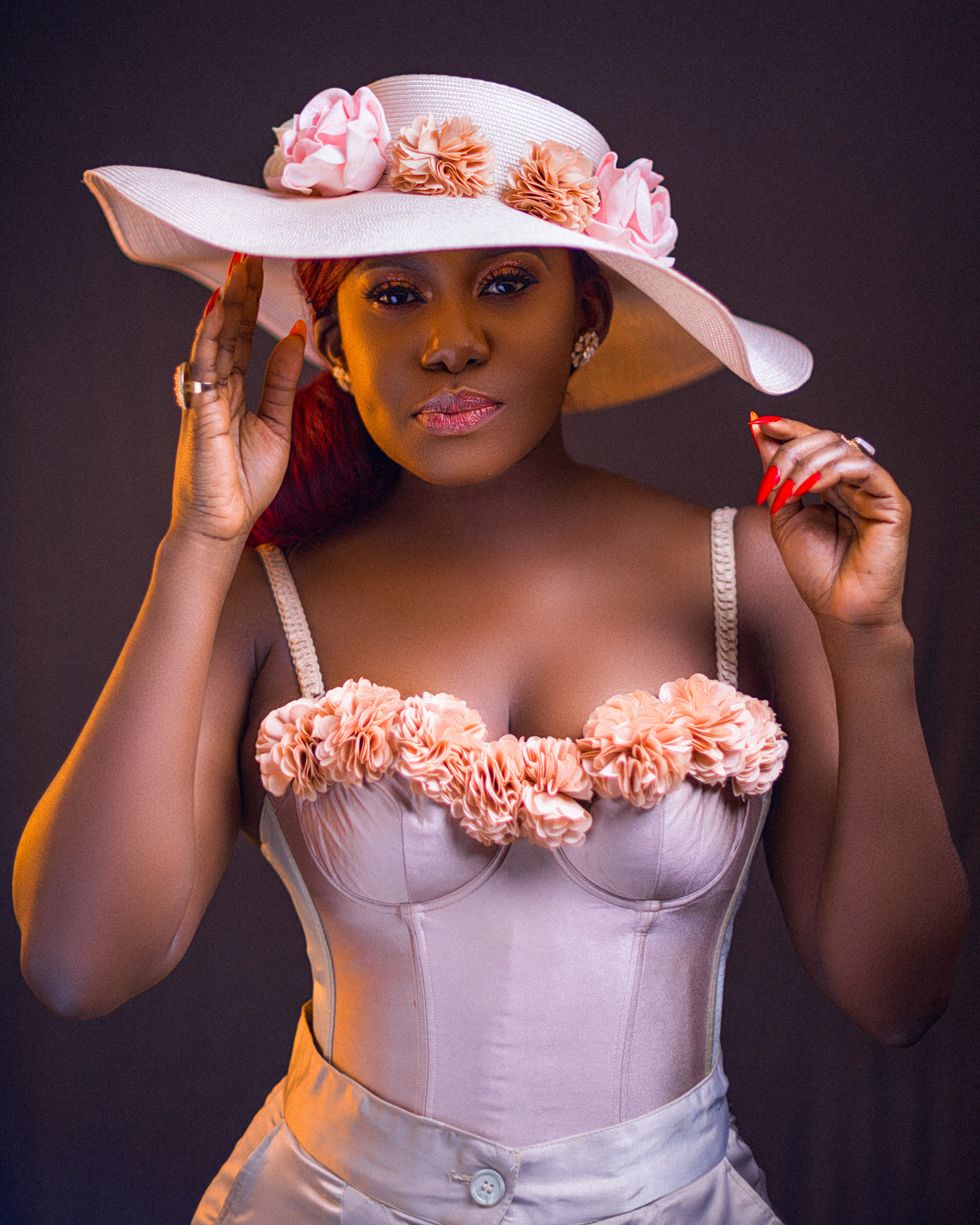 Photo: Edesiri Ukiri
On Colours and Sounds, she adds in a little reggae, some pop and a few sprinklings of Afrobashment and Afrobeats to round out this second serving she's offering up to fans. Niniola worked with a variety of producers on the album, from Kel P (who recently worked with Burna Boy on African Giant) to South Africa's Shuffle Muzik, but it's Niniola's collaborations with Sarz that anchor the album.
"I can't write my story without talking about Sarz," she says. "Because he understands my craft and knows what I want to hear." Their relationship has developed from "Ibadi," their first single together, released back in 2014, to the chart-topping "Maradona" and more recently, "Addicted." Niniola remembers how tired she'd been of music when she Googled his name, fresh off of the reality TV show, Project Fame. "I got my prize money of 2 million Naira and I wanted to spend it wisely. I decided to invest in my career," she says.
It's paid off, and yielded a rewarding partnership that's resulted in more than just hit songs. "He knows that I love to sing and dance at the same time. So when he's producing for me, he puts that in mind, that 'okay, this is Niniola that wants to dance and sing at the same time.' And he understands that my music is a universal language and so it should be able to cut across," she says. "So when you're listening to the music, before you even think about anything or even understand what's being said, you're bumping your head and you're in another world. He understands me, I'd say, more than anybody else when it comes to music production."
Photo: Edesiri Ukiri
For Sarz, aka Osabuohien Osaretin, it's all about keeping Niniola's unique voice front and center. "Her voice sounds like an instrument to me," he tells OkayAfrica, Zooming in from London. "I just look for a way to make that shine through, regardless of what the music is." From "Ibadi," Niniola's breakout single, Sarz has looked to make sure that her voice drives the song, more than the beats within it. He remembers it being a bit of a gamble at the time. "It's tough, especially in this very competitive market, with all the big Nigerian artists making like really strong dance Afrobeats tunes. So if you do something different, it's so risky, because you just never know if it's going to work, if you're wasting your time or not. I'm really glad we took that risk."

It's an approach Sarz' has continued to use when working with Niniola on the songs for Colours and Sounds, evident in "Addicted," the mesmerizing track that adds Amapiano beats to Niniola's lyrics, sung in English and Yoruba, which yearn for a long-lost love. The track is also an ode to South Africa, which she calls her second home—the place where "Maradona" found firm footing on top of charts across the country. "I'll forever be grateful to South Africa for loving my music, without even knowing me, and me becoming number one in the country," she says. "It made me build relationships with different people in the country, for instance, Busiswa, my sister. Oh, I love her so much. She's super hard-working! Anytime I need her to drop a verse for me, she is sending me a whole song back. She's so full of energy and I love working with her." Busiswa features on "Oh Sharp," which is produced by Shuffle Muzik. Niniola was on his track, "Putirika," and wanted to work with the SAMA-nominated producer again. "I was like, 'oh, I like this guy's work, please, I need more of your beats!'" Shuffle Muzik also produced the dazzling-with-confidence Look Like Me on Colours and Sounds.
The track "Maradona," like the country that embraced it, continues to play a prominent part in Niniola's life. In April this year, she received her Grammy nomination certificate for her work as a composer on Beyoncé's The Lion King: The Gift, thanks to the elements of "Maradona" that were sampled in "Find Your Way Back," which credits Niniola as one of the track's songwriters and composers. "It just means that my music is a universal language, and that I can be as original as I want, and the rest of the world will accept me that way," she says. "And a lot of people are like, 'oh, so Beyoncé is listening to Niniola, Drake is listening to Niniola…and other people [are] listening to Niniola,' so it definitely means that we're not wrong. It goes a long way. It means that what I'm doing is right, and I just have to do is keep working hard, and keep dishing out only the best music."

It's an attitude that has appealed to the likes of Timbaland too, who produced "Fire," a collaboration that came about through an Instagram comment and DM. "He was like, 'I love your new single,' and I was like, 'okay, which new single?'" she chuckles. He'd been talking about "Designer," another Sarz banger, and Niniola took the opportunity to ask to work with him. "If I admire you, and if I love your work, I'll definitely reach out to you. All you can say is a yes or no. So I know at the end of the day that I tried," she says. And if the producer in question is wise, it'll be the former.
Sarz believes the world has been traveling sonically, and Africa's the next stop. "There was a time when [music] was so heavy on dancehall, there was a time it was so heavy on reggae, on pop, and now it's like more like urban music, Afrobeats," he says. "Every genre of music that's making waves right now has some elements of Afrobeats in it, someway, somehow." The work he's been doing with Niniola, he believes, is only the start. "We've been here for seven years—look how far we've come" he says. "And this is only the beginning, to be honest."

As a producer of his own hits and hits for others, Sarz finds inspiration wherever he may be, whether in an airport or in front of his latest Spotify playlist. Niniola finds hers in Indian music and old Indian movies, as well as country music and the songs of Annie Lennox and Dolly Parton. "That's what I want when I need to refresh. And that's what I do. I go and listen to old school music, because it's so rich. And then I come back," she says.
Niniola returns the energy and love she gets into the organization, Adopt A Child's Education, which provides scholarships and supplies to schools in Nigeria. It's at high school where she earned the nickname 'the human radio' because of the request show she would pretend-host for her friends, singing songs to them. As successful as Colours and Sounds is sure to be, she is the same Niniola Apata who fell in love with music as a kid growing up in Ekiti State, and that's one thing that won't change.