Coming 2 Americapremiered last Friday on Amazon Prime, and several cinemas on the continent including South Africa and Nigeria, and there was much excitement around the highly-anticipated sequel. Starring Eddie Murphy, Arsenio Hall, James Earl Jones, Jennifer Sears—members of the original cast—the film also had a cameo appearance from Davido and saw the only South African actress on set, Nomzamo Mbatha, in her breakout international role.

While it had all the excitement and fanfare of Black Panther, there have admittedly been some mixed reviews from South Africans on social media since the premiere. Chief among the skepticism were the dated "African accents" used by the characters in the film and more especially with regards to Mbatha, in her portrayal of Mirembe, the royal groomer. Times have certainly changed in the three decades since the first film premiered and social media didn't exist either. However, to be fair, these accents have not actually changed from the first film—just the awareness around them.
Nonetheless, this is Mbatha's first international role alongside a multitude of acting veterans. The South African actress has previously starred in local films including Tell Me Sweet Something (2015), All About Love (2017) and The Jakes are Missing (2015) and is an active humanitarian with her work with the Nomzamo Lighthouse Foundation in addition to being a Goodwill Ambassador for the UNHCR as from 2019.
Ahead of the premiere of Coming 2 America, we caught up with her from Los Angeles to speak about her breakout international role, what this opportunity means for her professionally, having famed costume designer Ruth Carter dress the entire cast in South African luxury brand Maxhosa, and the power of comedy in society.
This interview has been edited for length and clarity.
---
Sequels get a bit of a bad rep sometimes because they're not as great as the first. How would you describe Coming 2 America versus the first film which aired over 30 years ago?
The first film actually came out like 32 years ago and I wasn't even born yet. I think remakes get a bad rep. I don't think sequels get as much of a bad rep as remakes just because a remake is trying to recreate something that was already there and it's like, "I can't see it". Whereas with a sequel, you're picking up from your favourite world that you were introduced to back then. We're picking up from where the world is now, in that world. So I think that's the most beautiful thing about sequels because it's like, "Oh my God, I remember how the original film made me feel, I can't wait to see where they are now. Do they have children, what are they doing? Are they still in love? Are they still together? Who's new?"
So there's that excitement that comes with the sequel. What Craig [Brewer] wanted to really bring forth, and also just to have the important central themes come through with this particular one, is the search for purpose and the connection to your identity. And also to leave behind the old and embrace the new and the biggest central theme, which is my favorite one, female empowerment. There is so much female power, woman power, in this one it's sickening. You'll watch it with your girlfriends and have moments where it's like, "Yeah, sis! Yes!"
You're the only South African actor on the set of Coming 2 America. How did snagging this particular opportunity feel for you personally and professionally?
Oh my gosh. I mean, I truly wanted this role because I felt like I would be able to give her the subtle African woman nuances. I obviously was beyond excited when I got the news. I bawled my eyes out like. My first breakout role is on Coming 2 America and this is serendipitous. So for me, it was also very daunting just because you understand that there's a lot of pressure from your people to be represented because you know there is African pride.
There are so many people, women and girls, that are going to feel seen and heard and represented. And I think, [the film] just read the room in that regard. It had its finger on the pulse. So I'm excited about this particular sequel just because it's been a long-awaited sequel. Everybody has been wanting to see us again in that light, before your Black Panther, before your Wakandas were there, there was Coming to America which represented people in their most royal and beautiful selves just living large and doing Black, rich shit.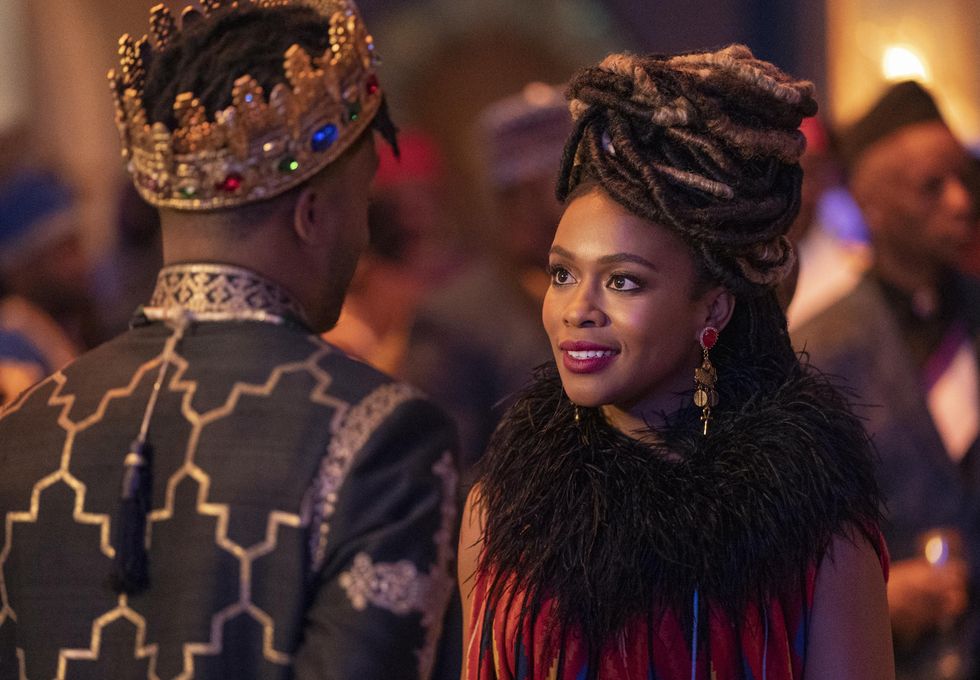 Nomzamo Mbatha as Mirembe, the royal groomer, in 'Coming 2 America.'Image supplied.
Describe Mirembe, the royal groomer, and some of the ways that you perhaps feel you relate to her as a character.
Mirembe, she is smart. She's charming, she's witty and she's quick with her tongue. She knows all about Zamunda as she is a Zamundan woman through and through. There is so much pride in who she is and where she comes from and equally, that's kind of how I am. Everywhere that I go, everybody knows I represent my people through and through. Everything that I do, it's African AF. I have so much pride in who I am and I borrowed certain things about myself to her in that regard.
As traditional as she is, she's also the most unconventional Zamundan woman because every Zamundan woman is expected to be a royal waver. And she's not, she is a groomer, a barber. She's running her own barbershop. It's that dynamic that she brings in and of course, because of the wealth of knowledge that she has of Zamundan culture, when the long-lost son arrives in Zamunda and is having a difficult time, he is able to gain from her understanding and guidance and his world kind of changes a bit.
"Everything that I do, it's African AF."
I want to talk about the poster that's been shared of Mirembe that features you dressed in Maxhosa. Was that costume design decision made by you or by the team?
It was made by the universe. I was like, "Yo, this is African luxury". Everyone in the palace, older people who were all dressed in Maxhosa, I'd be like, "Y'all know, you're dressed in African luxury, right?" That shit is impressive.
He's world renowned. And here he is from South Africa and this happens to also be my uniform. It was such a full circle moment. There's just so many things that just happened where you're thinking, yeah there is such a higher power that's working through this. And so, Ruth [Carter] is like having a laugh, like "Oh my God, you know Maxhosa!" and I'm like, "It's Maxhosa!"
After the trailer dropped for Coming 2 America, there were some misgivings around how the comedy was filled with all the trappings of stereotypical perceptions of Africa. What would you say in response to that?

I would say rather than looking at it from that point of view, it's actually a lot towards how Black America sees Africa. It's not even an insult to Africa. It's an insult to how Black America's ignorance can have such a great play in terms of how backward Africa can be viewed. But I think that's why it's also important for us to continue to have films like Coming 2 America, to open that up and say, "Hey, that's not the play."
I think that is the point of view and also, what we do know a lot about comedy is that it's so provocative. I mean, anyone who listens to Dave Chappelle, I mean! That's the thing about comedy, it's always very provocative. It's a mirror of how we view the world and how we view each other. And it's either we change that or we continue to be in that backward way of thinking.
In terms of the process and having been on set with such a star-studded cast, what would you say was one of the highlights and perhaps challenges of production?
Oh my gosh. No challenges at all. I would be lying. It was one of the best experiences just to be surrounded by Hollywood royalty and to experience the challenge that is Eddie Murphy and Arsenio Hall, who are reprising roles that they played 32 or 33 years ago, still able to get into character and shift between those different characters. Then you add in Tracy Morgan who has his boombox every day on set playing music and people just celebrating on the set. It was like, "Oh man, this feels like you're in somebody else's imagination."
What would you say your biggest hope for the sequel is, not just from a South African context, but I suppose the world over?
That we continue to cross-pollinate. Cross-pollinate stories, cross-pollinate cultures, cross-pollinate experiences as people and put that in a medium as films. So just continue to do that. And my hope truly is to see more co-productions where big studios produce alongside other film production companies, whether it's the diaspora or on the continent itself, and just making sure that we continue to tell our stories and reflect the times.