With a Grammy win now among her accolades, Tems' crossover campaign continues to hit spectacular highs. Selling out shows, collaborating with Future and Drake, conquering global charts, lending her voice to a Marvel movie soundtrack, and brunching with JAY-Z and Beyoncé are some of the things her star power has pulled.
Tems, whose 2019 breakout single "Try Me" locked down decent fame in Nigeria, was introduced to fresh ears overseas on Wizkid's monster hit "Essence." The Nigerian singer-songwriter has since begun her ascent into stardom. As such, her wardrobe has scaled up significantly. It has found a confident balance between upward luxury and cool-girl DIY-ness. The latter is a holdover from Lagos, bootstrapping as an artiste in the city's alté scene.
Her stylist, Dunsin Wright, is the creative force behind her many statement looks, especially the hot streak of red carpet moments. Even so, Tems' body is a marvel on its own, — shapely proportions that reward the camera. And therein lies the complicated relationship between an artist on the come-up and bodily anxieties. A female artiste, to be clear, who styled herself in plain, functional clothes, sunnies and sneakers, with natural hair swooped up or done in long box braids.
Sometimes a catsuit, but big shirts, jackets, and loose pants were a matter of practicality. Additionally, these wardrobe choices appeared to be a self-effacing maneuver around female objectification and to keep the focus on her music.
For corroboration: her Instagram photos were often captured in portraits. And when she stood in full view, a frontal pose was only offered. On social media, a viral appetite took hold, asking her to show more skin or give a back pose.
While Tems hasn't explicitly addressed this, she's currently cognizant of the demands of being a celebrity without straying too much from personal comfort. Her style journey is still ongoing. In the meantime, we select her best looks with all the style inspo it brings.
Tems Wearing Pleated Robert Wun
For her 2022 London tour that hit a stop at famous concert venue KOKO, Tems showed up on stage wearing Robert Wun. A custom teal matching set elevated by dramatic accordion pleats. Her long box braids, though the singer's signature style, harmonized with the flowy pleated details of the look. The show of cleavage from the plunging neckline has been a continuing theme for Tems.

Wun, a London-based Hong Kong designer, had showed off the look in his studio before the concert. On Tems, it was a technical understanding of proportions. But what makes wearing Robert Wun such a big deal is that Wun's couture debut in Paris was darkly gorgeous, and received praise from the industry.
Perhaps in the future, Tems can reunite with Wun in something decidedly couture to hit the red carpet.
Tems At the 2022 BET Awards
Tems won Best International Act at the 2022 BET Awards. She made history, becoming the first Nigerian female artist to be a recipient. On the red carpet, she made a show-stopping statement wearing a custom black bustier gown with a thigh-high slit.

From Dilara Findikoglu, it's interesting to see Tems wear a creation from the rising Turkish-British designer. The gown is Tems' first black formalwear on a huge stage, in strap heels and a Swarovski necklace to boot. For her glam look, her signature glossy ombre lips and wispy lashes were just right for the occasion.
LOS ANGELES, CALIFORNIA - JUNE 26: Tems poses in the press room during the 2022 BET Awards at Microsoft Theater on June 26, 2022 in Los Angeles, California.Photo by Robin L Marshall/Getty Images For BET
Tems at the 2022 BMI London Awards

Tems joined big winners at the BMI London Awards, taking home the prestigious Impact prize, in recognition of her artistry, creative vision and impact on the future of music. Holding a silver box clutch with an iridescent shimmer, hoop earrings, and stiletto nails polished in metallic chrome, her outfit for the ceremony merged her love for catsuits with a red carpet sensibility.

A white turtleneck gown in stretch silk crepe. London-based photographer Bet Bettencourt, who has been taking photos of Tems at events, showed another view of the gown on Instagram after the awards were over. A slew of sizzling snaps revealed a huge cutout at the back and a comfortable pose.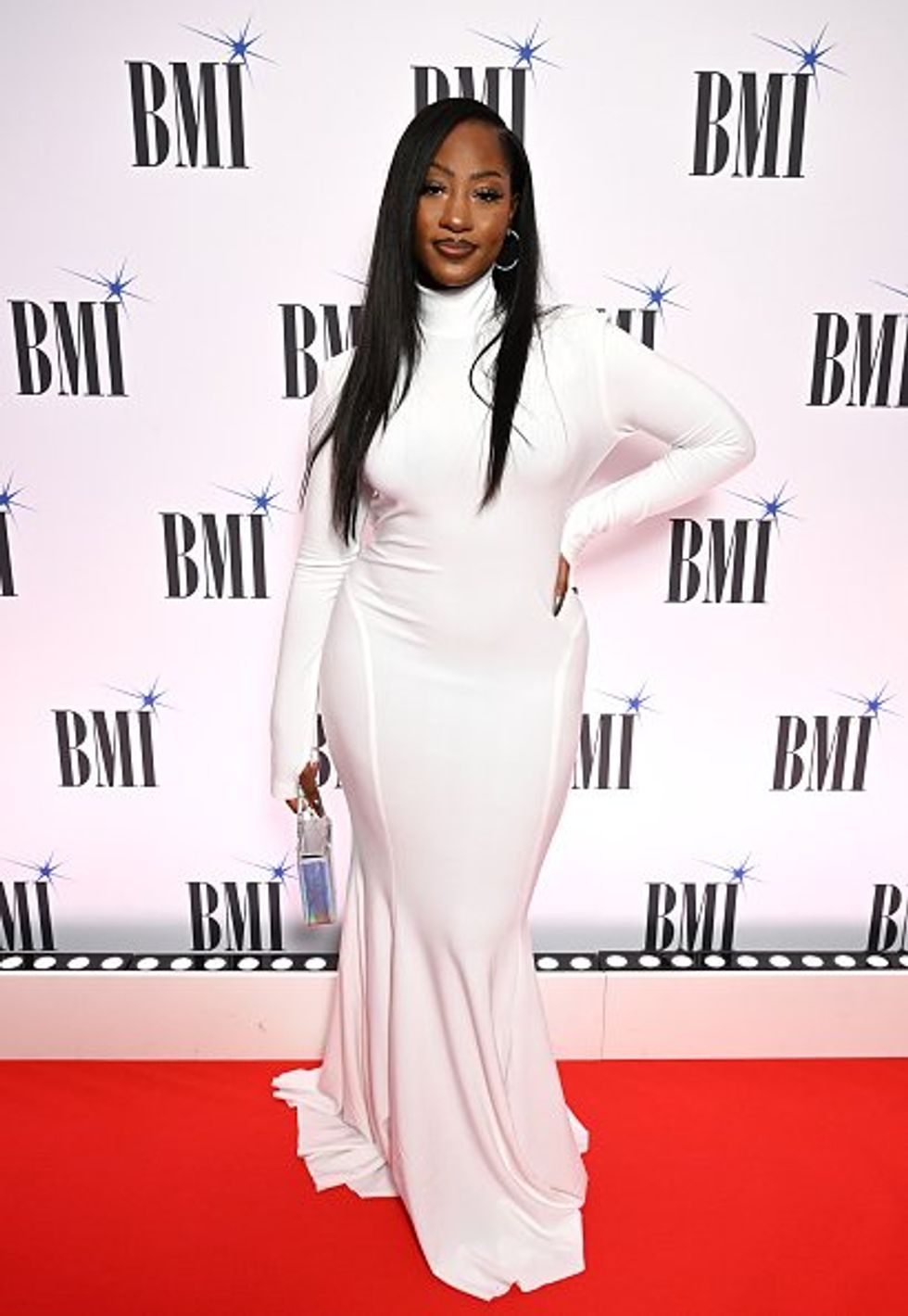 LONDON, ENGLAND - OCTOBER 03: Tems attends the 2022 BMI London Awards at The Savoy Hotel on October 03, 2022 in London, England.Photo by Jeff Spicer/Getty Images for BMI London Awards
Tems at the 2022 Global Citizen Festival: Accra

Performing at the Global Citizen concert in Ghana, Tems slipped in a turquoise blue lace catsuit with front cutouts from Brielle. The satin wrap of a mini skirt was a nice accent piece, held together by a crystal clasp that could be mistaken for a brooch.
Cuffing her wrist was a diamond bracelet, feet in silver pumps. Given the outdoor concert atmosphere, it was a fun, playful attire. And it's not surprising to see Tems accessorize with white sunglasses, an ever-present staple in her wardrobe.
ACCRA, GHANA - SEPTEMBER 24: Tems performs on stage during Global Citizen Festival 2022: Accra on September 24, 2022 in Accra, Ghana.Photo by Jemal Countess/Getty Images for Global Citizen
Tems at Coperni's SS' 2023 runway show

Last year, Parisian brand Coperni grabbed headlines for spraying a dress onto Bella Hadid. This was their spring/summer 2023 show, and Tems was in attendance. Leaving the looming, Romanesque architecture of the venue, the Salle des Textiles of the National Museum of Arts and Crafts in Paris, the singer was dressed in Coperni herself.
A jet-black stretch satin bodycon dress, with a twist and cutout detailing. The thigh-high slit, sheer socks in Coperni bridge platform sandals, and pin-straight hair brought edginess to the picture. A crystal-embellished ring pouch bag from the brand was a statement accessory, subtly contrasting the all-black ensemble.
The dark sunglasses gave a futuristic, techno-chic vibe, an aesthetic Coperni has been working into their brand to redefine the lexicon of French style. That night, Tems took a photo with the founders, Arnaud Vaillant and Sébastien Meyer, showing a decent infiltration into the high-fashion circle.
Tems in Tommy Jeans

For this photo Tems posted on Instagram, she wore top-to-bottom Tommy Hilfiger and Tommy Jeans. The overlay of the colorblock windbreaker, triangle sports bralette, baggy jeans, open-toe heels, and chunky belly chain can only be described as streetwear chic. More importantly, it's a delicate juxtaposition of the masculine and feminine dressing codes Tems had been embracing.
Anyone who followed '90s pop culture (think Aaliyah) and the renaissance of Y2K fashion will surely appreciate the look. Tems wearing a classic American brand isn't a random occurrence. In late 2021, she announced she had secured a deal with the global clothing brand. And in 2022, we saw her lead a campaign for Tommy Jeans, the diffusion that targets a younger market.
Tems in Vivienne Westwood at the 2023 Grammys
With three nominations coming into the 65th Grammys, Tems bagged her first Grammy award in the Best Melodic Rap Performance category. It was for Future's "Wait For U" featuring herself and Drake, making her the first Nigerian female artist to receive such honor.
Tems played up her femininity, styling her hair into space buns, wearing a gold-corseted Vivienne Westwood number. The bodice had the corset built in, with a draping from the waist that fell into a sweeping train. The nipped-waist silhouette flattered her curves. Layered pearl necklace and gold Tom Ford pumps, it was inarguably a moment of high fashion for the star.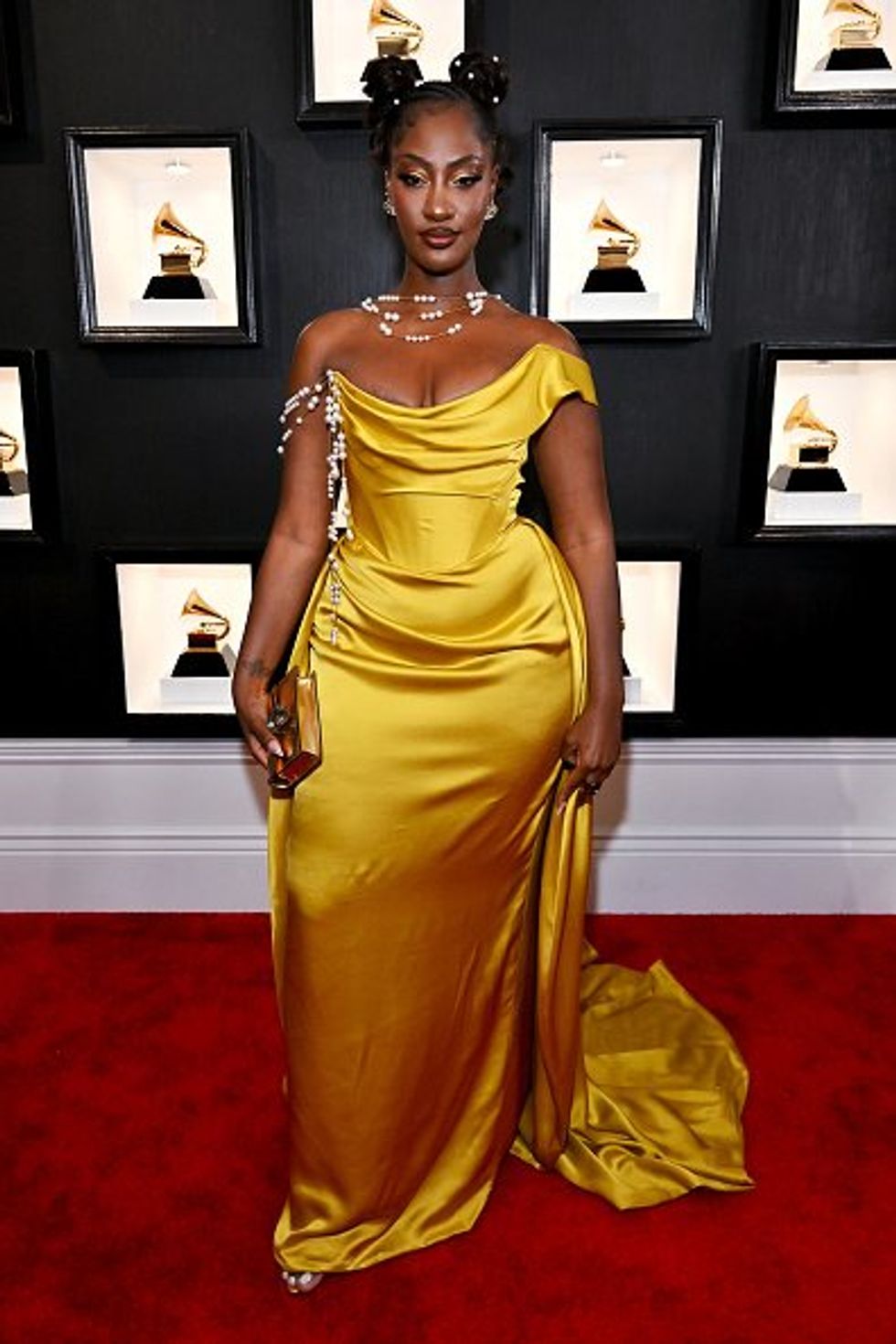 LOS ANGELES, CALIFORNIA - FEBRUARY 05: Tems attends the 65th GRAMMY Awards on February 05, 2023 in Los Angeles, California. Photo by Lester Cohen/Getty Images for The Recording Academy
Tems on the Cover of Dazed Magazine

For Dazed magazine's winter 2022 issue, Tems landed as the latest cover star. "Uncut Tems: the rise and reign of the queen of alté R&B" was the headline, and it remains her most provocative editorial spread to date. So much so that she was criticized by internet trolls for which she took to social media to defend herself.
With styling from Ibrahim Kamara, the photo shoot served up sultry images of the singer. Particular standouts: the form-fitting translucent beige dress from Dilara Findikoglu with a bodysuit underneath, strap heels and fringe-framing hair. In another shot: a Sportsmax faux fur coat worn over a Chloé leather dress, and vintage Susan Caplan gold necklace feels like a refreshing take on old Hollywood glamour.
Tems' Couture at the 2023 Oscars

Nominated for Best Original Song for the Black Panther: Wakanda Forever track "Lift Me Up," Tems arrived at her first Oscars in a sculptural, gravity-defying puff of couture. Even though she didn't win (it was a tough category), she turned heads (literally).
By Ukranian designer, Lesya Verlingieri of Lever Couture, Tems was a commanding presence of sophistication on the sand-hued carpet. Further, it showed her maturing confidence as of late. Hand sculpted from gauzy nylon mesh, the bold and breathtaking silhouette newly placed her in the canon of celebrities to look out for at high-caliber events.
With no necklace on Tems, we aren't sure if this is leaning into the "no-necklace" trend amongst celebrities on the red carpet. Not that the look needed one, anyway. Going bare was smart to maintain a clean focus on what she was wearing. Attending the Vanity Fair Oscar Party, the sculptural hood and elegant puff gave way to a slightly more stripped-down attire.
A cat ear-shaped bustier in black silk crepe, built into a full skirt with drape detail. Thigh-high slit? Of course, a repeated motif we are sure to see more of. For accessories, a transparent PVC choker with a cutout had dots of Swarovski crystals. Altogether, it had a smattering of kinky, a dip into the bondage aesthetic Tems can possibly dial up in the future.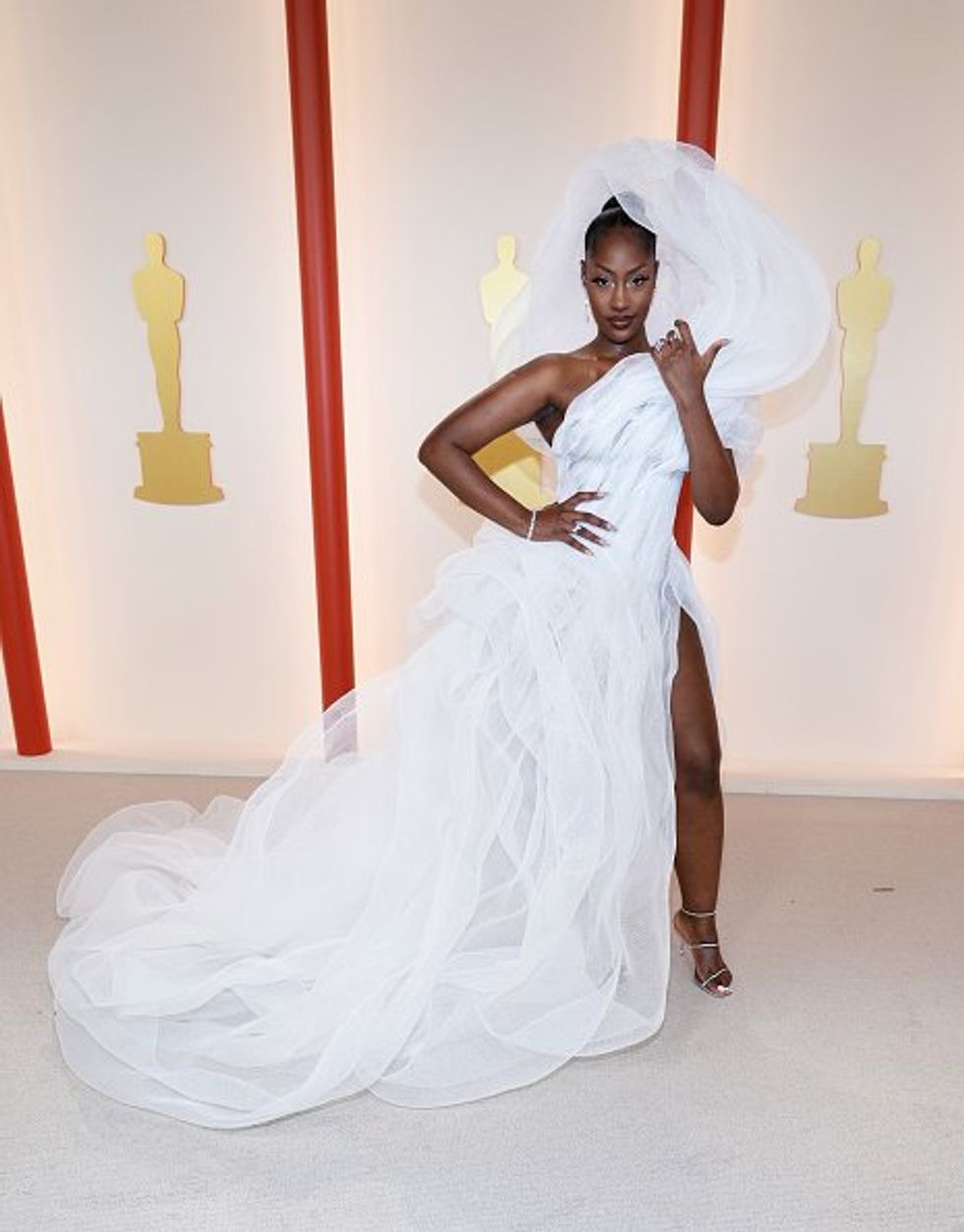 HOLLYWOOD, CALIFORNIA - MARCH 12: Tems attends the 95th Annual Academy Awards on March 12, 2023 in Hollywood, California.Photo by Kevin Mazur/Getty Images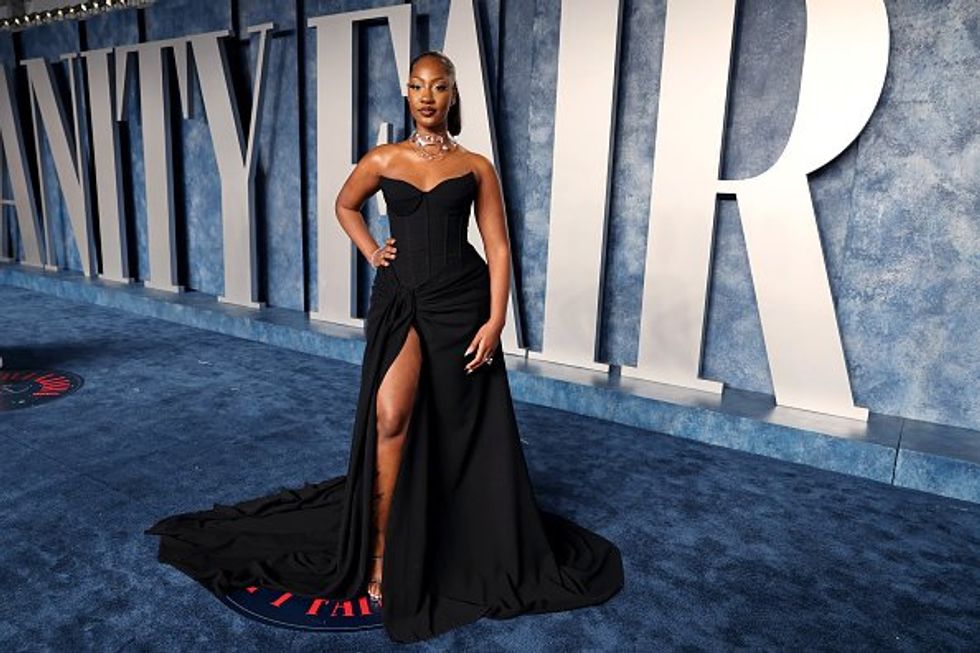 BEVERLY HILLS, CALIFORNIA - MARCH 12: Tems attends the 2023 Vanity Fair Oscar Party Hosted By Radhika Jones at Wallis Annenberg Center for the Performing Arts on March 12, 2023 in Beverly Hills, California.Photo by Cindy Ord/VF23/Getty Images for Vanity Fair