Watching the Dora Milaje kick butt in fight sequences that left jaws dropped was a standout element of Black Panther – one that helped propel the film into a groundbreaking feat of moviemaking history. While the Dora Milaje was a fictional army situated within the imagination of the Marvel Cinematic Universe (MCU), it was based on a very real band of women – women who lived in what we today know as Benin, and who fought with the kind of strength usually reserved for superheroes, or men. The Woman King, an ode to one of the world's mightiest women-led armies, seeks to tell their story.
"The Woman King is where we started, Black Panther is where we can go," is how director Gina Prince-Bythewood sees it. To make the film, the cast, led by Oscar winner Viola Davis, traveled to South Africa, where a backdrop for the action was created, using Kwazulu-Natal and parts of Cape Town as stand-ins for West Africa. For the producers, South Africa had everything the shoot needed -- from sands to tropical locations.
The film, which premieres at TIFF on Friday evening and releases next weekend, deftly weaves historical facts into a fictional account of the Agojie, the Kingdom of Dahomey's military unit – one of the first military units to be made up entirely of women. It's a grand-scale production, set in 1863, that takes audiences to Abomey, the largest city in Dahomey, where the king's palace was located. Established around 1600, the Kingdom of Dahomey fell in 1894, after war with France led to its eventual colonization.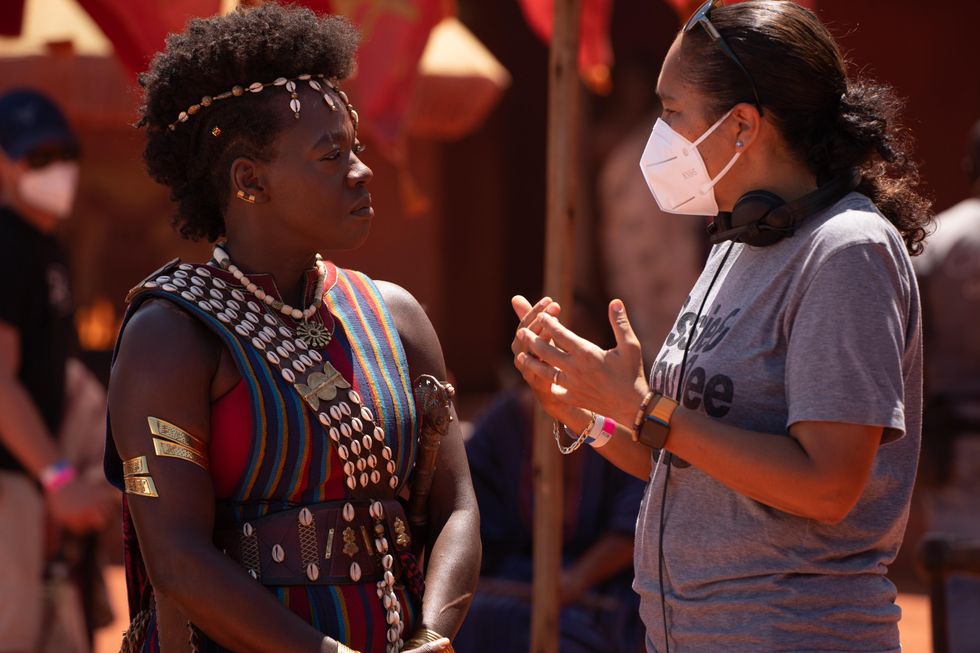 Viola Davis and Gina Prince-Bythewood traveled with the rest of the cast to South Africa to make The Woman King.
Photo: Sony Pictures
"It was a decision that we made from the outset: we wanted to shoot on the continent," Prince-Bythewood tells OkayAfrica. "We wanted to be able to give this film the scope and epic feel that it deserved. You can't do that with a green screen," she adds, chuckling. The Love & Basketball director aimed to give her actors a 360-degree playground, and South Africa provided that.
Over and above what the country gave to the shoot in a physical sense, Prince-Bythewood says there was an even more compelling reason for filming there. "On a personal, emotional level, the actors wanted their feet in the soil," she says. "They wanted to tell the story of their ancestors on the continent."
While the crew was 90% South African, Prince-Bythewood had assembled a cast that represented the diversity of the diaspora: from Thuso Mbedu, the award-winning star of The Underground Railroad, who is South African, to Lashana Lynch, who's Jamaican, to Uganda-born, British-raised, Sheila Atim, and British Nigerian John Boyega, who plays King Ghezo.
"It's very rare that you get the opportunity to shoot in or near the place that a project is set," Atim, who plays priestess warrior Amenza, tells OkayAfrica. "Obviously, it's set in West Africa, but we were able to be on the continent, on location, for the majority of the shoot, so we were able to benefit from the landscape, from the actual Earth, the actual soil, the elements, which sometimes pose challenges – you're fighting the light, you've got wind and sand blowing in your eyes – but I think we all benefited from it."
Atim believes the film benefited from it, too, in an ethereal sense. "I think you can really feel it, through the screen," she adds. And, she says, it served the greater African film industry as a whole to be able to take a production of this stature to the continent.
"For production companies to be able to benefit from having large-scale productions coming to their countries and employing all of those people, to be able to see that many Black and African people behind the camera, as well as in front of the camera; to be able to work alongside all of these people and for them to bring all of their expertise and learn new things – for me to be able to learn new things – I think it's just so hugely important."
She continues: "So often, Black people have been siphoned off into one corner when it comes to this industry. This really felt like the opportunity to expand on that."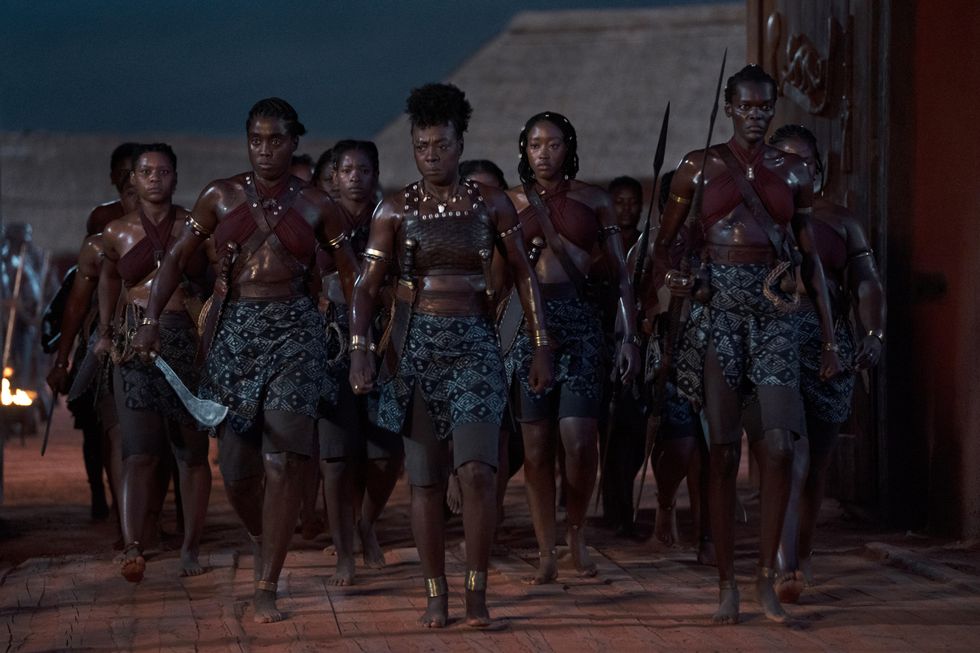 Lashana Lynch and Sheila Atim play key figures in Viola Davis' army in The Woman King.
Photo: Sony Pictures
Indeed, South Africa added more to the production than just great locations and good energy, along with the opportunity for Mbedu to shoot in her home province. Zulu fighting moves were incorporated into the stunt choreography, and the talents of makeup and prosthetics designer Babalwa Mtshiselwa were also used to create key looks of the cast.
Like any large-scale film shoots, there were challenges to overcome, one being that the South African landscape isn't quite like Benin's. Finding the exact hue to create the red soil that's indigenous to that country, and a key part in creating the world of Abomey, was a major task for the production design team. Luckily, a mine just outside of Cape Town fit the bill. COVID also hit the set three weeks into filming, in November 2021, halting production until January the following year.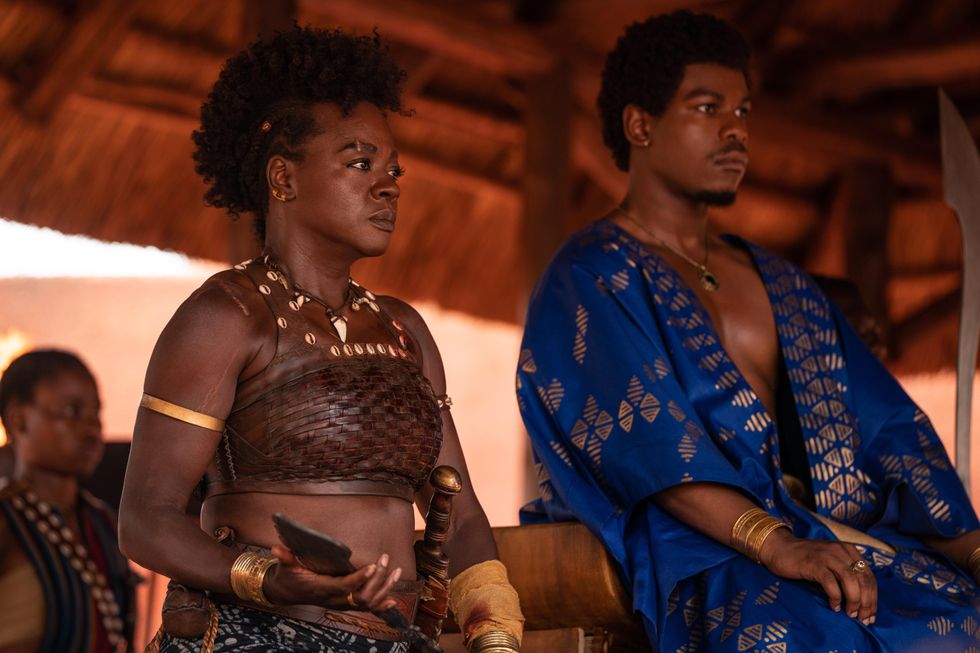 Viola Davis and John Boyega were among the actors that traveled to South Africa to make The Woman King.
Photo: Sony Pictures
But it wasn't all serious during production, and anyone following Boyega on social media would have seen him share many of his adventures while in South Africa, including climbing Table Mountain. He raved to OkayAfrica about a dinner at Nobu at the V&A Waterfront, where he enjoyed the miso-marinated black cod. "I went parasailing, which was great; I went to the Bungalow for some oysters, which was fantastic," he says.
Lynch believes it's important to mention small details like these. "When you're shooting away, whilst it's incredible to be on location, you don't often get the chance to really explore, and to learn about the land and the culture and everything whilst you're working," she says. "And because this was such a demanding shoot, it was nice to realize those things at work. We're working with a lot of Black crew, we had a Black filmmaker -- all those things are wonderful -- but you'd usually have to return to the space in order to really get the richness of it. So we got the richness of the land within the film [and outside it]." With any luck, audiences seeing The Woman King feel some of that too.