The creative scene in Lagos is a culture run and protected by Nigerian youth and is responsible for producing talent ranging from musicians like Santi, Lady Donli and Tems to brands like wafflesncream, and a huge number of photographers, filmmakers and everything in between.
The fast paced city literally brands itself as one that is keen on survival and passion, it thrives on entertainment and consistently provides 'something new' for the consuming society. You may get overwhelmed in Lagos, but never bored. Over the past few years, there has been an emergence in the market for the creative scene in Lagos. Photography has significantly shown its value as a true form of communicating the general ideas of this young world.
Thompson Ekong aka TSE.Photo: TSE
We decided to catch up with Thompson Ekong, well known as TSE, a Lagos-based photographer and visual artist who has been increasingly breaking boundaries by working with buzzing musicians and brands. TSE's impressive portfolio includes a number of collaborations with the likes of Santi, Teni, Davido, Rema and recently even American musician, 6LACK. He has also worked with brands like Nike.

The young creative is considered as an OG in the photography industry in Lagos and has a solid support system that is partly responsible for his current success rate. Our insightful conversation, conducted on WhatsApp, ranges from TSE's career as a photographer to his hot takes on the industry in general and further his advice to young and coming creatives.
---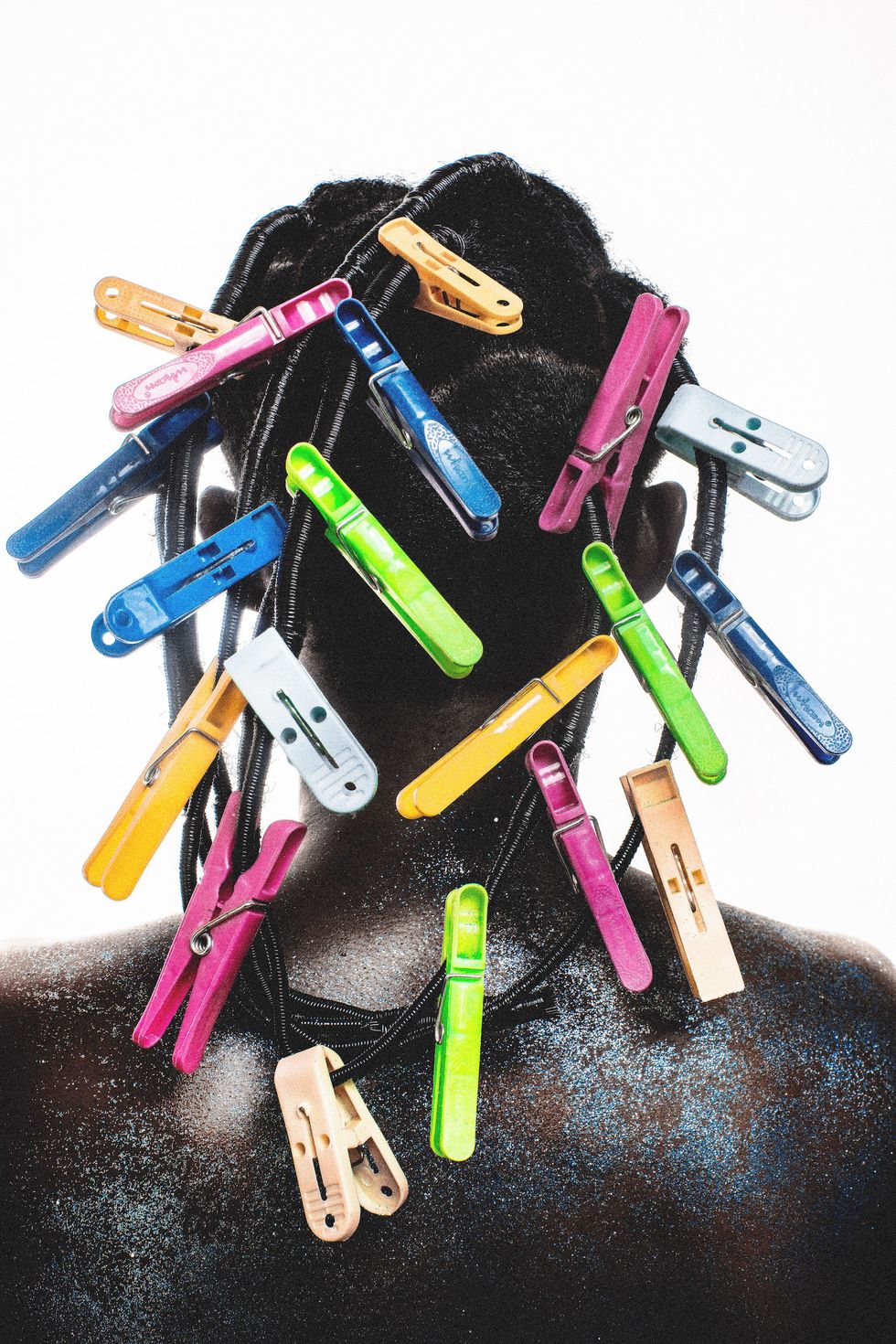 From the series Feel at Home.Photo: TSE
How and when did you start photography?

I've always been an artsy guy, I would draw and sketch and all that. I've always wanted to do something around art, so I chose photography as a medium to use to express what I imagined in my head. I started photography in ISS2 or ISS3, [back] then I was taking pictures for different parties and doing a lot of flash photography. My first camera was a very old Sony camera—a Sony Cyber Shot.
Every new project you work has a completely different vibe from the previous one. What's your creative process like and where do you draw your influences from?
I've always wanted to create something exciting, unique and completely fresh from what I created previously. I'm always refining. My process depends on the project or concept I'm focused on. It's all about where my mind's at currently and what I'm feeling or feeding off, it could be the music, film or anime or just existing, but I'm inspired by these things and they've fueled my creativity and ideas. I'm also influenced by people I can creatively connect to, Kanye West, Travis Scott, The Weeknd, Santi, Daniel Arsham, UAX, Appare-Ranman!, Studio Ghibli, Steve Jobs, Niyi Okeowo and my friends.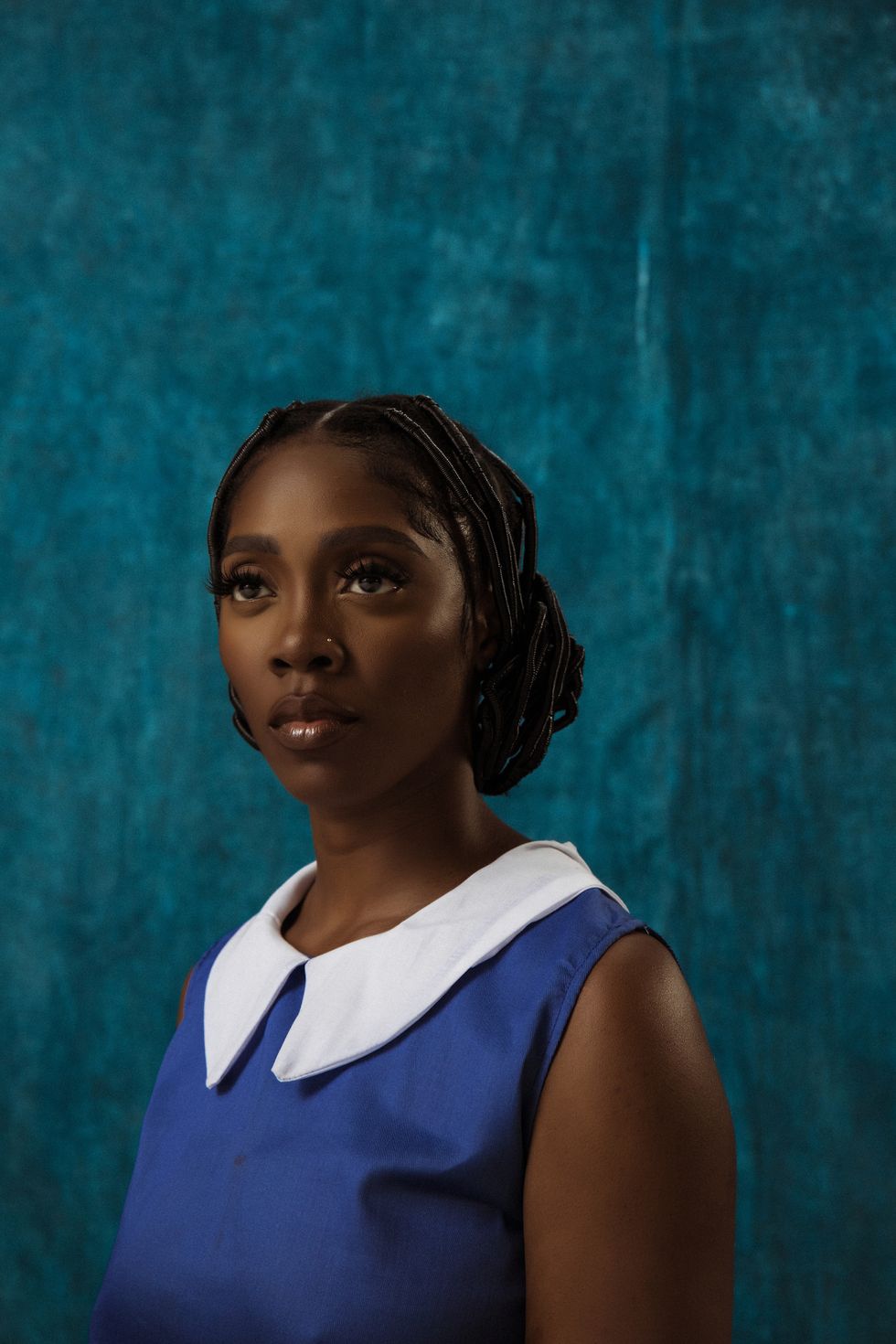 49-99 Tiwa Savage.Photo: TSE
Do you ever face any troubles or complications interpreting your ideas and bringing them to life?

Most times, it's hard to communicate the idea to people because they think I'm losing my shit and the idea is too outrageous. I always have hacks anyway, I draw parallels between my ideas and what's achievable given the limited resources or other constraints that might exist. I have a team that has the superpowers, I need to bring my ideas to life so we always find a way regardless.
How is it that people know a TSE image when they see it? Is this something that's intentional? How would you explain it?
One thing I capture with my photographs are the experiences and emotions behind them, this is intentional. For me, I believe art is an experience, I believe in creating things that are beyond what you'll typically see in an image. It could be the lights, camera angles/frames, set design or the special thing I add while I'm ending. I'm trying to capture unthought-of perspectives every time I'm behind the camera. It's the TSE magic.
Tal pai tal filhoPhoto: TSE
You've worked with a lot of artists and brands over the past few years. What does it feel like to be the creative brain behind a great number of album covers and promo shoots?

It feels really great. I'm really blessed to have these opportunities. Being given the stage to bring my ideas and their ideas to life for their incredible sonic projects is an amazing superpower and, like the popular saying goes, "with great power comes great responsibility." I don't plan on taking it for granted.
You're considered a good representation for the creative scene in Nigeria. What has been the biggest lesson for you and what advice do you have for other creatives?
I would say the biggest lesson would be to have great faith in whatever you're chasing, take time to really appreciate your growth and the people around you also doing amazing things. Believing in the purpose is far more than any dollar amount. My advice is to take care of your creative health. A lot of other creatives always seek my advice, I'll tell you all the same thing I told them. Take time to refine [your] skills every single day, take on the challenges, and the camera isn't the key, the vision is. Most learning occurs when mistakes are made. Learn to let your thoughts exist on their own without getting too involved with them.
Photo: TSE
Do you have a favorite project? And why?

My best project is still in the labs being refined currently. It's themed after a feeling I had after experiencing Kanye West's 808's & Heartbreak. It reminds me of when I was a kid, the project is my child, there's a childlike wonder to it that's pure.
Working with Rema, your supporters showed up for you on Twitter, is that how you actually got the gig? What was it like working on set?
No, that was actually just social buzz. It was fun to know the people that fuck with my work could ride for me that hard but I actually got an email from Rema's management saying they wanted me to work with him. It's always a lovely experience working with Rema, we both synced the first time we met and our energies are quite similar. He knows what he wants and exactly how he wants it to be projected which makes my work way easier and with minimal effort we can create so much. Everything we've done so far has been fire.
As a young photographer living in Nigeria, what would you say has been your biggest setback?
Nigeria is not developed completely yet so it's hard to bring some of my grand big ideas to life because society might not know how to perceive it and funds are still limited for creatives here. We're getting there slowly and pushing the bracket of what's accepted. Meow.