In just a few EPs, Rema has established himself as a special new talent.
His first release, the eponymous Rema EP, consists of certified afropop hits like "Dumebi," "Corny," and "Iron Man," which even made it to President Barack Obama's 2019 summer playlist, quite the high-profile co-sign for the 19-year-old from Benin, Nigeria.
The second track on that EP, "Why," a trap ballad about rejection from a love interest, seemed out of place at the time but foreshadowed the surprise release of his Freestyle EP, which dropped in June. Freestyle repeats the four song structure of its predecessor, but the compositions showcase Rema's sensibilities for terse emotional songwriting, which the artist says is the result of "passion, love and heartbreak."
Both "Boulevard" and "American Love" are about failed attempts at courting love interests. On "Spiderman," the artist self-casts himself as a superhero with a "passion to save the youths through my sound." "Trap Out The Submarine" is thematically close, as a lasting title-image about overcoming impossible odds.
Rema's now returned with his new 4-track project Bad Commando, which features production work from the likes of Altims,Oliver El Khatib, 1mind, and Honter.
In a new interview with OkayAfrica, the self-styled "baby dragon" discusses his new release, two well-regarded EPs, fame and fandom, self-doubts and beliefs, and the reasons why he's one of the most exciting artists in afropop.
---
Rema - Bad Commando (Official Music Video)youtu.be
Let's start with your new project Bad Commando and its inspiration.
My inspiration is spiritual, from God and led by the prophecy I'm called to fulfill. I didn't plan to create an EP for any particular purpose. These songs were recorded at different times beginning from 2018. Every song has its purpose, combined it creates a force the universe will reckon with. But in every creation I tend to create sounds that are beyond the regular, taking the youths to a new level. Showing them a fresh vision, showing them a new world.
Who produced the new tracks?
"Bad Commando" was produced by Honter, "Lady" was produced by Altims, "Rewind" was produced by Oliver El Khatib & 1Mind and "Spaceship" was produced by Altims. There are no features.
"I tend to create sounds that are beyond the regular, taking the youths to a new level. Showing them a fresh vision, showing them a new world."
Do you have a favorite track on Bad Commando? Why?
I have no favorite track.
Going back to the beginning, you left Benin City for the perceived wildness of Lagos. What has been the most remarkable experiences you've had in Lagos so far?

The love and support, which includes the people that come out to support me in shows, club gigs, etc. The people here who support my sound, stream and buy my music. The love I get in the streets, people cheering my name and appreciating my presence. It's amazing.
Photo: TSE. Courtesy of Rema.
You get compared to Wizkid because of your writing and vocal approach on "Dumebi," "Iron Man," and "Corny." Do you care for these comparisons?

No, People are entitled to their opinions and respect to those who've been holding the game down before me. I believe that I'm unique, that's why I'm winning globally. I believe that I'm called for something very spiritual, beyond the human imagination so I care less about these comparisons.
People continue to debate whether you're a rapper, trapper or afropop artist.
I'm here to make good music, I'm here to give people my sound. When I make music I don't think too much I just do whatever my spirit leads. I'm not a rapper or some type of lyrical O.G and I'm not here to compete in that area. I trap 'cause trap genre helps me convey my emotions in a different way and I'm more familiar in that area. There's no actual box I belong to, I create different types of sounds. I'm led by my spirit to create.
"There's no actual box I belong to, I create different types of sounds. I'm led by my spirit to create."
You're the newest talent on one of the most successful record labels in afropop, Mavin Records. Did you feel pressure to excel right from the start?
No pressure at all, I worked hard at creating my sound and I had faith in it. All I had in my heart was belief.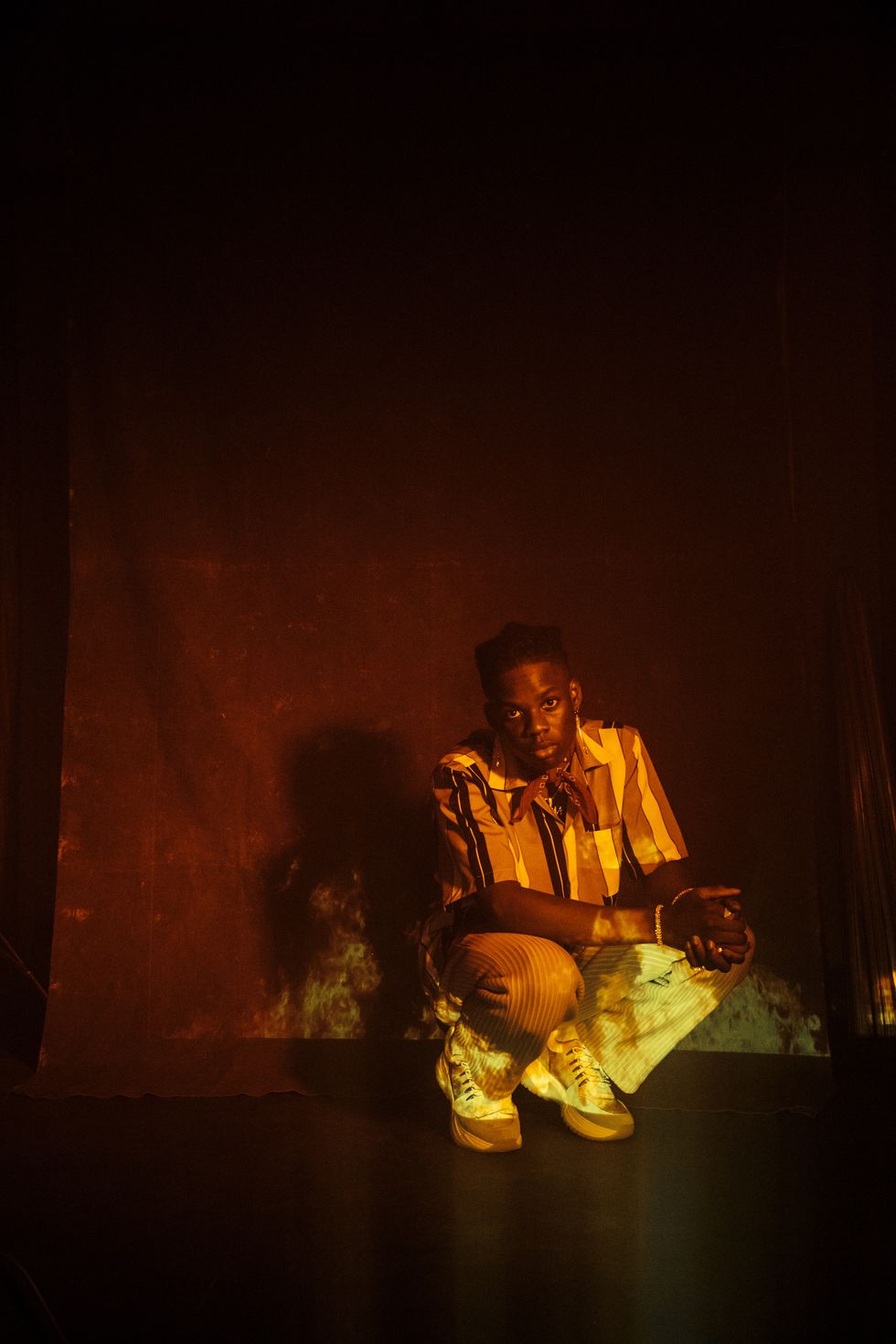 Photo: TSE. Courtesy of Rema.
Who are the artists that have influenced your music the most and in what specific ways?

I listen to a wide range of music from all parts of the world. I'm hoping to be influenced by sound basically. There's no particular person I draw influence from.
Can you share any doubts you might have about yourself or your music, and how you tried to conquer them?
I have no doubts whatsoever.
Please explain your love for rock and just how different or inventive your take on it will be?

I enjoy rock sound, it has a motivating feel. If I'm asked to jump on a rock track I will but I'll have to infuse my sound and language majorly.
The title aside, "Ogologoma" is your most "traditional" sounding song based on the rhythm, repetition and harmonies. Please explain how the song was written and recorded.
I attempt beats by the signal they send to my spirit. Big N hit up Altims to create something for me for his project. When I heard the beat, I playfully sang some melodies that we all laughed about in the studio but later on I felt it could work on the song. I placed a bunch of melodies without actual words and they were sounding really good. I linked up with Altims after that day and I sat down to write and record myself, then Altims wrapped up the beat, Big N liked it and it was good to go.
What are your expectations for the rest of 2019?
I expect great things, More sounds, bigger achievements and positivity all the way.
Rema's 'Bad Commando' is available now.