Ana Sofia Fonseca had been traveling to Cape Verde from Lisbon, where she's from, for a few years before she found herself there in the days following Cesária Évora's death in December 2011. Fonseca had a house with her husband, who is from São Vicente, just a few steps away from the Barefoot Diva's home. "I was sitting in front of the door of my house, and I was watching all the sadness from people at her death," she tells OkayAfrica. "I remember thinking at that moment that she deserves for her story to travel across the world. This incredible woman, such a powerful woman; somebody needs to tell her story." Fonseca didn't, for one moment, think she would be the one to do it.
---
It was, however, something she started thinking about doing in the aftermath of Évora's passing. As a journalist and then documentary filmmaker, Fonseca knew Évora's memory needed to be preserved. In the doc, CESÁRIA ÉVORA, Fonseca uses previously unseen archival footage, together with newly-discovered original recordings to evoke a side of the Grammy-winning singer only witnessed by those close to her.
The film pays tribute to Évora, who rose to international fame in the mid-'90s with her melancholic morna ballads, and shares stories from those who knew her best, from her manager José da Silva to her granddaughter, Janete. Beyond her music, Fonseca paints a rich portrait of Évora as an artist with a deep love for the people around her.
OkayAfrica spoke to Fonseca about making the documentary.
Interview has been edited for length and clarity.
You started making this doc in 2018 -- how much of a challenge was it to find all the personal archival footage you have, especially the moments between Cesária Évora and her family and fellow musicians?
It was an adventure. At the beginning, it seemed impossible. And I confess to you that one year after I started working on the film, I wasn't sure I was going to have a film. It's very hard to make an archival film. In the United States or even in Europe, in the 60s and 70s, a lot of people had a camera, but in Cape Verde the cost a lot of money so not many people had cameras. Even her manager told me, 'I didn't have time for that, so we have nothing.' But I was a reporter for 20 years, so I continued to search for the footage. I know to some people it must have seemed a little crazy. I spent two years and a half with a picture in my bag, trying to find the guys who were in the picture, so I could tell their story with Cesária. There were a lot of bad days but then something would appear and we'd celebrate.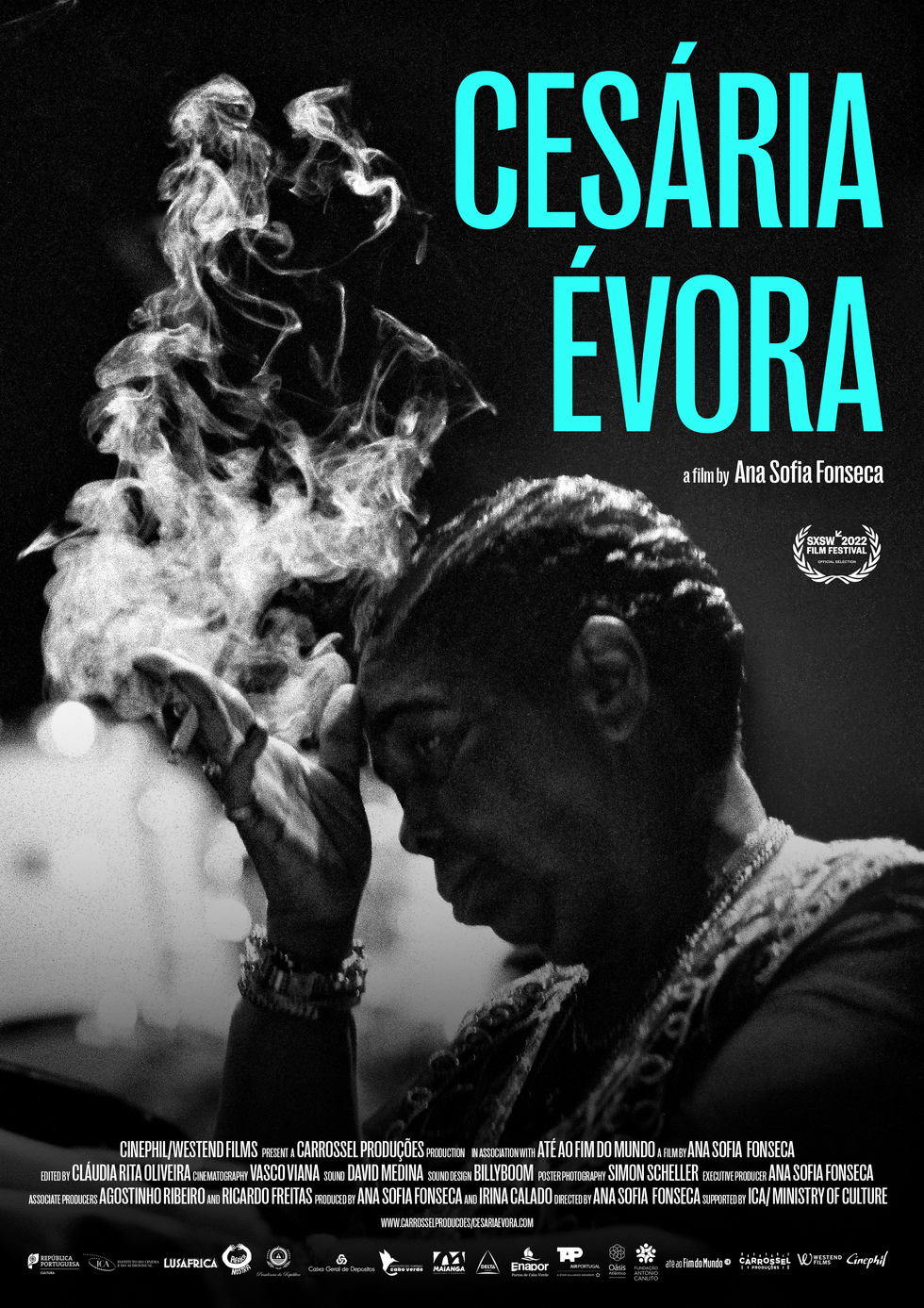 The documentary, CESÁRIA ÉVORA, offers a fresh take on one of the most remarkable singers of the 20th century.
Photo: Silversalt PR
What do you think the personal footage shows and let's us know about Cesária that we don't get from the recordings and studio sessions we've seen?
For me, it was really important to have that kind of footage because it's very intimate. It was recorded without the idea that it would be shown one day. So there is a lot of sincerity. The footage is completely Cesária; you see her people, their society, without any mask. For me, it was the way of putting sincerity in the film, and to see and to understand and to get as close to knowing Cesária as she was.
We get to see little snippets of her life behind the scenes, like her bringing pots of leftover cachupa backstage to her show at the Hollywood Bowl...
But that's Cesária! That's normal with her. Maybe because she knew what it was like not to have food to eat, she gave a lot of importance to food. To her, food was much more than something to to eat; it's life. She was always giving food to musicians. It's incredible because when she started having success and money, and when she managed to own a house, the only thing that was important for her was to have a pot on the stove in the kitchen 24 hours a day. There was always food at her house and everybody could go there. There are a lot of stories about how, for her, the president and the beggar would have the same seat at the table. For her, everybody is the same.
It's such an inspiring story. We need inspiring stories. Especially now. In the '90s African world music was fashion. But now we are much more closed off to the other and to those who are different to us. Even here in Europe, we can see the extreme right wing having much more voice and power, and I think it's much more interesting and important to give voice to someone like Cesária. She came from an island almost without place on the map, and conquered the world, without being conquered by the world, because she was always so loyal to herself. That it's an inspiring story. She didn't care about fame. All she wanted was to have food on her table and to give food to everybody, and to have a house, and be free. And she was -- completely free. Before success and after success, she was a free woman.
It's hard not to overstate how much she did for Cape Verde; she really did put it on the map. What do you think is her legacy today?
Well, she's like a queen in Cape Verde, and now morna is recognized by UNESCO, as intangible cultural heritage, and that's in large part because of Cesária. She brought it from the Cape Verdean houses to the world; she broke a lot of prejudice, singing in bars, and everywhere. Before, it was not so nice to have women singing in bars, singing morna, now it's great to be a morna singer. There are a lot of young women singing it, and that's because of Cesária. And she's an example also in in terms of empowerment.
Was there anything that surprised you about her while you were working on this, that you maybe didn't know before
If you go to São Vicente, everybody has a story to tell about Cesária. So when I started doing this, I had already spent a lot of years, listening to stories about her. But I discovered, in the intimate footage, a woman very conscious of everything. I already knew that she had a social conscience. But I discovered a woman with a really big social conscience. And I discovered that she made decisions about her career. It was not only her manager; she was much more aware of what was going on around her. She knew very well what she was doing. And it's funny because she didn't know the expressions, 'female empowerment' or 'social conscience,' but she had that in her nature. She was living that, and showing it by her way of living. The way she lived was a way of fighting against prejudice.