Back in 2017, we got wind that a new IKEA collection was in development, spearheaded by renowned African designers across disciplines.
After a meet-up at Design Indaba, Marcus Engman, IKEA's head of design, and Ravi Naidoo, Design Indaba's founder, discussed a plan to highlight work coming from African architects, illustrators and designers—ultimately releasing the ÖVERALLT Collection 2 years later.
The limited-edition collection features sleek home goods and furniture items from the minds of eight designers hailing from five African countries—Issa Diabaté, Selly Raby Kane, Studio Propolis (Naeem Biviji and Bethan Rayner), Bibi Seck, Reform Studio (Mariam Hazem and Hend Riad—2019 OkayAfrica 100 Women honorees), Renee Rossouw, Sindiso Khumalo and Laduma Ngxokolo. According to IKEA, it seeks to "build bridges and note walls—ultimately creating room for better habits together."
"This is how design makes the world smaller and brings people from different cultures closer together," Seck says.
Virgil Abloh also designed for the fifth short-term collection—IKEA Art Event. The mind behind Off-White designed what he considers to be an ironic take on the Persian rug. Using shades of gray and his signature labeling with quotations, Abloh gives commentary on the parents who protect their furniture at all costs (anyone else had plastic coverings on their couches?).
Check out the collection along with Abloh's rug below, with all images courtesy of IKEA.

---
"I wanted an ironic take on the traditional attitude to furnishing where the living room is just a showroom, not somewhere you sit," Virgil Abloh says of his IKEA Art Event rug in a statement. "The parental 'don't ruin the furniture' kind of thing I think has really impacted how younger people furniture today."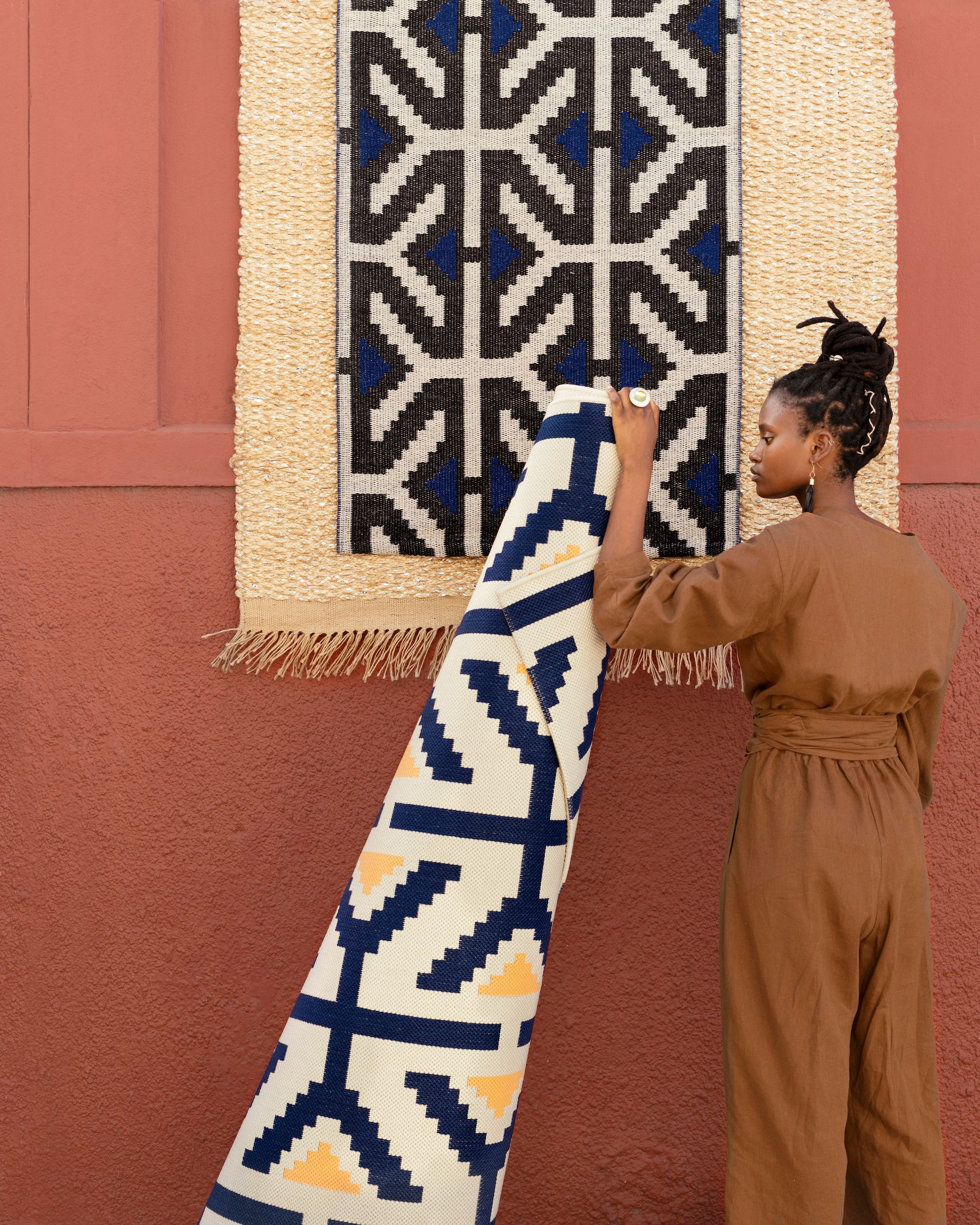 "The patterns are inspired by where I come from, and by the journeys I've made," Ngxokolo of South Africa's MAXHOSA BY LADUMA says. "I hope it will bring comfort and pride to people."
"I imagine people sitting in this rocking chair, rocking and reflecting," Bibi Seck, the Senegalese designer and co-founder of Birsel+Seck, says. "I imagine my father who is in his eighties sitting in it, smoking his cigar; my sister-in-law with her newborn baby; my niece and nephews playing on it."
"We believe that design can solve stubborn problems," Hend Riad and Mariam Hazem of Reform Studio say. "Reform is an umbrella of many 'Re's'– a recreation of an existing idea, a redevelopment of objects, a reusing of materials, a reviving of cultures and reforming of our world."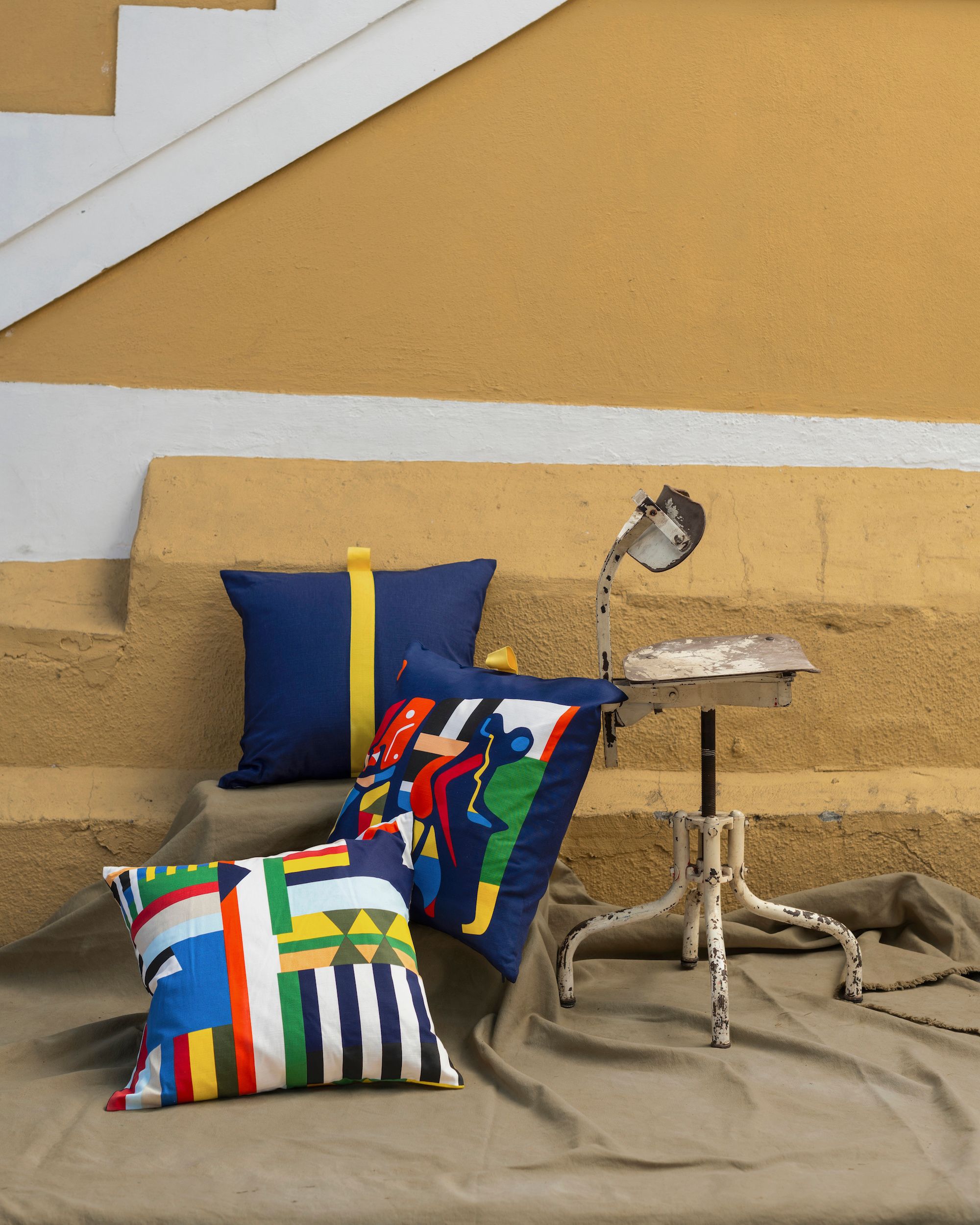 "I wanted to design a proud South African textile," Renne Rossouw, who designed the textiles with Sindiso Khumalo. "So I proposed an artwork with my favorite animal, the African Elephant. It's such a beautiful and intelligent animal that really knows how to care for their young ones."
"These baskets are mainly inspired by the ritual of hair braiding," Senegalese fashion designer and artist Selly Raby Kane says. "It's this shared moment when your head either ends up on a family member's lap for hours and hours, or you lean back in a chair in a cool salon, listening to the latest Dakar and foreign pop."
"We are interested in ideas that are not only good for Africa but may be relevant anywhere," Nairobi-based Bethan Rayner and Naeem Biviji of Studio Propolis say.
The husband and wife duo was inspired by the Kenyan evening custom where friends gather together with their own chairs to talk about their day and about life when designing the ÖVERALLT table and accompanying benches.
"Depending on where the designs are assembled, they can take on different personalities," Diabaté says.
"I wanted to design a pleasant and functional object without using costly materials or sophisticated technology," the Ivorian designer and architect adds. "This chair is made out of a sheet of plywood and a jigsaw, technically. No necessity for nails, glue or screws or any other complex fabrication process."
"Throughout the design process it's been interesting seeing how many more similarities we have than differences, even when our approaches are opposites," Sindiso Khumalo says.
See the full ÖVERALLT Collection here.