While it remains to be seen where Mx Blouse will go next sonically, by now, it is clear that kwaito will remain at the core. "This is who I am as an artist, whatever beat I'm on, my delivery will always take it back to kwaito," says Mx Blouse in an interview with OkayAfrica.
From Mx Blouse's beginnings a mere four years ago, they have constantly worked at finding their own voice and sound. It's been a journey that has seen them hone their unique blend of local nostalgia-meets-cutting edge, resulting in the familiar danceability that Mx Blouse's debut album Elementality presents.
From their first single, 2016's hip-hop-leaning, "WTF(SQUARED)", Mx Blouse's sound has always been based on them delving into and reinventing the sonics that have shaped them as an artist.
---
While their debut EP, 2017's Believe the Bloom, played within the boom bap realm, 2018's "Is'phukuphuku" saw Mx Blouse explore their love for kwaito and gqom and rapping in their home language IsiZulu for the first time. This journey would continue on their second EP entitled Re:Mx and released in 2019, a fusion between kwaito and sounds from contemporary electronic music.
Danceable songs
Elementality features productions from stalwarts of local underground electronic music such as Micr.Pluto, Parabyl, MISSU, Bakai and Eye On Feather, with the latter having produced "Yesterday's Nostalgia", the oldest track on the release, dating Mx Blouse's venture into these sonic territories to 2018. "I think we started working on that track as soon as 'Is'phukuphuku' was released," they recall.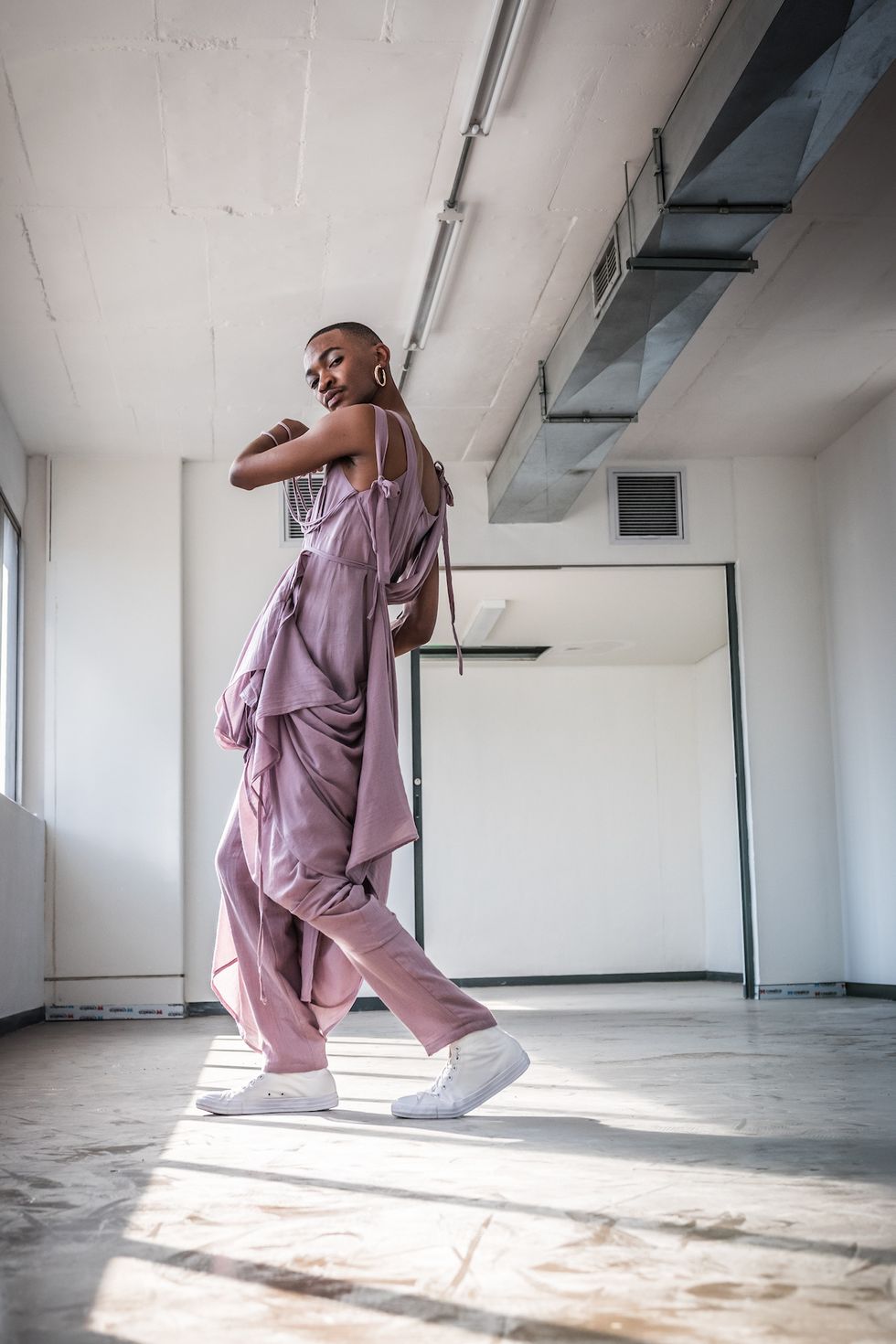 Photo by Zander Opperman.
Although the release features a wide range of producers, Elementality sounds cohesive, sitting under the broad umbrella that is electronic dance music, something that Mx Blouse focused on during the creation and curation of the album.

"The general approach [was] to make something that people can dance to. What's in the album is what worked sonically out of all the tracks that I made. I made different kinds of genres in the bunch of music that I made. It's just that these for me anyway sounded like they work together," says Mx Blouse.
As such, the record sees Mx Blouse having grown as an artist, pushing beyond the sounds of their previous releases. Still, be it in the delivery of their raps, or in the instrumentals of certain tracks such as "Phuzamanzi" or "Zandla Phezulu", the kwaito influences shine through more overtly.
Human connection
With the album thematically exploring human connection, the title highlights its importance in the human experience.
Mx Blouse explains: "The term 'elemental' means something that's fundamental to a particular concept. I think connection is fundamental to human existence, that's why I settled on the term. This is something that's fundamental to who we are as human beings. Finding connecting, navigating connection, that sort of thing, that's exactly what I'm speaking about on the album."
It is this elemental nature of connection to human existence which prompted Mx Blouse to focus on the theme of connection. "It's something we all want. It's something that's always top of mind for everyone. I was looking for something that other people can relate to and that isn't foreign to me."
Finding new ways to operate amid the pandemic
Thanks to the pandemic limiting their ability to shoot a music video and promote the album using traditional avenues, Mx Blouse decided to work with a UK-based promo service in order to get their music into the hands and ears of deejays outside of South Africa, a move that has already seen returns. "The feedback has been incredible from that. The music has a few placements on radio in Europe. It was a huge investment, but I thought it was necessary. I think everyone is trying to make sense of how to operate," says Mx Blouse.
While the artist is constantly working on new tracks, they haven't planned on any further releases for the year "unless it's a remix", something which they have been thinking of, but have yet to explore. With the lockdown easing, a video may yet still be in the makings, but for now, the focus remains on the release. "[We're] getting the word out and trying to connect with others."
Stream Elementality by Mx Blouse on Apple Music and Spotify.