Freedom is important to Tems. That titillating state of mind that permits us to be as genuine and true to ourselves as we possibly can is a driving force through which the 25-year-old alt-R&B singer navigates her life and expresses her music.

Her music: a gently gritty, yet completely tender sound fitted amply beside a highly-thoughtful and accomplished lyricism. Remarkable for someone who has been on the Nigerian music scene only for a short while, but unsurprising for Tems (real name Temilade Openiyi) whose approach to music-making is as much a spiritual experience and a constant return to her own experiences, as it is a connective bridge to listeners who can relate.
On the For Broken Ears EP, which she started writing and compiling in March during the lockdown, Tems is not only being free and coming to terms with some of the events in her life, she's also urging listeners into a cleanse. It's an auditory occasion for healing featuring eight tracks and promising perspective, lightness and rejuvenation.
A prominent feature in the process of putting the EP together was reinspiration and moving back and forth between her past and present. It meant redoing songs she had written as far back as two years ago ("Ice T" and "Damages"), but which hold significance in her life today. It meant seeing old songs through new light and deciding which ones best represented her journey.
Below, we talk about the process behind putting the EP together, the joys of rediscovery, life during lockdown, spirituality, freedom and what it means to stay grounded while leaning out.
---
Photo: Jerusa Nyakundi.
Hi Tems, how are you doing, particularly with all that has been going on lately?

I am good. The past weeks have been a lot. I feel like there's been a lot of loss and sadness. Everybody has gone through so much in such a short time. But I am grateful because there is this sort of awakening, we are now more aware of the injustice happening and how it is ending, we are beginning to see who these people really are and we can't go back. Also people are beginning to see what is really going on, and that gives me hope.
For Broken Ears has an unmistakably timeless quality about it, were you intentionally going for this while making the EP?
No, that definitely wasn't the intent, I mean I can't tell the future, I don't do future telling on the side. But I think it really was just grace. The intention of my EP was to bring some kind of healing to anyone who might need it and inspire the want and desire to find oneself and the desire to be self-aware. I also just wanted it to help free the toxicity in people's lives and just help them feel new again. So I couldn't have foreseen this reception. I also just feel that maybe my spirit was speaking ahead of me as it is not something I can really explain.
Damages- Tems (Official Music Video)youtu.be
So I'm guessing you're really in touch with your spiritual side? How does that play a role in this EP?

Hmm, yeah I am. Well I mean since I became slightly aware of myself, I have always wanted to find out more about who I am, where I am from and what the roots of all things are, and what any of this, existence, us being, even means. And that journey has shown me my place in the world and even when I make music that some of my fans tell me helped them get through suicide, I realize it is simply the ripple effect of making something that is pure and directly from my spirit. I feel like you can feel the honesty in the music and that must be where the spiritual edge comes through.
In your EP, you are wholesome and individualistic yet also really relatable, what informs that process?
My songs are not premeditated. They are mostly a product of me expressing my most immediate truth from whatever situation I might be in. So I find that what happens with this process is people find their own interpretation of what emotions I have. And so my emotions become transferable and listeners are able to redirect it to situations that match their perspective and realities.
What was the process behind producing 90% of the songs on the EP?
Producing is what often comes first before I sing or write a song. And with production as well, I don't know what I am going to make, I just know I am going to make something. So I go on my laptop and work based on the vibes I am feeling. It is really about what I am feeling, and if it sounds good to me, I just put it down and if any other ideas come in, I add it. And then I make a beat and throughout the process, I make sure to tune into the beat and resist the urge to freestyle. It can be pretty easy to just run with the flow for a while onceI begin.
Photo: Jerusa Nyakundi.
What is the difference between when you are self-producing a beat and when you have someone else producing for you?

Well, when I am producing myself, I am a hundred percent involved and the process feels more intimate, because there are just endless possibilities and it is really my own. Also it feels like my expression when I am producing as against when someone else is producing for me, in a way the beat becomes their own expression. It becomes their beat, their translation of music and it comes from their own perspective. So it feels as though the producer starts a conversation you have to be interested in before you can get into. The good thing with other producers however is that there is the possibility of being surprised, but with yourself you already have a sound, and there are sounds you already align with. A producer can open my mind to a new sound I might also come to vibe with while maintaining the identity of the type of sounds I like.
For Broken Ears is bolstered by a lot of self-awareness and that links me to the question of how you decided to arrange the EP, what were you trying to do with that process?
I was just trying to show a journey, my own journey in recent years. Interference for example, is the first song I wrote during the lockdown and The Key is the last song I wrote and they both feature as the first and last song on the EP. So yeah, the EP is really an authentic and unfiltered reflection of my life and it was important for me to show that.
Away from the EP now, what was life like for you during the lockdown?
The lockdown actually helped me observe myself and see like, "okay, you do have some toxic traits over here, you have issues with these kinds of things, why? Where is it coming from" So I have been able to observe my thoughts and see which thoughts are from mental conditioning, and by identifying them and realizing that they are not often real, I have felt more aware.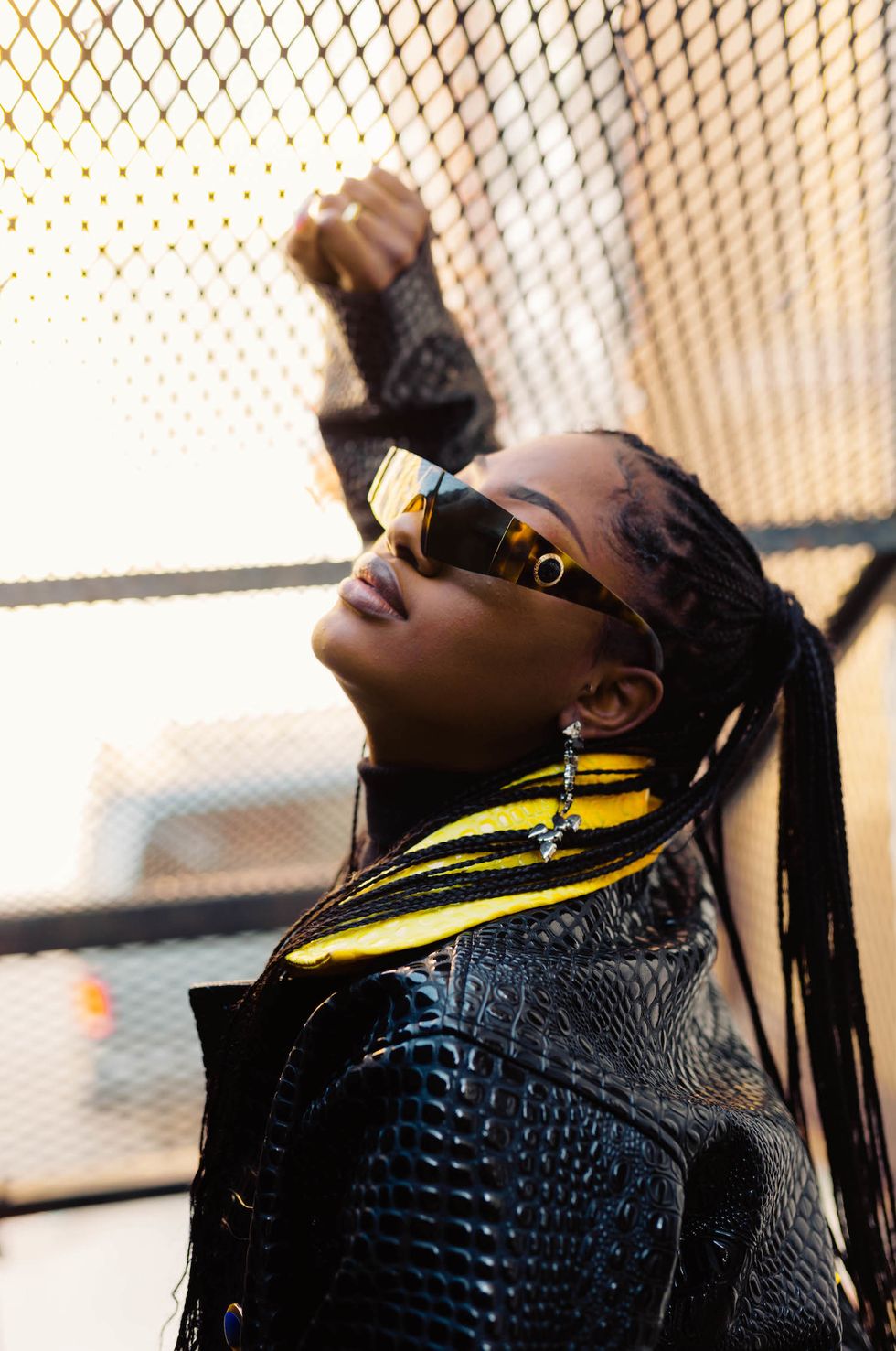 Photo: Jerusa Nyakundi.
What did you spend time doing away from music?

I rediscovered my gift in cooking and arts and fashion and anything that has to do with creativity in general, I was all up there. I bake my own bread now, brownies and pastry in general, and that is just an example of the things I discovered I could do. I also picked up illustrations, designing clothes and accessories and I didn't know I could do any of that.
The idea of discovery and rediscovery is a very strong part of many lockdown experiences.
Yeah, before now, nobody taught me how to cook, it was just something I wanted to do because I am an all or nothing kind of girl. I always want the best when it comes to anything I do and food is not an exception. If I am having a sandwich? I want it to be the best sandwich I have ever had and if I can't get it to my taste, I just make it! For me cooking is an art and it's just another means of expressing myself. At the heart of it, I am happy to be an artist, being able to create in any way possible just makes me really happy.
How are you spending your days now?
With everything that has been happening, I am just preparing myself, while keeping myself grounded and ready for any work I am needed for. I am very passionate about my music but my music wouldn't sound like what it does if I wasn't Nigerian, or was born and live in Nigeria. So right now, I am very passionate about my people, and I am finding ways to make an impact and use my platform as best as I can. And I try to do this by speaking out and reaching out to help the people in the background. But otherwise, I am just preparing, having fun and being grateful for the journey. Gratitude is what I am living in currently.