Ghanaian-born Fawaz understands the influence of art on music. Through his precise, clever designs, he's grown to become a voice in the cover art space. In the last three years, his designs have been utilized by Wizkid, Mr Eazi, Sarkodie, Shatta Wale and a host of celebrities.
Discovering his artistic gift in high school, Fawaz started out by creating fan artwork for some of his favorite globetrotting stars. A few like Sarkodie noticed. "One day, Sarkodie was about to release a song," Fawaz recollects. "His designer wasn't available to do the artwork, so they contacted me to design it. I did it, he posted it and I felt so confident about my craft."
In 2018, Fawaz' art would get to Wizkid, who reposted it and went on to replicate it as merch. The relationship between the two has since deepened, with Wizkid enlisting Fawaz as his go-to creative designer. And when the Nigerian superstar's monumental album was due for release, he would turn to Fawaz to create the sleek, minimalist Made In Lagos album cover.
Below, the artist talks about his journey so far, meeting Wizkid and his relationship with the Starboy.
---
It's been a hectic last year for you. You went on tour and achieved your dream of designing the album art for Wizkid. How did this all start for you?

I started this as a playful thing in high school. I was just trying to design for artists. For me, I'll just take pictures and create [something] using [them]. Everyone around me knows one of my favorite artists is Sarkodie. I was a big die-hard fan. Me, I always had it in mind that even as a fan, you should have something to offer to the artist. So, as a Sarkodie fan, I should offer something from the creative side. I began by designing for him. I'd post fan art, he'd see it then retweet.
Then one day my moment came. He was about to release a song and his designer wasn't available to do the artwork. So they contacted me to design it. I did it, he posted it and I felt so confident about my craft. I was like 'f-ck it, I can do this art thing.' From there on, I had this realization and self-belief that I could be successful at it. I started pushing myself out there more and reaching out to a lot of artists trying to work with them.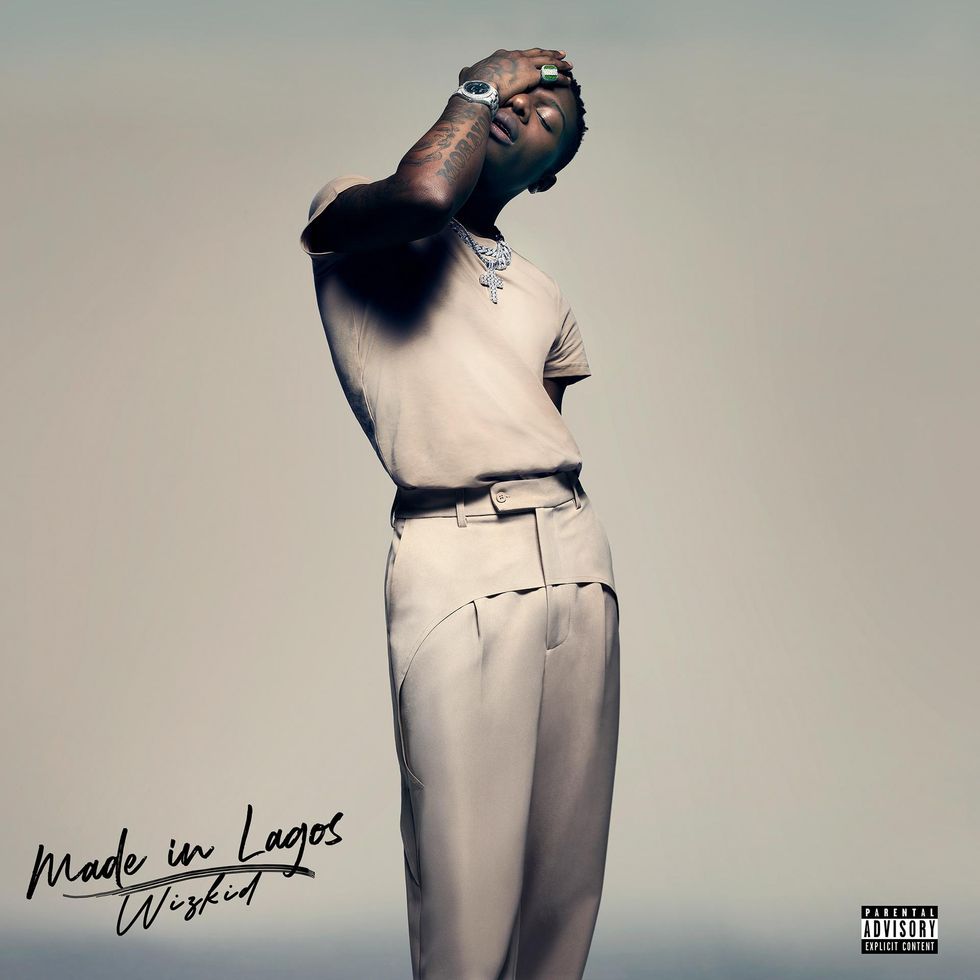 Wizkid's Made In Lagos cover designed by Fawaz.
In 2018, you posted a design you created for Wizkid. It went viral and Wizkid recreated it for his merch collection. How did you go from that artwork guy to being a part of the team?
I'm always retaining this mindset of: if you want to work with someone so bad, you should have something to offer to the person. No one wants to be with someone who doesn't have anything to offer. After I did that viral artwork, I persisted on working with Wizkid. I reached out. Even though I knew for a fact that at that point he had a lot of graphic designers and, perhaps, a lot of people Iike me trying to design for him, it didn't stop me from reaching out.
I was able to do "Commando" and "Fake Love" for him. My real goal with Wiz was to design his album cover. And God is just wonderful. Grace is just something you can't take out of a person. Personally I didn't even see it coming. He just asked me out of the blue. I didn't even plan it.
Artists most times can be indecisive. They know what they want, and you try to translate them to designs. Have there been times when artists refuse what you've done for them?
Funny enough I haven't had an artwork rejected by an artist before. I understand every artist I work with. I don't have to listen to all your songs to know what kind of vibe you want. When an artist tells me they want an artwork, say "Fake Love" for example, I'm picturing it in my head: definitely it's all about love.
All I see for the artists I work with happens on that first try. Let's say I do an artwork for you the first time, other times we have to work again, I already know what I'm creating for you. Maybe some have asked if I could adjust the font and all that. But I've never had an artist decline my artwork before. It's never happened.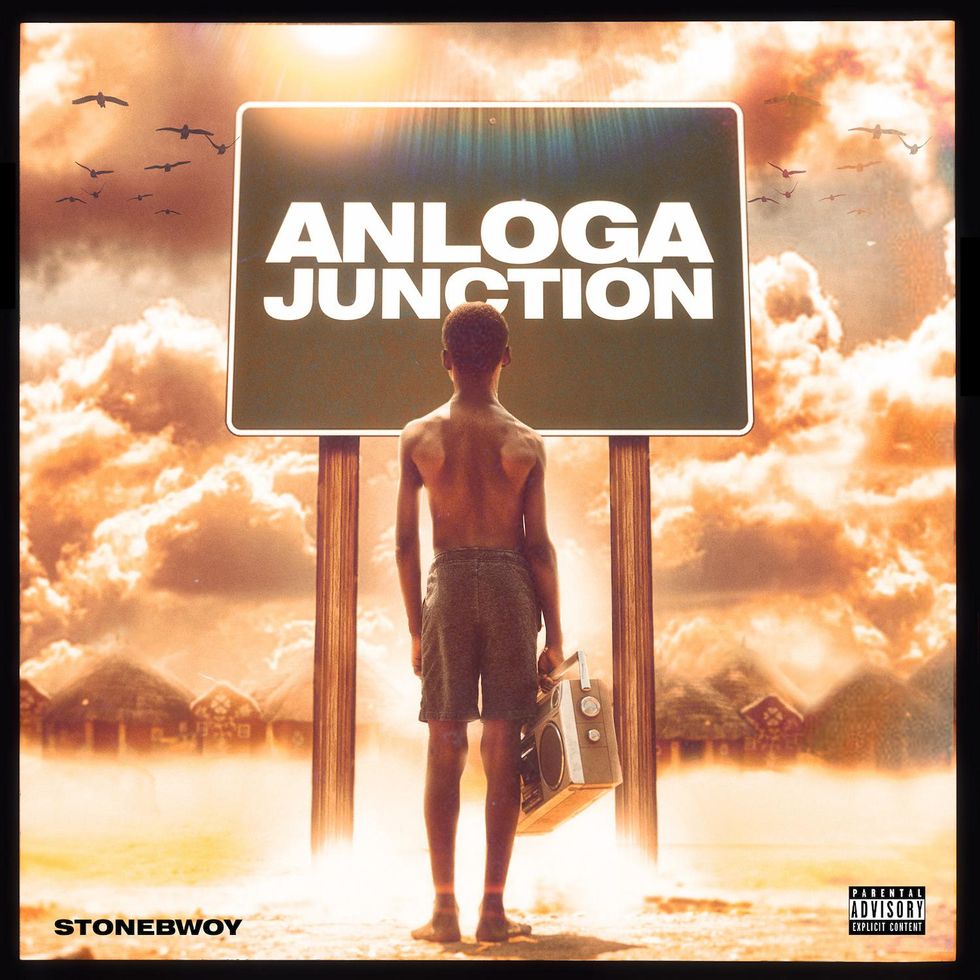 Stonebwoy's Angloga Junction cover designed by Fawaz.
Is there an cover you've created that has a surprising background story?
That would be Stonebwoy's Anloga Junction. I was creating a rollout for Stonebwoy and, at that time, we were going back and forth on how to create the album artwork. We kept having people sending ideas and all of that, and Stonebwoy didn't like any of them. I remember trying something to see how it goes. I took the picture. And the story is: Stonebwoy is the boy leaving the village to go to the city. If you see from the artwork, he's finally come to Anloga Junction with his jukebox. On the back cover, he's in a motorcycle on his way to the city to take the music out there. That was how I came about the artwork.
What's the relationship between you and Wizkid? You're like family.
For me, I'll say Wizkid is an amazing mentor to all of us who work with him. Wizkid motivates us to do better. Everything you see us do for Wizkid is down to his motivation that makes us do our best. Behind closed doors, he's always advising us. He knows we're young, he on the other hand is matured. He's been there, he's done that. He never wants us to go on the wrong path. He'll always put us in our place and make us know that the work we're doing isn't just for ourselves, it's for everyone. It's for everyone to see and be like 'wow this stuff I saw is amazing.'
The artwork for Wizkid encapsulates the mood, feel and texture of the tracks. How was it created?
We did that artwork in a day. I remember creating it online. Me and Langmia. He sent over the pictures and we worked magic together.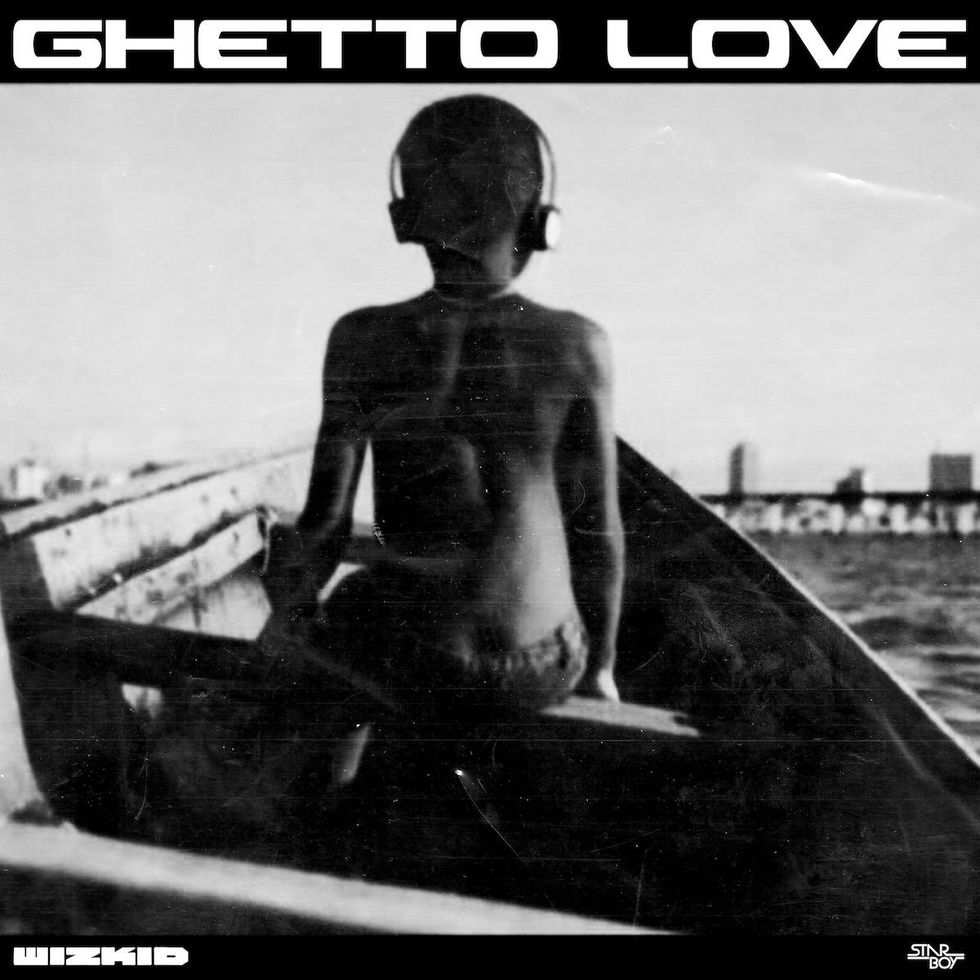 Wizkid Ghetto Love cover designed by Fawaz.
What's your approach to creating? What do you do when you're about to take on a new project?
I work in a very weird way. I don't research albums. I don't let other people's works define my approach. I just sit down and process everything I want to do. If you see me work, you'll find me weird because you don't know where I get my ideas from. My creativity has no secret. For example, if I create an artwork, it's more like a blessing rather than a challenge. When I create I don't remember how I create. After I create, I cannot recreate it again. That's how I am.
First time you got a major paycheck, what did you do with that money?
I invested in myself. I invested in my craft. Bought a new laptop and after that upgrade was when I started making more money. When you make money, you need to upgrade the materials you use to work. You cannot make money and then still use the same old tools. If you want your work to be better, you need to invest in it.
What's the best advice you've got from Wizkid?
Wizkid will advise you to be versatile. You cannot be at one place your entire life. You got to keep it moving. You cannot be comfortable having 100,000 dollars. You have to double it up. You have to keep making more work. Personally, my life is moving. I'm not lagging. I've listened to him and everything he said is impacting my life. He'll always urge us not to be comfortable at where we are. Always try to get more, do more, do better.
Mr Eazi One Day You Will Understand designed by Fawaz.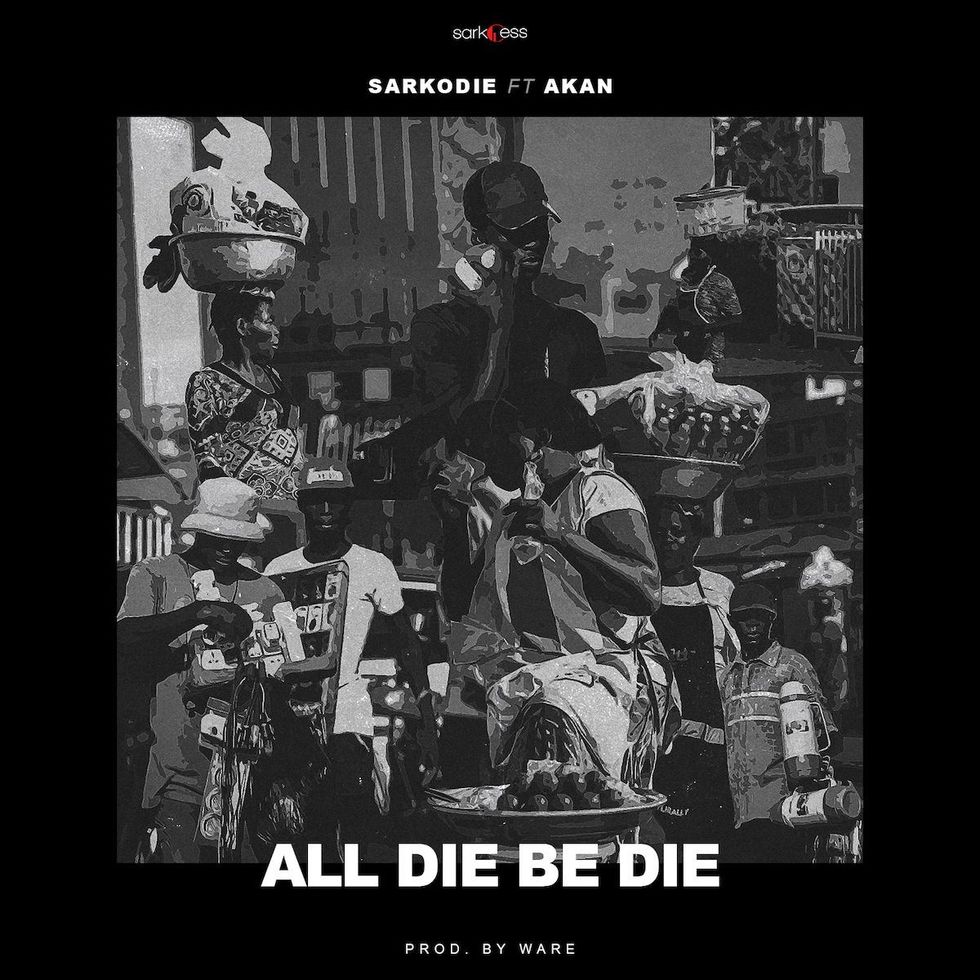 Sarkodie & Akan All Die Be Die designed by Fawaz.
Mr Eazi and Tyga Tony Montana designed by Fawaz.
Mut4y Afrosummer Vibes Vol.1 designed by Fawaz.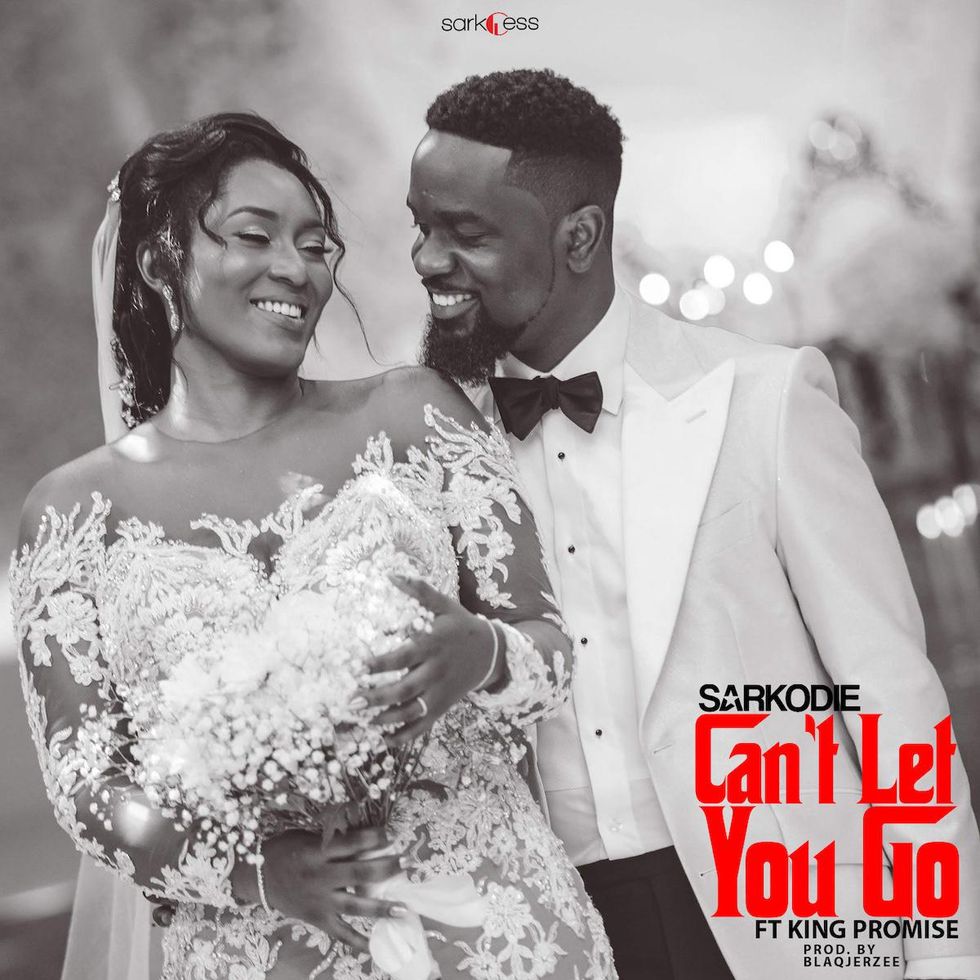 Sarkodie Can't Let You Go ft. King Promise designed by Fawaz.
Boys Kasa designed by Fawaz.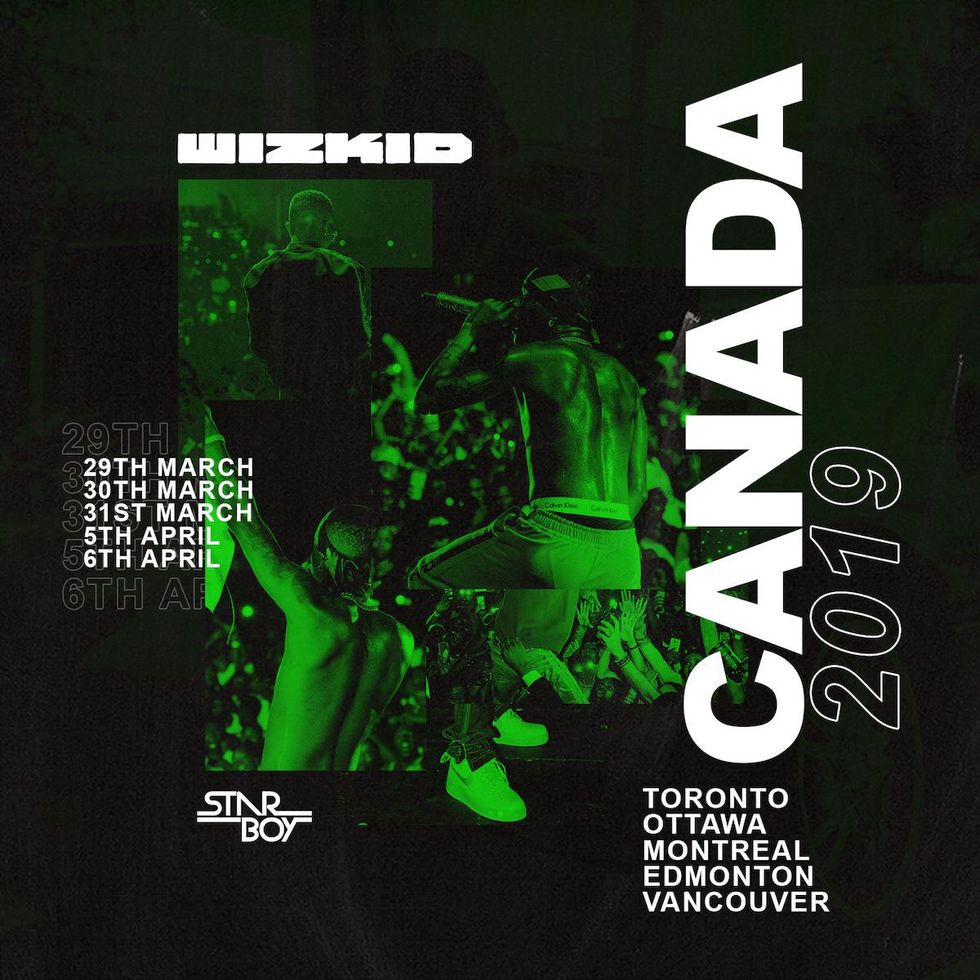 Wizkid Canada tour 2019 designed by Fawaz.
Starboy Fest merch designed by Fawaz.