Backstage at her first live performance at the Big Brother Naija eviction show in July, Mavin's music starlet Ayra Starrposed for Instagram wearing a custom, ivory two-piece outfit. The 19-year-old posed wearing a slinky bandeau crop top with a metallic accent, and high waist baggy pants paired with opera fingerless gloves. The outfit is reminiscent of the same chic, carnal athleticism seen in Ayra's video for Bloody Samaritan, where she wears both a custom fur coat and a monochromatic red leather outfit. Both looks are the work of Nigerian streetwear brand Daltimore.
These moments of fashion aren't happening in isolation. Streetwear has a stronghold on Nigerian youth culture, especially in Lagos, often troping around the resurgence of Y2K aesthetics that have begun to influence the buzzing profiles of Gen Z artists, fashion influencers, and entertainers. Bucket hats, crop tops, baguette bags, baggy jeans, mini skirts, and so on. Enter Daltimore, seizing the moment by signposting how these cultural pulses are intersecting. At first, the brand didn't eschew streetwear's disruptive tendencies when founded by its creative director David Omigie in 2015. The brand name is significant for David, to immortalize his late brother. Baltimore was his nickname back in high school.
This isn't the only familial death David has experienced to inspire the Daltimore footprint. The debut collection embraced simple, conservative tailoring, dashiki tunics, and shift dresses that stayed slightly loose on the body. Blending in casual touches like jeans and sneakers to keep it modern, the collection in hindsight appeared to be foreshadowing possibilities in streetwear. With a wave of terrorist attacks in Northern Nigeria and the unfair stereotyping of the region as violent and hostile, Daltimore shifted focus to the region's culture and iconography to dispel media narratives for its 2018 collection.
Translating the aridity of the North into invigorating brown close to the shade of pecan, Daltimore's 2018 collection featured clothes columned into long skirts, sleeveless kaftans with large white patch pockets, and head wraps. In finding its own design language, the brand has created a tension that sits between tradition and modernity. To that end, cowries on a zip-up leather jacket illustrate this intermingling or basketweave embellishment on a tote bag. Embracing the broader, aggressive aspects of streetwear was only a matter of time. Look at a Daltimore ensemble and there would typically be a harness looping around the wearer, vests and bomber jackets in neon colors, bags with sling chains, and velcro straps. And lots of leather.
From 2Baba, Blaqbonez, Joeboy, Fireboy DML, Dremo, Lady Donli to Toke Makinwa, Dare Art-Alade, Ric Hassani, Oxlade, Daltimore has accrued an impressive list of celebrity fans in a relatively short time. In this OkayAfrica interview, David shares his motivation for going into fashion, how he's been navigating the industry, and defines streetwear from his vantage point.
---
Image: Models wear Daltimore's White Line SS21 collection / image credit: @_alaoo (instagram)
What made you position Daltimore as a streetwear brand?
When I first decided to start the brand, I was in my first year in pharmacy school, and back then all I wore were tailored pants and corporate shirts and I told myself I would do the opposite with my brand. So from then, I was always thinking of making pieces that I could use to express another side of me that wasn't a 'health care professional' because that's all that society saw me as and they put me in a box. I decided to leave the box and show my creativity and streetwear is my canvas.

You are a pharmacist. Why did you decide you also wanted to be a fashion designer and did you get any training?
I get asked this question a lot and it also shows how much people expert health care professionals to be strictly into healthcare. Growing up my parents always wanted me to be a doctor and I quite loved sciences but I always had a creative side and I wanted to have the best of both worlds so I started my brand while still studying. I never really had any training as I had only basic tailoring for three months after I graduated university but before the training, I was taught to use a sewing machine in church and since then I was sewing bags, purses, and other small items which helped me when I started making clothes. But mostly, I'm self-taught.
In your opinion, what makes streetwear "streetwear" and how do you see it evolving over time?
For me, streetwear is anything you can express yourself and your style with. Most people hear streetwear and think t-shirts and stuff but streetwear isn't really about the piece of clothing but the expression.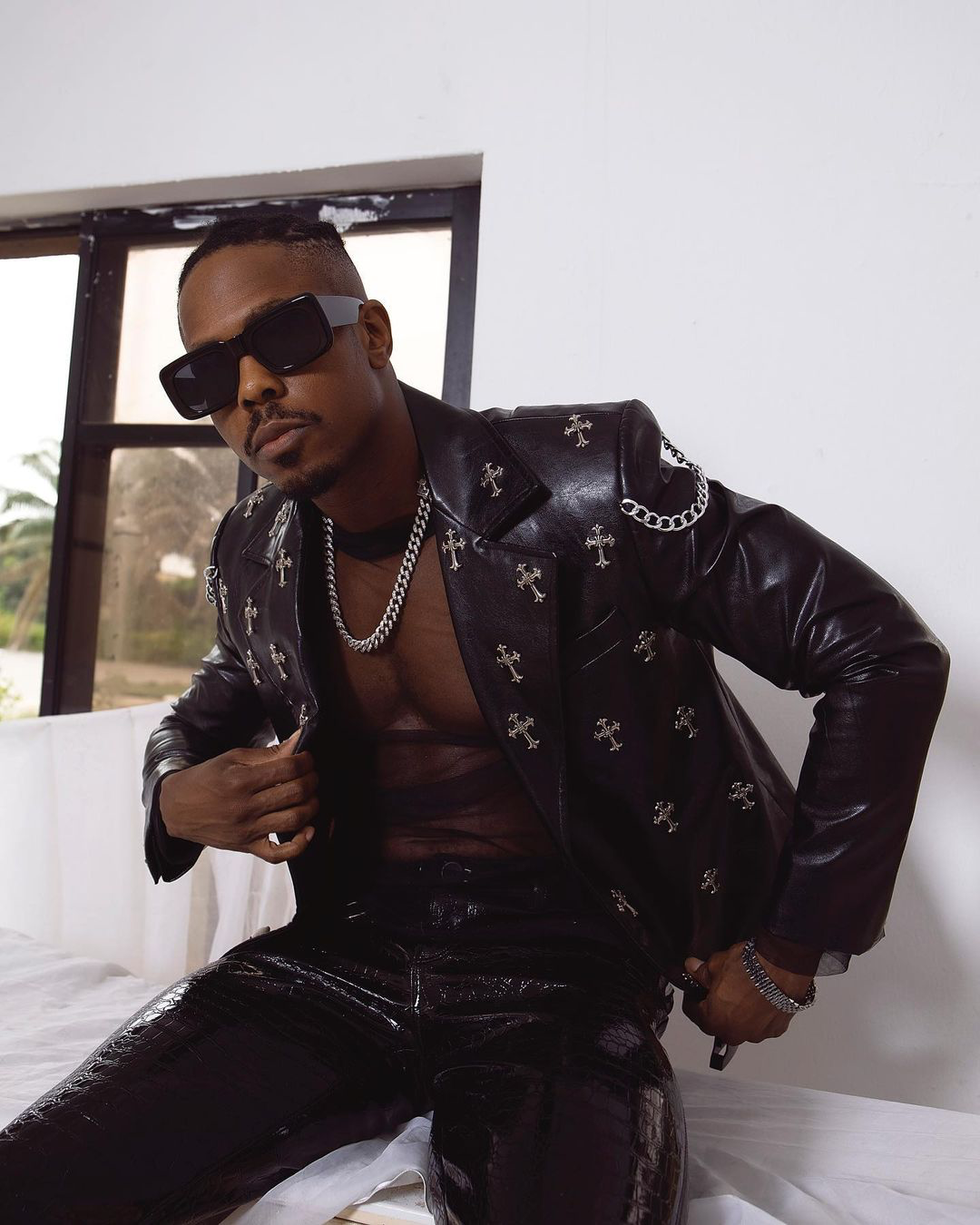 Image: Nigerian rapper, Ladipoe, wears a silver crucifix-embellished leather jacket from Daltimore / image credit: @iamjinius_ (instagram)


Who was the first major celebrity to wear Daltimore?
That would be the rapper Ladipoe. I got the contract to make some outfits for a performance for him and at first, I was really nervous and imposter syndrome kicked in a bit but I trusted myself and the work I had been putting in for the brand and that gave me the confidence to pull through.

How did you manage to garner an impressive list of celebrity clients over the years? Was it the relationship with stylists or Daltimore's marketing/word-of-mouth?
I would say the artists are drawn to the brand because our pieces are unique and we aren't making the regular "streetwear" clothes and also the stylists have been key to it because they have been connecting me to the artists.
Which celebrity, wearing Daltimore, has been able to capture the true vision of the brand?
Bella Shmurda. He's a very creative artist and detailed. We both love pushing the boundaries of fashion and we always love to fuse streetwear with our native culture.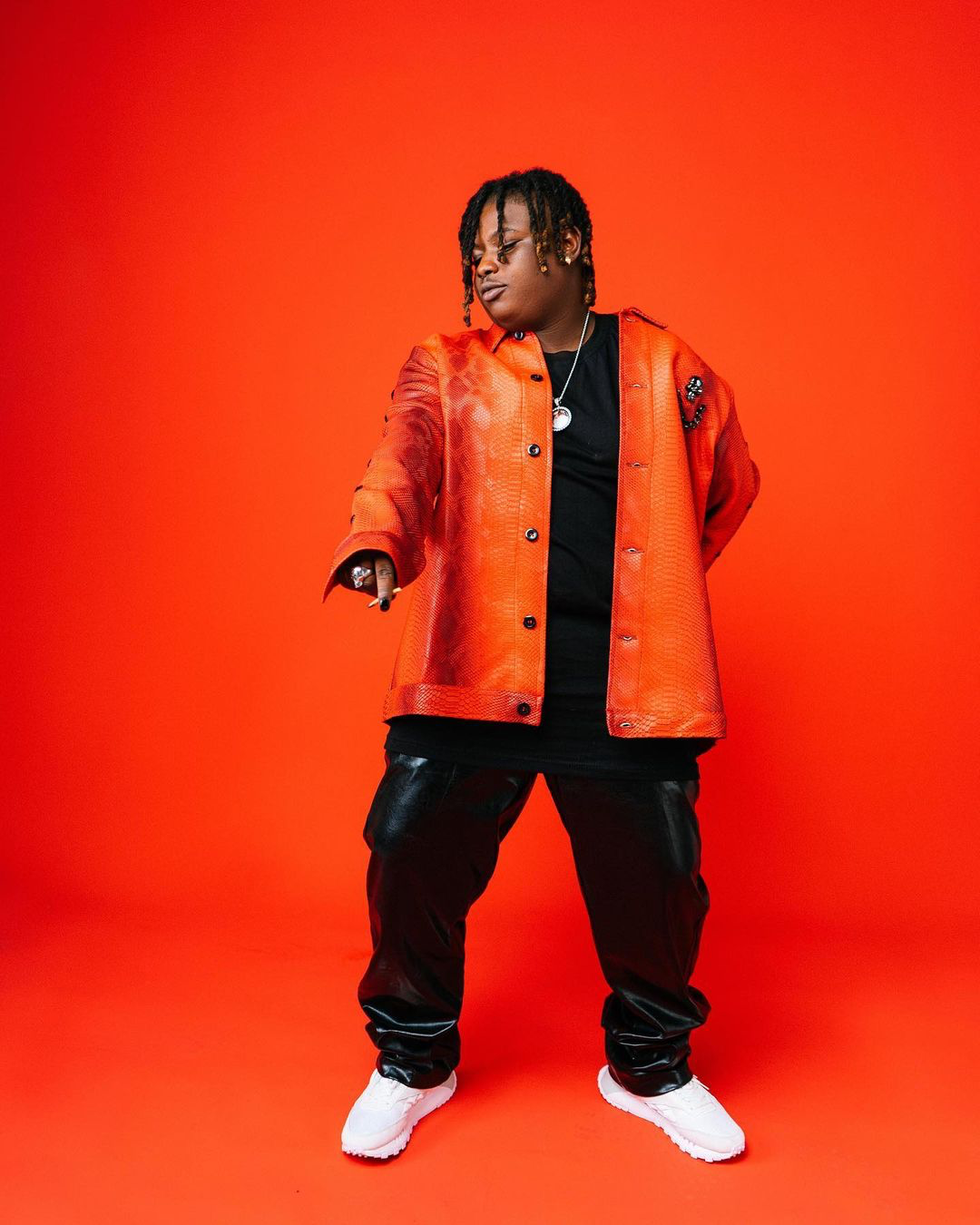 Image: Nigerian singer, Barry Jhay, wears a red leather jacket from Daltimore / image credit: @22.jumpstr (instagram)
As a designer, what does sustainability mean to you, and in what ways have you integrated the concept into Daltimore?
Sustainability is very important in fashion today as we are trying to protect our environment from waste and pollution. We have tried to adapt some sustainable practices by making use of vegan leather and fur for our bags and jackets. Also, we have eliminated plastic and nylons from our packaging materials and replaced it with locally crafted packaging and recyclable paper.

The Daltimore accessories (pendants, jewelry, bags, etc) compliments the brand's aesthetic. What was the motivation to make accessories as standalone products?
Before I started the brand, I was making beaded bracelets, hand-woven bracelets, etc. I always like DIYs's so I found making accessories fun and I decided to pursue it further.
Image: Model wears Daltimore's Black Line SS20 collection / image credit: @ayanfee__ (instagram)
Daltimore has released a couple of collections since it was founded in 2015. Which of the collections do you have a strong connection to and why?
Our SS20 collection, Black Line. It was a collection in tribute to my elder sister who passed away and I was able to channel my emo side into it.

What's the future of Daltimore?
In the future we would like to have our flagship store, our products stocked in top retail stores around the world, and to showcase our biggest fashion runways.