Russia's ongoing invasion of Ukraine is a humanitarian crisis that has drawn sympathy from around the world. A domino effect of Ukrainians fleeing is that African students and workers seeking refuge are experiencing unfair, racist treatment, ranging from segregation to threats of intimidation. Africans from Sierra Leone, South Africa, Congo, Ghana, Namibia, Nigeria, Ghana and a host of other countries are left feeling helpless and neglected as priority is given to Ukrainians. Before the conflict began, there were about 19,000 African students in Ukraine, with the lion's share — around 4,000 — coming from Nigeria.
So which African countries have the consular infrastructure to evacuate their citizens to relative safety? Some countries, like Ghana and Nigeria, have helped small number of students come home. But it's a grim picture nonetheless, one that has brought the conditions of global anti-Blackness to the forefront.
The internet hashtag #AfricansinUkraine has been brewing for a week now, showcasing harrowing footage of Africans at train platforms, buses and borders, stranded in the freezing weather. Viral videos have been circulating online, showing border officials barricading Africans from entry. In other videos, Africans are crushed together hopelessly or waiting sparsely for transportation that will never come.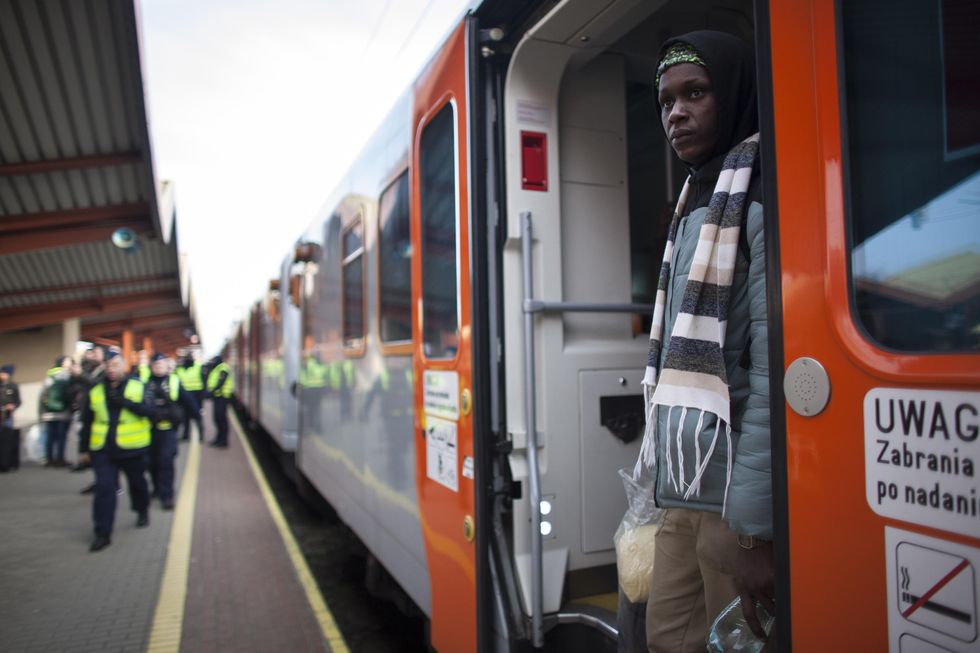 A Ukrainian refugee entering Przemysl, Poland.
Photo by Maciej Luczniewski/NurPhoto via Getty Images
"To the outsiders looking in, one might think that the situation at the Ukraine-Poland border where Africans were prevented from entering into Poland is an exceptional case," Bongani, a South African medical student studying in Ukraine said. "We deal with discrimination in Ukraine every day but we don't complain because we are here to study. In the area where I stay, once they see you are Black, they will charge you more for accommodation compared to white people. No one should be surprised at what 's happening at the border."
Bongani was able to successfully cross into Hungary on the third day of the invasion after trekking long distances. But it wasn't easy. He had been harassed and turned away by Polish officials. And despite waving his passport and a clutch of relevant documents to prove he was studying in Ukraine, Bongani was ignored. Bongani said he witnessed authorities grant safe passage to Ukrainians and other white European nationals. When help wasn't forthcoming, he had camped in a corner with a group of strangers (also Africans) and spent the night in the cold.
His story is similar to Cecilia, who had been vacationing in Southern Ukraine. Liberian-American by nationality, Cecilia had felt a frisson of uneasiness when diplomatic tensions between Russia and the West heightened, leading to bombings in Ukraine and a shutdown of the country's airspace. "I felt cut off from the world and isolated," she said, "I checked the news every minute hoping to hear the Liberian government come up with an alternative plan to evacuate Liberians, but there was nothing, except for them condemning the attacks and asking for peace."
Taxi-hailing company Uber had ceased operations in Ukraine following the unrest, making moving around for Cecilia quite difficult. "I literally begged a nice old lady at the hotel I was staying to accommodate me in her car in Odesa but it was close to the train station that things started to get funny. They didn't let a whole crowd enter even though I could see some empty seats at the back. It was then it dawned on me what the common denominator was. We were all Black."
But Cecilia noticed another layer of discrimination that was both familiar and, taking into the account the circumstance, distressing. "I had noticed this Ukrainian official wearing a uniform had been refusing to speak to some African students, shoving them to a corner with one powerful hand. There were young women, all darker than me. I'm really light in complexion. When I stepped forward to ask if they were fine and then summoned courage to ask why we were treated this way, the official gave me more of an audience than he did towards the other women."
African governments have responded to this discrimination faced by African nationals. The Nigerian presidency condemned the unfortunate reports of Ukrainian police refusing to allow Nigerians board buses and trains to the Ukraine-Poland border. During a meeting at the United Nations headquarters in New York, Kenyan ambassador, Martin Kimani, urged for the mistreatment of Africans to cease immediately. Ghanaian Deputy Ambassador to the UN, Carolyn Oppong-Ntiri called on Ukrainian officials to stop the discrimination against Africans and offer humanitarian assistance.
Further, earlier in the week, the African Union joined to condemn the ill-treatment experienced by Africans scrambling to leave Ukraine, saying it's shockingly racist in breach of international law. While a group of prominent social justice lawyers from around the world announced that they are planning to file an appeal to the United Nations on behalf of the refugees.
Africans from the continent aren't the only ones encountering anti-Black racism but also those in the Black diaspora. A Jamaican software engineering student, who asked for anonymity for his safety, had recently crossed into Poland from the Ukrainian city, Kharkiv. He considers himself lucky, his experience tainted by both covert and overt forms of racism at the border.
"One of the soldiers took my passport and when I thought he was going to help me, he threw it down and stomped on it," the student said. "The soldier did the same thing to everyone he saw was Black. He was less violent, compared to his colleagues who were raising their guns at other students, raising their voices and kicking at us. I had gotten into Poland through a contact I was told to call, someone I was told they could be of assistance."
For Kayode, a Nigerian medical student, his tires were slashed at the Ukraine-Poland border — where by Ukrainian culprits dressed in dark, grunge outfits and balaclavas. The car belonged to Kayode's Slovakian friend who was behind the wheel, driving Kayode and two Kenyan students in the backseat. "They notice your skin color and puncture your tires quickly and move on so that you won't notice them. They didn't do this to Ukrainians."
Jane from Tanzania, studying economics in Kyiv, experienced racist segregation at the church some distance away from her university. But she clarifies that it wasn't so in the beginning. "We took refuge in the dormitory and they allowed us to stay for two nights. We were from different African countries, we were eight or so but then on the third day, they said they were sorry that they were going to move us to another lodge. We obeyed and moved into the place but it wasn't as comfortable as before. It was smaller, with poor ventilation, and the ceiling looked like it was going to cave in anytime soon."
Jane learned afterwards that the reason they were asked to move was because a batch of Ukrainians who had discovered the church wanted refuge.
Aside Africans/Black people facing racist discrimination in Ukraine, media reporting of the conflict is underpinned by racist sensibilities. Phrases like "Third World" used to describe African countries with countless wars and brutal human rights violations came up, for the purpose of maintaining a "white civil image" of Europe and entrenching a racial divide. This is ahistorical, of course, as both World War 1 and World World 2 are not far-fetched examples of Europe perpetuating wars. For a country that wanted the world' support, Ukraine is an example of the constant, ever-present nature of anti-Blackness.