Photo by Redens Desrosiers.
The 6th Edition of Afro-Latino Festival NYC Continues to Honor Africa's Roots in Latin America
A recap of the three-day festival that beautifully had afrolatinidad on full display.
As the 2018 World Cup came to a close, so did the sixth edition of the annual Afro-Latino Festival NYC, with a day of music and celebration at The Well in Brooklyn.
The lineup included festival headliner Amara La Negra, who returned for the second consecutive year, as well as a diverse range of acts representing countries like Colombia, Mexico, the Dominican Republic, and Puerto Rico. "We tried to curate the festival in a way that reflects the diaspora," Mai-Elka Prado, festival co-founder and co-director, explains.
This was evident to Puerto Rican-Haitian DJ and Brooklyn native Nina Azúcar who, after warming up the crowd with a house music-inspired set, tells OkayAfrica, "Everybody sounded different, but there was something that unified everything, a pride in our afrolatinidad, and I really appreciated that."
Food and fashion were also part of the milieu, with afrolatinidad on full display among the vendors and festival goers that packed the venue. "I definitely think that those who are here understand the mission of the festival," says Prado. In turn, she believes it's that mission—to affirm, to educate, and to celebrate—that brings the community back each year: "There are folks that have come since the first, second year, and continue to attend; I don't think they would keep coming to an event that hasn't impacted them."
---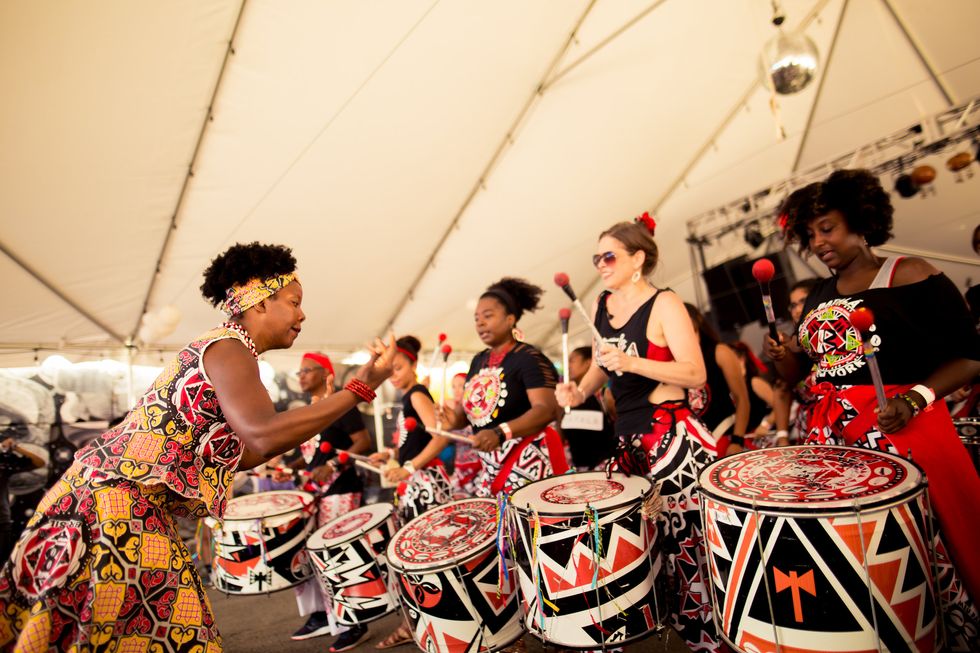 Photo by Redens Desrosiers.
The sixth edition, billed under the theme of "Identity and Beyond" and a country focus on Colombia's estimated population of 5 million afrodescendientes, began on Friday, July 13 at the Schomburg Center in Harlem with a conference of AfroLatin Talks. Topics included the history and sociopolitical implications of the census in countries like Peru and Panama, which, in turn, relate to the question of self-identification. "There are real socio-political and economic implications to self-identifying as an afrodescendiente," states festival co-founder and co-director Amilcar Priestley.

The assassinations of two dozen black and indigenous leaders in Colombia, for example, was a constant refrain throughout panel discussions, as well as during the 2018 Afro-Latino Festival award ceremony, which honored Brazilian politician Marielle Franco and Afro-Colombian activist Bernardo Cuero. Haitian-American attorney Reggie Ossé and Panamanian educator Dr. Carlos Russell were also given posthumous recognition. "We are as political as we are cultural," asserts Priestley, "and if you're going to embrace your afrolatinidad in this context, please understand that there are people dying for this."
Urenna Best, recipient of the 2018 Pioneers Award, then gave a keynote address in which she detailed her journey to following in the footsteps of her mother's activism in Panama. The speech was bookended by citations of an African proverb, "The footprint of those who walk together cannot be erased" and the traditional African philosophy of ubuntu or "I am because you are and you are because I am."
Similarly, Brazilian dancer Ingrid Silva of the Dance Theater of Harlem, recipient of the 2018 Cultural Preservation Award, shared her story of realizing her dream of becoming a ballerina during a one-on-one conversation led by Marjua Estevez, Latin Content & Culture Editor at TIDAL.
The next day, the Festival moved downtown to the Abrons Center for the Arts in the Lower East Side, which hosted this year's Liberación Film and Wine Festival.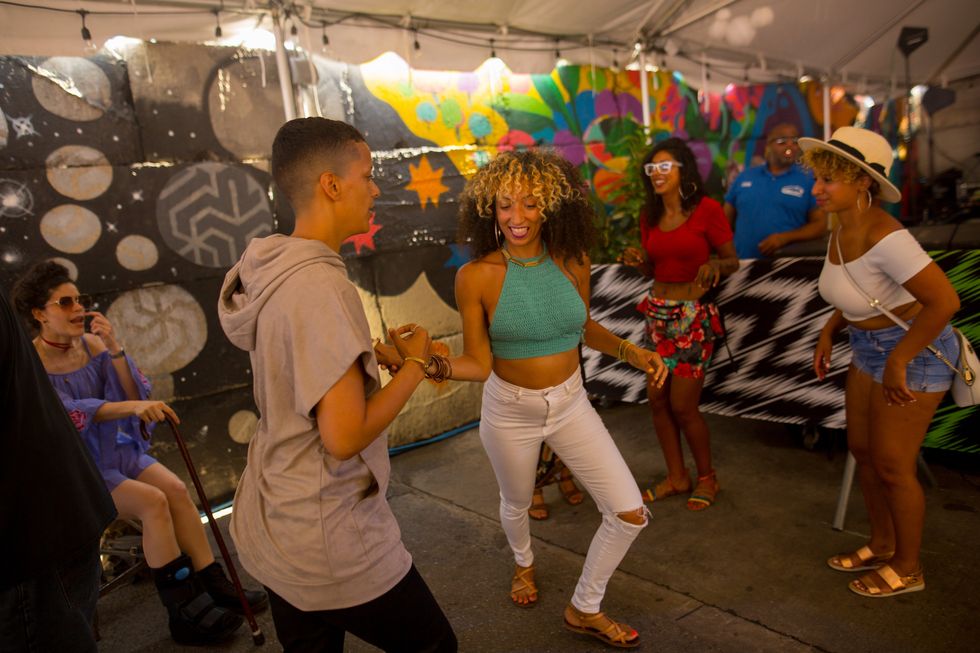 Photo by Redens Desrosiers.
Highlights include a first-look at the forthcoming documentary Awakened / Despertando. Co-director Juan Mejía introduced the project as "a film about afro-diasporic solidarity and how young people deal with white supremacy, 2,500 miles apart." Two events in particular—the murder of Mike Brown in Ferguson and the civil strike of May 2017 in Buenaventura—join the youth of these communities as they learn to use film equipment, tell their stories, and begin to see themselves, via photos and archival footage, in their respective counterparts. "The world is globalized for capital, but it needs to be globalized for struggle," Mejía says.
The multimedia collective Defend Puerto Rico also premiered their latest short, AFROFUTUROS, which showcases several contemporary manifestations of Afro-Puerto Rican culture on the island, such as the jewelry-making of Afrolunatika, the poetry of the collective Afroversiva, and the Arturo Alfonso Schomburg-inspired ruminations of a community elder named Lester.
Among the special guests were U.S. Congresswoman Yvette Clarke (D-NY 9th District). In a brief address, she shared the history of her Afro-Latino heritage, which includes the circular migration of her Panamanian-born grandfather to Jamaica after the family had migrated from the island to work on the construction of the Panama Canal.
Rep. Clarke also expressed her solidarity with the struggle of the Afro-Colombian community, having sat in on a panel discussion in which Marino Córdoba, a colleague of slain activist and festival honoree Bernardo Cuero, explains that violence toward black and indigenous Colombians is ongoing, despite the signing of the Havana Peace Accords. According to Córdoba, there have been over 140 assassinations in 2018 alone, and more than 300 since the Colombian government negotiated an end to its 52-year armed conflict with FARC rebels in November of 2016. "The war continues in this region of the country," he says. The conversation was framed within the context of the 2014 film Manos Sucias, which tells the story of two young men swept into the drug trade that plagues Colombia's Pacific Coast.
The 15-minute short Jimmy Jean Goes to Tijuana also elicited a timely discussion of issues related to immigration, displacement, and family separation. In the film, Haitian-born actor Jimmy Jean-Louis travels to the Mexican border town accompanied by fellow actor Rainn Wilson to document the struggles of Haitian migrants stranded there because of the recent shift in U.S. immigration policy.
Overall, the festival was able to reinforce its mission while simultaneously using this year's theme to open the conversation of afrolatinidad to new possibilities. As for next year, Priestley expresses an interest in highlighting Brazil, while Prado hopes to continue to expand the conversation as the festival grows.
"This year's t-shirt says, '150 million strong, celebrating the contributions of people of African descent in Latin America, the Caribbean, and the United States,'" adds Priestley. "We're here. And this festival is one of many testaments to that."
Take a look at more highlights of the 2018 Afro-Latino Festival of New York in the slideshow below. All photos by Redens Desrosiers.