Nigerian music is experiencing a tidal wave of individuality, genre fusions, and a general yearning to reform the one-dimensional perception of artists. As the world continues acquiring a taste for Nigerian music, younger generations are poised to show that it isn't monotonous.

The music is refreshing because it has no constrictions, it's fueled by a thirst to create and not be trapped. Considering the young Nigerian generation was raised in a world with unlimited access to global music, they're well acquainted with many genres. That range is apparent in songs that become a melting pot for interesting sonic experiments relatable to Nigerian youth.
Standing out from this diverse pool demands not only attention to music, but to presentation as well. This is something Emeka Akumefule popularly known as Blaqbonez has understood since he broke out from his early days as a battle rapper.
Blaqbonez fuses hip-hop and afrobeats into a blend where neither is eclipsed by the other. His 2018 single "Mamiwota" opened the door for him and fellow act Oxlade, and was his first viral sensation. This ability to blend styles has earned him a charting presence which has eluded many Nigerian hip-hop artists.
The campaign for his latest single "Haba," #StreamHaba, became a viral hashtag during Covid-19 lockdown in Nigeria. The 25-year-old amply utilizes the power social media has over conversions to music streams, building a cult following in the process. Through consistent social interaction, skits, and lighthearted commentary on popular culture, he positively reinforces himself in his followers' minds. They know that with Blaqbonez they get music and much more.
We had a chat with Blaqbonez during lockdown in Lagos and we talked about his early days as a freestyle rapper, his evolution into an artist and his new project.
---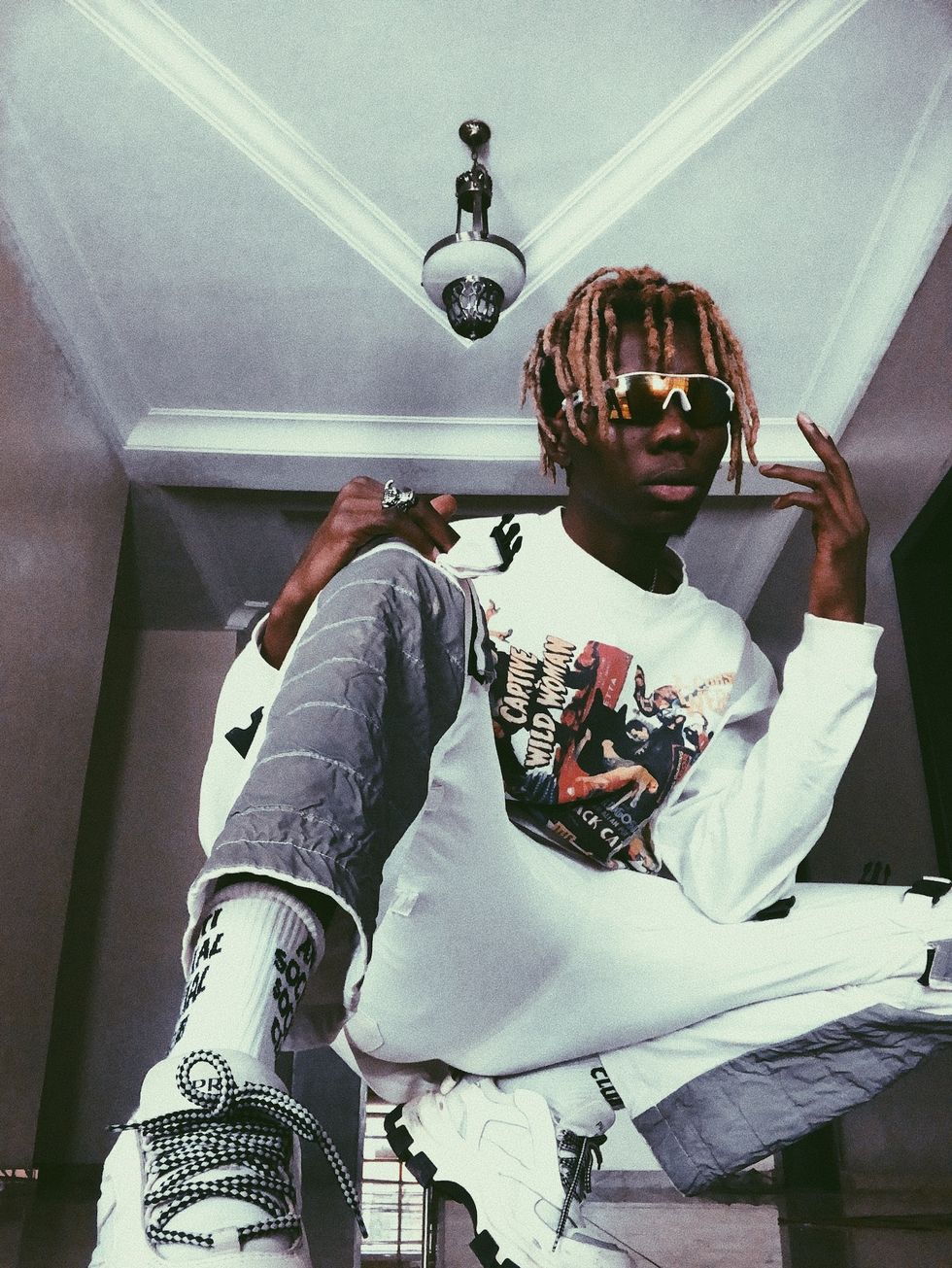 Blaqbonez.Image courtesy of the artist.
What made you want to be a rapper?

It was a challenge by my cousin. One day we were both listening to the radio and we heard this rapper called Lil H. My cousin was like he's basically my age mate. I think he was 14 and she was like, all I do is critique Nigerian rappers but a 14 year old guy is actually out here rapping. In that moment I felt like what the fuck, I can do it too, so I went upstairs and started writing my first rhymes. The feeling of being able to see your own words and like 'rap it out' to someone else was really nice. That's how it all started, then I continued writing for like a year or two.
What led to the release of your first official project and what inspired your rap persona Blaqbonez?
My name was T-Blades before I switched to Blaqbonez, I was a battle rapper in like a Facebook group and I was losing a lot of battles so I felt people were biased against me. I created a new Facebook account and I called that Blaqbonez then I started winning the battles and the account became so popular on facebook. It didn't make sense to go with the old name anymore.
I won a Terry Tha Rapman competition, it was called the Zombie competition. After winning, I met someone who paid for my first project but sadly the computer with the project crashed and I lost all my files, then my sponsor left the country. But I decided to record a new project because I was already in the mood, the project was called Hip-Hop in Black. I was able to pay for the new sessions cause a friend of mine in a rap group was able to get the prices lowered for me.
Over the years, your sound has morphed, incorporating other genres that give you mainstream appeal while keeping hip-hop at the heart of it. How would you describe your blend of music?
Right now, I don't think there's a Blaqbonez sound, I've become such a versatile artist you don't know what to expect. I'm always trying to push boundaries with my music. I didn't think I'd make the kind of music I'm making now in the past and I don't know what I'll unlock next. I'll keep on growing. There's no definite sound, I just do whatever I feel.
Blaqbonez - Haba (Official Video)www.youtube.com
You've turned your social media account into a strong tool in connecting with your audience and sharing content that helps double as marketing as well as enjoyable skits. What inspired this approach?

So sometime in 2018, I made a video of me talking to Nasty C and it went viral, my album moved from number 19 to number 6, and this made me realize how powerful a viral video can be for marketing purposes. It dawned on me that I could reach out to people with those kinds of videos and direct their attention to the music I'm pushing. Ever since then I figured I should make more content but this time I was more intentional and personal about it.
The #StreamHaba hashtag for your single has probably become one of the biggest organic hashtags to go viral.
I just wanted to push my music. I kept telling people to stream Haba and it originally grew into a big trending topic. It wasn't like a conscious plan or anything, people just started messing with it and it became bigger. I'm thankful for everyone that's connected to it.
How do you think your evolution from a battle rapper to an artist has helped you grow? What influences have you drawn from during this change?
Personally it has helped me connect to people I wouldn't have normally connected to. I appreciate the fact that now regular, everyday people fuck with me. My mum's neighbor called me a few days back saying "Haba" is their favorite song in the house. The switch from just strictly rapping alone to being an artist has helped cut across a wider range of audience. I was majorly influenced by Drake, he's been able to be successful both ways, singing and rapping. I always ask myself in certain situations 'What would Drake do?'
Following the viral success of your single "Haba," what can we expect from you next?

I have an EP coming, maybe in July. I initially had an album, that's where "Haba" is from, but with the whole Covid-19 situation I don't feel like it's the right time to drop the album. So the EP will be out first, in July hopefully.
What direction will you be going with this next EP? Does it have a name yet?
It doesn't have a name yet and in regards to direction, it's just great music. It's a blend of everything that makes me, me. A bit of rap and afrobeat. It's an EP so I'm not doing too much.
How did the lockdown affect your year and what have you been doing in isolation?
First it affected my money, I haven't been able to go for shows so that's a lot of money lost. It's also put a lot of pressure on social media for me because there's a lot of offline promotion I could be doing—clubs, radio, I actually planned a nationwide tour—but it can't really happen now so all I can do is push on social media and this makes me feel sort of one dimensional. I've been promoting, killing myself on social media and I've been watching anime and making music.