No I.D. changed how Nasty C viewed music. "In this exact building, actually. In that studio right there," says the South African rapper pointing in the direction of a studio at the Universal Music Group headquarters in Rosebank, north of Joburg.
"We spoke a lot about music and carrying your culture on your back in a fly way and making it your own sauce. Putting your culture out there in a way that people look at it and they want to adopt it because you said it was cool to do," continues Nasty C.
According to Nasty C, the legendary hip-hop producer used Snoop Dogg as an example to drive his point home. "He made it cool to dress cool and be fly, and do your hair as a guy. That was West Coast culture and people adopted it like it was Snoop culture," Nasty C says.
Hence Zulu Man With Some Power, the title of the Durban-born emcee's third studio album which broke the record of being the biggest pre-add for an album in South Africa and the biggest pre-add globally for a South African artist on Apple Music.
Nasty C is part of the lineage of South African artists who are recognised continentally and globally. To date, his collaborators include French Montana, Davido, Runtown, Major Lazer and a few others.
---
Zulu to the world
The album's artwork, which stylistically resembles the cover of a Disney fairy tale, shows Nasty C posing among flowers while a snake hides among the leaves—a metaphor for his life. He is noticeably wearing a leather Zulu headpiece and holding a spear in his right hand.
"Considering that I'm doing this global thing right now," Nasty C said in Braamfontein during the unveiling of one of many murals of the album artwork that were installed around the world (in Japan, Kenya, and other locations) to promote the project ahead of its release, "I thought it was really important for me to carry my culture on my back. I wanted whoever it is on the other side of the continent to, when they look at my album title, the first thing that comes to their minds is, 'Oh shit, this guy is Zulu.' That person could then go on ancestry.com and learn about their own lineage."
Since his emergence, Nasty C has been under scrutiny for rapping in an adopted American accent and his music containing no "African" sensibilities. Criticism the emcee has, on many occasions, explained "doesn't mess with me at all".
Nasty C Performing "Zulu Man" in his neighbourhood, Illovo, in Durban.www.youtube.com
He reveals he was deliberate in taking his own time to give the world Zulu raps, which he did on "Zulu Man," a song off the new album. "If I had done it earlier in my career, it wouldn't have gotten people talking the way it is now," he says. In the song, the lyricist recounts some memories of growing up and chasing his rap dream at the sacrifice of school, which he wasn't that good at anyway. He immortalises his neighbours and people he grew up with before assuring them he always represents them wherever he goes.

"I was speaking to the kid that thinks that they're not worthy," says Nasty C about his subject matter on "Zulu Man." "Or that kid that thinks that, because of where they were born or what family they were born into, their ceiling is meant to be this high, and it's meant to stay that way forever. I had to mention the people that were with me in the beginning [to make it clear that] it's real—there's no denying it, it can be done. It makes people go, 'shit, this guy did it right in front of us, and, as a way to prove that it's actually real, he called out these guys' names. The guys that I'm sitting here with e'Llovo (in Illovo, Nasty C's hometown) right now. This guy broke out of here, now he's there.'"
Black cards, not Black consciousness
Aspiration is a big part of Nasty C's lyrical content—in his breakout hit, "Juice Back" (2015), he famously rapped, "Look at the shit that we do and motivate yourself." In the song "Overpriced Steak" from Zulu Man With Some Power, he raps, "Won't ever use my skin as an excuse 'cause I know Oprah face/ Won't ever use my skin as an excuse 'cause I seen Hova face." The natural criticism for lines like those is that using such examples as Jay Z and Oprah Winfrey shows him as out of touch as that line of thinking ignores the systemic challenges faced by black people all over the world.
But, in his music, Nasty C doesn't speak for the Black race. Throughout his discography of albums and mixtapes, Nasty C has been telling his story—and his own story only. His views on race in interviews, which have been both shocking and cringeworthy, have revealed individualistic viewpoints based on his personal experiences and perception.
Nasty C doesn't pass his ambitions as a blueprint for anyone else but him to follow. None of his sentiments are expressed with a didactic tone. Anyone whose life has unfolded the way his has would have every reason to believe they stand a chance of being the select few who will succeed amid all the odds stacked against all black people. And, boy, does he not have enough reasons to believe that.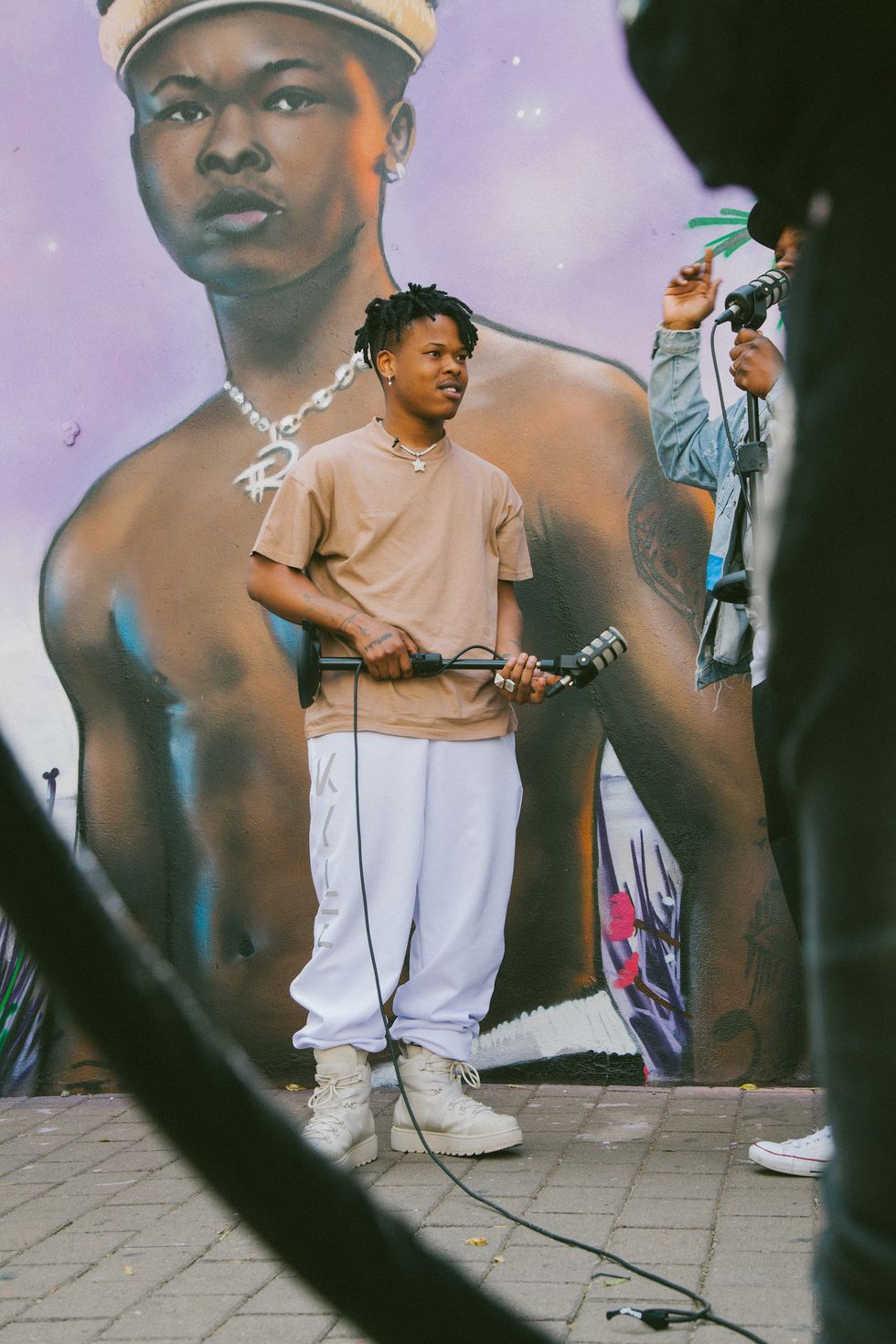 Photo by Sabelo Mkhabela.
A tall billboard in Time Square showed the face of a young man from a small South African town for 24 hours to promote his third studio album, which features high-profile guests (Ari Lennox, T.I.) and producers (Bankroll Gotit, ATL Jacob) and is released by Universal Music and Def Jam Recordings. If "nothing is impossible" was a person, it'd be Nasty C.

So, expecting him to wax poetic about black consciousness on the song "Steve Biko," over celebrating his financial freedom may be the politically correct stance, but is misguided. Especially since at no point did the emcee ever sell himself as a "conscious rapper" nor did he ever show himself to have the range.
"I didn't make a song about Steve Biko, for one," says Nasty C. "I used him as a title because the wordplay was nuts. I don't care what people say, they can never deny that. I'm so pro-black… card… Steve Biko." He smiles and gestures, clearly impressed with himself for the wordplay he pulled off in the song.
He further explains he had his target audience in mind. "Because the people I'm speaking to, this is the language they speak. They don't speak politics," he says. "The generation that's all about drip, and Instagram, and this and that, and drugs and whatever else… Who else is out there talking about our legends? Who else is out there saying Zulu-something-something in a hip-hop album? No one else. And you can't really tell me how to do it. I'm going to do it however I want to do it."
An ongoing autobiography
Nasty C excels when he lets the listener in on his life as a globe-trotting rapper with money pulling him from both sides, as he croons in the song "La Vida Loca." Throughout the album, his wordplay, bravado and charismatic delivery assist him in telling his story effectively. The believability of his story is owed to the specificity of his lines ("I'm swimming in money 'cause I couldn't swim as a kid", "Can't believe that I was fuckin' poor/ Now it's black cards, nigga, Yu-Gi-Oh", "I'm humble as a fucking child, I'm on their neck though, I clean up in Balenciaga and made a mess though").
The song "Ababulali" details Nasty C's relationship with his father. He raps, "When I was difficult and hard to understand, you never gave up, you played your role and so I thank you." When the rapper emerged circa 2015, the two evidently didn't have a healthy relationship as he alluded in songs from his breakout mixtape Price City (2015). "We're at that point now with my father," he says, "where our relationship is solid, we're cool, and I just felt like he deserved it. I bashed him a lot on my mixtapes and shit, because me and him were having a lot of friction."
Those days are long gone. A clip of the rapper's father dancing to his songs backstage at his annual Ivyson Tour appears on Nasty C's Origins documentary which was released on Apple Music on the eve of the release of Zulu Man With Some Power.
The documentary takes the viewer back to Nasty C's hometown and inside one of the makeshift studios in which the lyricist used to record his early songs. It's the same room in which he recorded his first mixtape One Kid, A Thousand Coffins, released in 2013.
Nasty C's photographer, Eyes of Teddy (real name Nhlakanipho Mkhize) who grew up in the same area as the rapper, was interviewed for this article and he recounted that epoch with verve.
Songs for moments
"He's good at a lot of other things that other people don't know about," said Teddy about his long-time friend. "And that's why me, I can say, dawg, I've been a fan of this guy for as long as I know. I've listened to him, Zulu Man With Some Power is the 16th project I've heard from Nasty C."
For a long time, Teddy recalls, Nasty C used to refer to him as his "only fan" and he's the one who gave him his moniker. Teddy has tons of footage and photos of the rapper. He is not sure what will become of the history he's recording, but he knows in future it will be valuable in telling the story behind Nasty C's extraordinary career.
Teddy has witnessed and documented moments in Nasty C's career from fans' euphoria at shows to the rapper's creation process and travels. He gets to hear most of his songs before the world does.
Photo by Sabelo Mkhabela.
"The problem with many artists," says Teddy, "they go to the studio and record songs to drop. He doesn't do that. He records songs for moments just to listen to and have fun with. So, if you listen to one of his projects, you get to hear them as a package."

One such song is "All In," which features one of Nasty C's biggest muses, trap legend T.I.. "When I made that song," says Nasty C, "I made it around the time when I needed a song like that because I didn't have one to listen to. If I had a song to listen to that was like that, even if it was from another artist, I probably wouldn't have made that song. All the songs that I listened to that were motivational weren't speaking to me how I wanted them to. So, I made that as a self-motivational track."
After T.I.'s visit to South Africa in 2018, he reached out to Nasty C after the young rapper's name kept getting recommended to him by people he asked about the country's artists. To date, the two rappers, who've never met in person, have released two songs together. Both songs ("They Don't", "All In") appear on Zulu Man With Some Power.
"It was such a fucking moment, bro," says Nasty C about the day he received T.I.'s verse on "All In." "I was in Portugal shooting the video for Mishlawi, and I had to call timeout on set. When I got that email, I stepped off-set. I didn't even have my earphones with me. I listened to it on my phone a couple of times, and I just kept rewinding it right after the verse ended. And then when I let it play the last time, I heard the outro. That's when it was like, fuck, satisfying moment. I don't even know how to describe that feeling. It's crazy. Full circle."
International Zulu
Apart from the likes of T.I. and No I.D., Nasty C has built a relationship based on mutual respect with Young Thug and his Young Stoner Life Records crew through Instagram. One of them, Lil Keed, alongside the crew's affiliate Lil Gotit, appear on the album's latest single "Bookoo Bucks." The catchy trap song started taking shape in a studio session in Atlanta, one of the many places in which Zulu Man With Some Power was recorded (he mentions Nigeria, South Africa, New Orleans and Japan).
At this stage in his career, owing to his visibility online and the backing of Def Jam Recordings and Universal Music Group, getting access to talent to collaborate with isn't a struggle.
"How it works is," he says, "you just book the studio out and producers just come in." On that particular day, ATL Jacob was one of the many producers who came and played him beats. "I think we did five songs that day," he says. "He didn't even have to play a lot of beats. That's ATL Jacob right, he's one of my favourites. He played about two, three beats and I was like, 'that's the one,' and I took it. I'd say it took me about 15 minutes to come up with the hook because at first, it was melodies. The whole song was just melodies, no words. Just mumbles and shit."
Nasty C, Lil Gotit, Lil Keed - Bookoo Bucksyoutu.be
But, as a producer himself, Nasty C has always been hands-on in the production of his music and Zulu Man With Some Power is no exception. For "Ababulali," he sampled a group of children singing a Zulu song. "I came across that sample on YouTube by accident, and I started doing the harmonies on it," he says. "I made that beat and it just sounded like home. For a month or two, I just had that beat as is with no lyrics. This was back in early 2019, maybe even 2018. When I wanted to work on it, it only felt right that I spoke about something that was close to my heart. It was real, got nothing to do with the hype shit."
"Ababulali" is melodic, and is reminiscent of "Uok", a song about his late mother, from Bad Hair Extensions (2016), the deluxe version of his debut album Bad Hair.
Nasty C noticeably sings a lot on Zulu Man With Some Power compared to his previous releases. The project's sound straddles trap and classic boom bap production, sounds that Nasty C has grown comfortable with and always excels over. The most common criticism for the album is its lack of focus sonically. After all, the project is made up of four sections. "Section one will give you goosebumps," Nasty C said in July 2019, "sections two and three will be a fucking rollercoaster, you will shit yourself. Section four will make you proud—it will make you cry, it'll make you appreciate, it'll make you realise that Ivyson is not to be fucked with."
Zulu Man With Some Power had an aggressive rollout. Three singles "There They Go," "Eazy," and "Palm Trees" alongside Zulu, a mixtape hosted by DJ Whoo Kid, and the visual EP Lost Files, diverted the attention of fans across the globe to the then-upcoming album.
Times have changed. Just under five years ago, Nasty C was another up-and-coming rapper releasing mixtapes and singles on the internet, hoping for the best before the whole country caught on to his music. It's a phase that prepared the rapper for the times of Covid-19 when most activity has to take place online. "For me, it wasn't a hard thing to adapt to," says the artist. "I'm big on digital, I'm big on social. That's how I came up."
Stream Zulu Man With Some Power on Apple Music and Spotify.