Davido has announced his plans to donate $600,000 to orphanages across Nigeria over the weekend via the singer's official Instagram account.
The singer said in a statement, "I wish to express my sincere gratitude to my friends, colleagues, fans, and the public for the generous expressions of love in recent days. In my usual playful manner, I requested a few days ago that my friends and colleagues send money in celebration of my birthday.
The response and outcome exceeded my expectations, as I received $487,000 USD in less than two days. I truly appreciate everyone who donated hard-earned funds and I am very thankful for your generosity." The Nigerian superstar continued, " I have always been passionate about giving back and helping people. In view of this, I am delighted to announce that all the funds received, totaling $487,000 USD, will be donated to orphanages across Nigeria as well as the Paroche Foundation. In addition, I will be making a personal donation of $113,000 USD, bringing the total amount to $600,000 USD."
The singer shared details of how the funds will be fairly distributed to the deserving parties, ending off with final words of gratitude to all of those who donated and got involved in the exhilarating event.
Continue for original story below (published November 17, 2021)
---
Nigerian musical (and maybe evil?) genius Davidomade waves this morning - but not through your body. The singer and songwriter went on Beyonce's internet and made soft demands saying, "If you know I've given you a hit song, send me money… una know una selves ooo" on Twitter this morning. What's crazier is that naira's started rolling in with the quickness. Generous friends include; Adekunle Gold, Mr Eazi, Teni, and Rema. The soon-to-be birthday boy banked over N40 million in an hour.
Davido's social media callout was originally taken as a joke before the Nigerian singer started posting screenshots of his bank account, and friends' transaction histories. The singer's birthday is on November 21st and he is most definitely feeling the birthday love. He joked that his goal was to receive 100 million nairas so that he could get his Rolls Royce cleaned right at the port. The Je M'appellecrooner said in a video posted to his Instagram story, "We rise by lifting others abi? Me I don dey rise dey lifting others for the past 100 years. So I want to know who my friends are. All of my friends one one million Naira. They said we are 30BG. If you don't send your own. You out of here. You are gone."
THANKFULLY, Davido gave fans a live play-by-play of his digital piggy bank being stuffed by love and dolla dolla bills. The journey to billionaire status included a visit to a local Rolex store, and an impromptu meet and greet with a fan. All the while Davido's smile never left his face, he shouted out his friends for their love and support and expressed his gratitude over shedded tears (that we didn't get to see). The live millionaire gift exchange is still ongoing, and Davido's last update (as of this article) see's him sitting at a comfortable N134.5 million ($326,173). At this rate he'd probably be able to buy Tesla by Friday.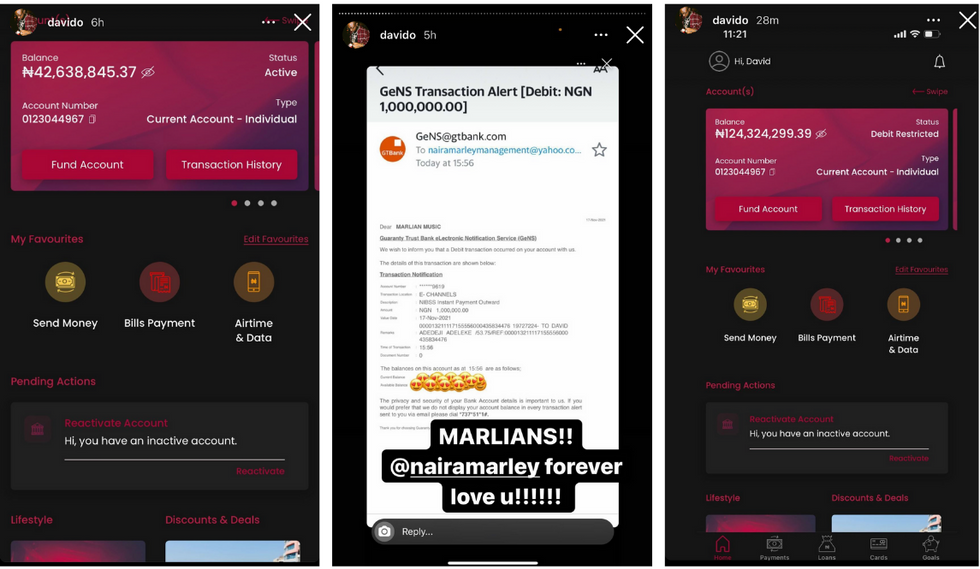 Screenshots of Davido's bank account (@davido)