For many, Sarkodie is Africa's best MC, and he's got the flow to back that up. For about a decade now, the artist has remained consistent in dropping jams that aren't only memorable (and often fun to party to), but ones that also stay unapologetically true to his Ghanaian heritage.
With his upcoming project, Black Love (which is slated for a surprise release) he continues on that path, but with a special focus on love and relationships. "Can't Let You Go," the first single, which he released over a year ago, also doubled as a wedding video. Since then, he's dropped a string of singles that also capture the theme at the heart of the project. The most recent being "Party & Bullshit" featuring Idris Elba and Donae'O—a collaboration between the Ghanaian artists that celebrates the love felt amongst friends when simply having a good time.
The artist's status as a formidable MC was further solidified last month when he became the first artist to win BET's Best International Flow Award and delivered a freestyle mostly in Twi that represented his heritage and spoke to the importance of black pride. The international recognition was welcomed, but it merely reemphasized what most of those paying attention to his career already knew. It was unsurprising that he'd win an award for his flow— his fans have been raving about his for years. "They created [this category] for him," remarked one Twitter user.
---
We caught up with the artist following his big win to discuss his buzzed about cypher performance, why he'll continue to rhyme in Twi, what to expect from his upcoming album, the current state of African pop music and his plans for the Year of the Return. Read on for our conversation.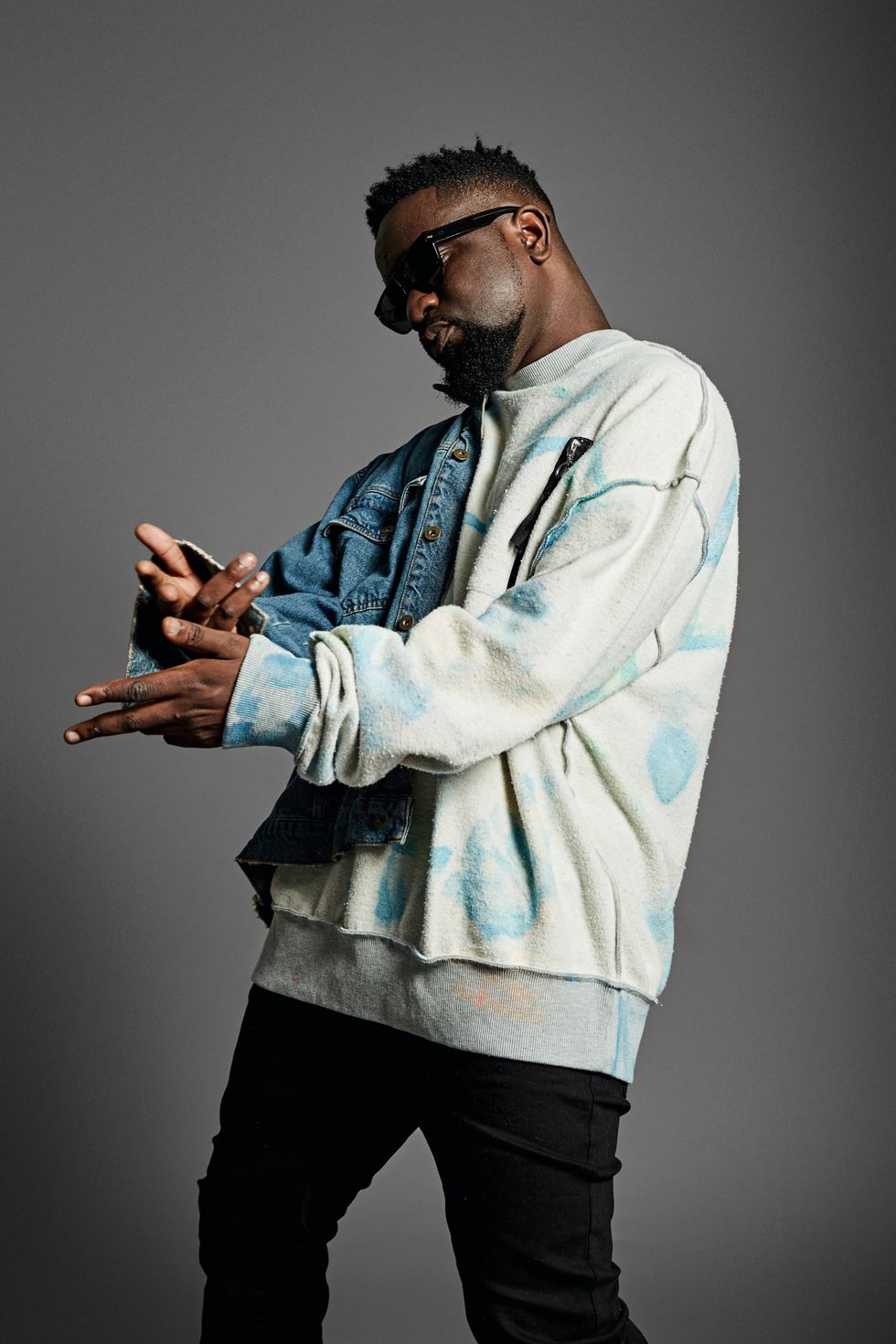 Image courtesy of Sarkodie.
This interview has been edited and condensed for clarity.

The response to you becoming the first artist to win the Best International Flow at the BET Awards was massive. People were very happy about that. How did it feel for you to be recognized formally for your flow?
That was like a stamp. I just knew that I had to work on my flow and my delivery. Since I'm not ready to rap in English or any other language for anybody to understand, I need to know that I have to strengthen something else that will make people attracted to the music. So I definitely work on my flow.
I was able to take over Africa, and now finally I think we are moving to the world and a lot of people are open to the music. That night just gave me a reason to set goals for myself and believe in something—and stand by it for as long as it may take to accomplish. That night just gave me that thought: that whatever I think about, is actually possible to achieve. I was definitely proud of myself.
I also enjoyed your cypher performance and the fact that you decided to speak Twi even though the audience might not understand. Why is it important for you to rap in your native language and why did you choose to rap about black beauty and pride during the freestyle?
I rap in Twi because that is my native tongue and that's what I'm comfortable expressing myself in. When it comes to business or opening your scope, I won't rule out that people understanding what you're saying has value, but at the same time we need to make history. I'm not here to just join the crowd because of the rules that have been set in place for ages, or because "this is how it's done." I like to break the rules and do what I feel like, and if I can rap in Twi well, I don't see why that would stop me from getting the recognition that I need. I believe in keeping my native tongue and beliefs and having my people have somebody that looks like them, sounds like them, and talks like them be represented on an international platform. As soon as I switch and rap in English, I just become like whatever else is out there, you know?
Sarkodie & Kalash Bring THE Heat In The Best International Flow Cypher! | Hip Hop Awards '19www.youtube.com
As for the message or the cypher, well it's been my state of mind for awhile. There was a point where I felt guilty that I fell for certain ideas that were pushed in my industry. For instance, when shooting videos, you needed to have light skinned girls because that's going to make you look good. When I was coming up, I was young, we all fell for that—we thought that was the way out. I know we all contributed to ladies not being comfortable in their own skin. So I thought I should be the same person to come out and condemn that.

It was also about learning more and getting to understand our culture and the reason why we sometimes find it very difficult, as a continent, to be at the forefront and in charge of our resources. And that's because of division and people taking our power away from us. So at this point, that is the state of mind that I'm in. It's why my project is called Black Love and it all came to me around the same time of the BET cypher. I was just filled with those thoughts, so I had nothing else to say but that. That's why I spoke that deep.
In your acceptance speech, you urged audience members to return to Ghana during the year of return this year. Why do you think it's important for black people across the globe to reconnect with the continent and visit?
I think it's about that time that people in the diaspora take trips back home, because there's a lot of people out there that don't come home and have a certain perception about their home that has to change. I've been around the world because of my job and that has exposed me to a lot and has taught me a lot. There's a lot that we are sitting on here in Africa that we overlook and try to go elsewhere because of the perceptions that people have. I think it's only right that people come back home. All it takes is a trip. You come back home, you see the vibe, you can see how you're being welcomed by your people. The love here is massive. I have not stayed in the States for a while, but I can tell for a fact that a lot of people living out there, are not living their best life to the fullest—I feel like they can achieve that when they come back home. There are opportunities to bring whatever you've been able to acquire out there and come and use it to support the motherland.
"I believe in keeping my native tongue and beliefs and having my people have somebody that looks like them, sounds like them, and talks like them be represented on an international platform."
That was why I had to include that message, since I had a platform to urge people to come back home and see their roots, see their people and connect. It's very necessary, at least for black people. When you come back home you have a sense of pride, that you have a home to rely on. When you go back, you gain a different approach to life.
Do you have any special plans to celebrate the Year of Return or any community work that you're doing that you want to share?
There's a whole lot that happens in December, especially this December since it's the Year of Return. It's going to be crazy. I have my foundation for kids called Sarkodie Foundation and we organize several activities, but the fun part is, I'm an artist, so I entertain. I entertain throughout all of December and there's a whole lot that will be happening. I'm having one of the biggest shows in December, so if you're coming to Ghana, you definitely have to be there before 25th it's called Rapperholic, for families after you're done with Christmas you just come over and just party. Any artist you could imagine, Wizkid has been there Davido has been there, Mr Eazi, Shatta Wale and Stonebwoy.
There's always a surprise and it's a great platform for people to really have fun. There are a lot of activities happening. The only thing is that if you're coming to Ghana, you need to have your calendar planned because there's so much to do and you might miss everything. It's going to be really busy. It's going to be great.
Image courtesy of Sarkodie.
Who are some of your favorite upcoming Ghanaian artists that you're listening to right now?

I would say Kwesi Arthur, KiDi, Kuami Eugene, Medikal, and Strongman. There's a whole lot that I know, but these guys I would listen to. These are the artists I would have in my car or listen to when I'm on a flight or something.
What do you think about the current state of the Ghanaian music industry?

We're doing good. I think most people like to complain until you step out to see how good you are doing. Because we're focused on others. People tend to focus on that and miss out on how great they are doing. I used to do that. I used to talk about the problems of the Ghanaian industry and the structure. But it happens everywhere—even in the States. By looking at the larger scope,I think we have really done well. When it comes to afrobeats [Nigerians] are leading the pack, but very close to that are Ghanaians. Africa is huge, so if right after Nigeria you have Ghana and the sound trickles down to other parts of Africa, I think we are doing great. We still need to work more, but at this point I can say we're really doing well. We are represented not just in Ghana but worldwide.
Can you share some of your thoughts on American or Western artists tapping into the sound, like Beyoncé for example?
I love that. I actually tweeted to the Queen [Beyoncé] that she made certain meetings that I was having at the time a bit easier for me [laughs]. I was trying to push the whole "afrobeats agenda" but there are certain people that don't get it, they are still yet to open up to it. Right around the same time I was having those meetings was when she dropped the project—you can imagine the shift in thought of the people I was speaking with. It was a great thing for us, we just had to take it to the next level. We need to push it more, and respect the Queen because she's done a whole lot, and it's a pleasure that she chose our sound.
"As much as we're happy that others are tapping into it, we need to remember that this is our music."
But at the same time I knew that it was going to get to this point because we've always had it, it's been with us for a very long time. We've had the swag, we've had the music, we've had everything. If you want the roots of blackness and the swag and everything that is portrayed in the States, the origin is Africa. We've always had the sound—it was just a matter of time. I knew that it was going to happen as soon as we unite and music showed us that unity is a very strong thing. I can testify that the whole afrobeats invasion happened when we started doing shows together. We started doing a lot of collaborations together and pushing our music out there. We started being more interested in ourselves—being in a club and not wanting to hear just R&B or hip hop but to hear afrobeats and be patriotic about where we're from.
I knew it was going to come, and I'm lucky to be one of the artists pushing that agenda. It's going to be more than what it is now because we are actually there. I just saw Wizkid's show at the O2 and those were serious numbers. It wasn't in Africa, it was in London, so that should tell you where we at at this point. Everybody is tapping into it, it's the new sound right now, but we have to be careful as well. As much as we're happy that others are tapping into it, we need to remember that this is our music. We need to make sure we have control over it and not let it go. We need to hold it and let others come in as guests—because we've always been guests. It's our sound, so we need to be the ones hosting.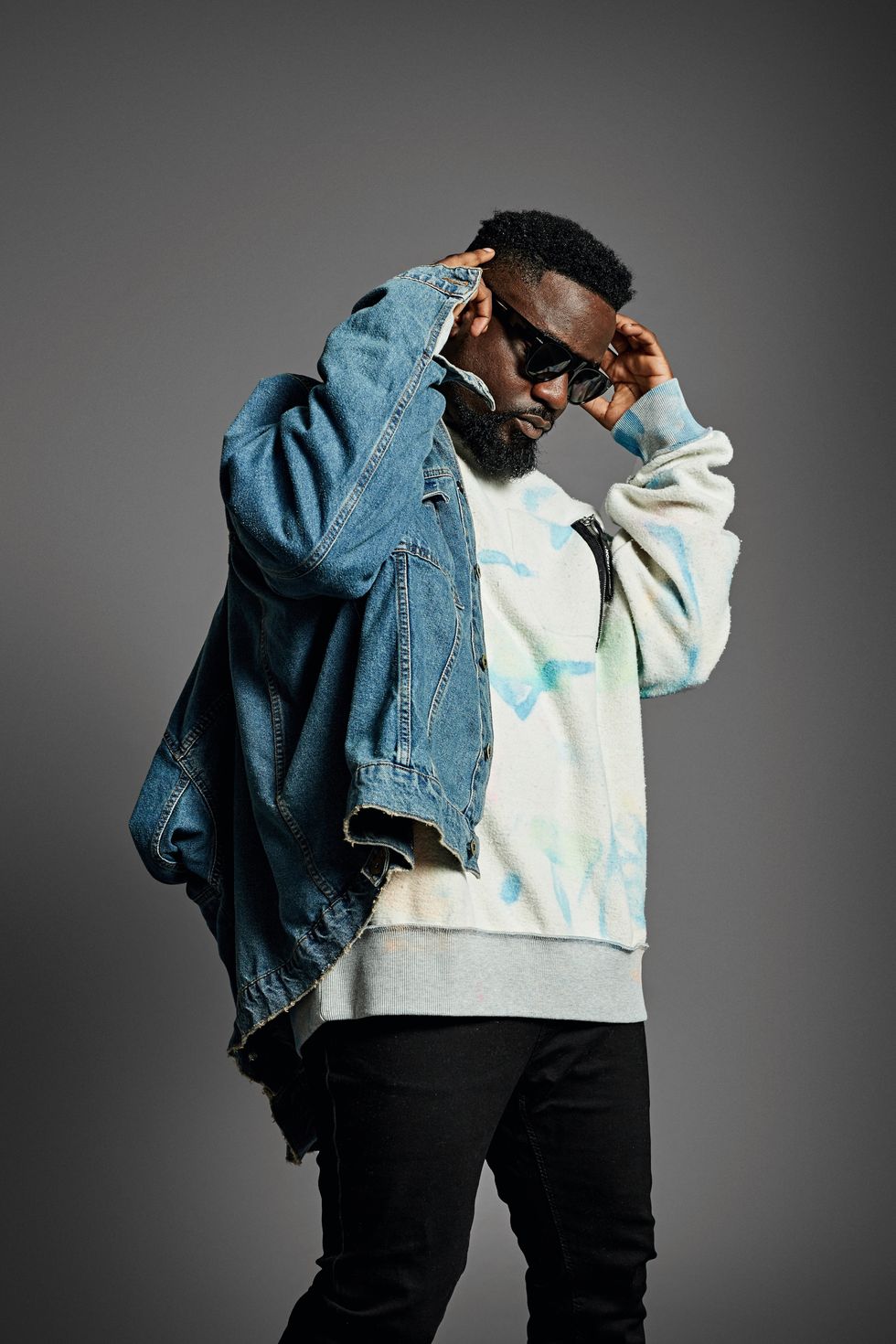 Image courtesy of Sarkodie.
Can you tell me a little bit more about what we can expect from your new project, Black Love?

I have two versions of Black Love. The version I'm dropping now basically is just about love amongst black people and it's 90 or 80 percent based on relationships, it's more of love songs. If you look at the records I've released so far, the first one being "Can't Let You Go," that was my wedding video featuring King Promise. Right after that I did "Lucky" featuring Rudeboy from Nigeria. And then I did "Do You" featuring Mr Eazi, "Saara" featuring Efyaand now "Party & Bullshit." All the songs are just about love amongst black people and bringing that connection. And then there is one that has the type of message that was in the cypher and is more directly about black people and black power.
The only thing I'm doing is that I haven't dropped a date yet or the track list, but it's going to be any moment from now. It's going to drop as a surprise. That's what I have for the fans. I really wanted them to focus on the singles and pushing more, because what I realized was if you put out a whole project, sometimes they miss the records if it's too much. I wanted them to have time to enjoy at least four or five songs and then everything drops.
What's a random fact about Sarkodie that your fans might not know?
Apparently—I'm not conscious of it, but some of my fans feel that they don't get to see who I am as a person. One thing is that I'm definitely a very funny person. I want to laugh. I hate vibes that bring you down. I want to have fun and laugh and be silly, but [my fans] don't always see that side of me because I always have a serious face [laughs]. I don't smile and all that, but that's just natural—my daughter has the same look, my sister has the same look. But as a person I'm actually a very funny and upbeat person.