popsnotthefatherand his producer 808x explain that when making NNNN they wanted the music to have a "vintage feel".
They nailed it. NNNN, which is the emerging Joburg hip-hop artist's first full-length project, is deliberately mixed to sound dusty—there are deliberate distortions in the vocals and the music that achieve the imperfect sound of vintage music.
Understanding each other's visions for pops and 808x comes with their long-time friendship which they display through inside jokes and typical banter between people who grew up together.
Just like all members ofinnanetwav., the collective they are part of, (alongside Southside Mohamed, The Big Hash, Nicole Nyaba, Oshoku, Solve The Problem etc.), pops and 808x have been friends since high school years and the network of friendships is still ongoing.
---
"When we stayed together in Midrand at the mansion for a year and a half, I think that's where we got to understand each other's sound and what we were trying to do with this music shit," says 808x. "So, I don't overthink anything, really. If he comes through with a hook, I'm going to hear the hook, and then I'm going to cook what I think will complement whatever he's saying."
As a result, the soundscape 808x designed for NNNN creates the perfect mood for pops' crooning which is mostly about boy-girl relations. In the project's lead single "KARMAKOLLEKT", popsnotthefather lets his partner know he's aware of her unfaithfulness.
popsnotthefather - KARMAKOLLEKT (Official Music Video)www.youtube.com
The song's video shows him breaking up with her over her spending time with "funny n*ggas". The skit is the main premise of the whole project—he meanders between different scenarios and relationships.

NNNN is tangy and expansive, as it takes inspiration from both modern hip-hop and vintage popular and soul music. Songs like "REDWINE" and "RAPSTARCAVIAR" sound pristine while on the likes of "PVCJUNKY" and "KARMAKOLLEKT", the music appears slightly muffled under a veil of analog hisses and crackles.
The lyrics on the songs on NNNN are scant, leaving spaces for the reverb-heavy vocals to breathe. Unorthodox melodies and lyrics that segue between cynical and earnest make for an intoxicating listen.
OkayAfrica caught up with popsnotthefather in an interview and he detailed working with 808x, getting recognition and releasing music under the current lockdown among other things.
Editor's note: This interview has been edited for clarity and length.
What does the title Not Now Not Never mean?
I'm affected mostly by music, that's like... in the moment it comes through, I might not like it or I might not be in the mood for it. But the kind of songs that always come through and hit you later, a lot of those songs are songs that will even be songs you keep on your phone forever, whatever phone you have, in the moment you like it.
What's your working process with 808x like?
We spend a lot of our time together, and when you work in the studio, you work on something new together, every time from scratch. So if I have a melody or something I had written down on my phone, I'd just try and say that, and we'd try and catch a tempo, then we'd get it going.
You explore relationships a lot in NNNN. Is it from personal experiences, or do you create scenarios just for a song?
It's mostly what I learned from different relationships. So it can be a story or it could be just how I think or how I think another person thinks. Like "PVC Junkie", for example, I was talking about a specific girl, but she had something in her that I saw in a lot of the girls that I'd been with.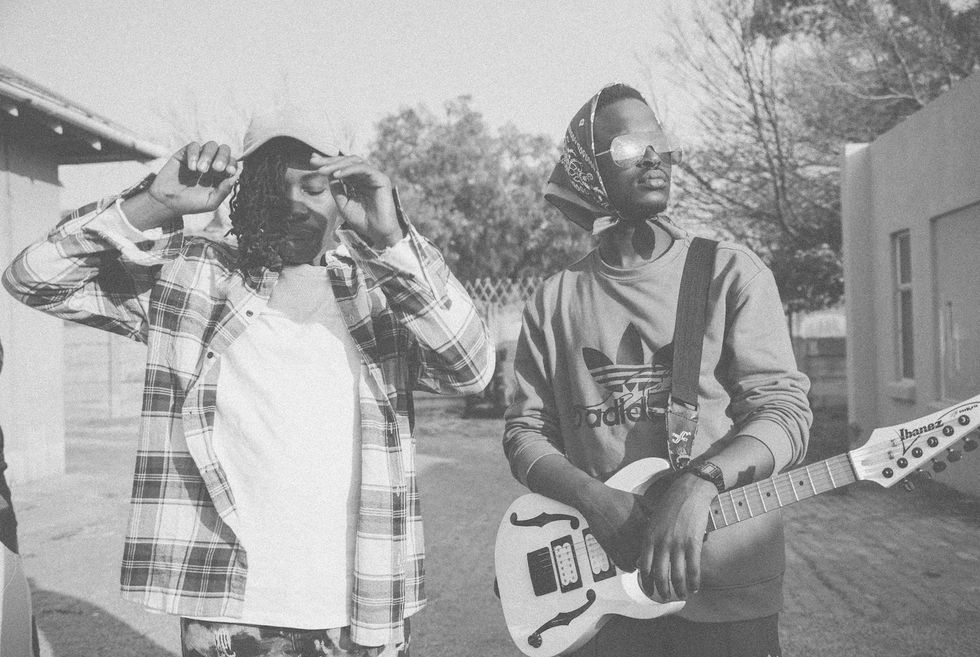 popsnotthefather and 808x. Photo by Sabelo Mkhabela. Photo by Sabelo Mkhabela.
How did you become part of the innanetwav.?
We always made music together. I started making music with them. We went to high school together. I went to high school with 808x, and we weren't really cool like that until I discovered them in their studio. And I was like, 'Oh, you n*ggas on this shit,' so it started from there. So, I was just there as a studio artist, I just laid down whatever for whoever wanted the song. And then I started making my own stuff.
What has the experience of releasing music during a pandemic been like?
It's a different vibe. You feel like you have to just keep working. When you doubt whatever's happening right now, you just gotta think about making more, creating more. That's all you can do, because you can't doubt yourself like that.
How did you get into music?
I started making music in high school, in grade eight. I was in a music college, I did music as a subject. I also did music theory and I switched between playing trumpet and violin. But I quit music because I wanted to do fashion. So I started hanging out with some guys who were into fashion. But my teachers thought I was a bad kid, for no reason, so I was like I'm not with it. And then I found Kayz (808x) when they were in matric. They were doing music the whole time and drama and all that cool stuff, they were in touch with their inner artist. So, when I found them, it was lit, they lived in a mansion and it was lit. That's when we found ourselves, and we saw who was who and what they're trying to do, and everyone knows themself from that moment. Like in the book Lord of the Flies where there's a band of gents, and if you're not for this cause, you get cut off. But in that, it's like we were building something very strong. I feel like we have that.
This is a question I pretty much ask everyone from your generation. Do you see the new wave being where Cassper Nyovest, AKA, Riky Rick, Kwesta etc. are? Like, do you see The Big Hash or yourself filling up a stadium?
Yeah. I feel like we'll do that multiple times, multiple times and over. We have to go hard. They came up and became who they were in times like those, we're in the new time when everything's supposed to be easier. So, if you're not coming out like it's made easy for you, then you're not the real deal, I don't think so.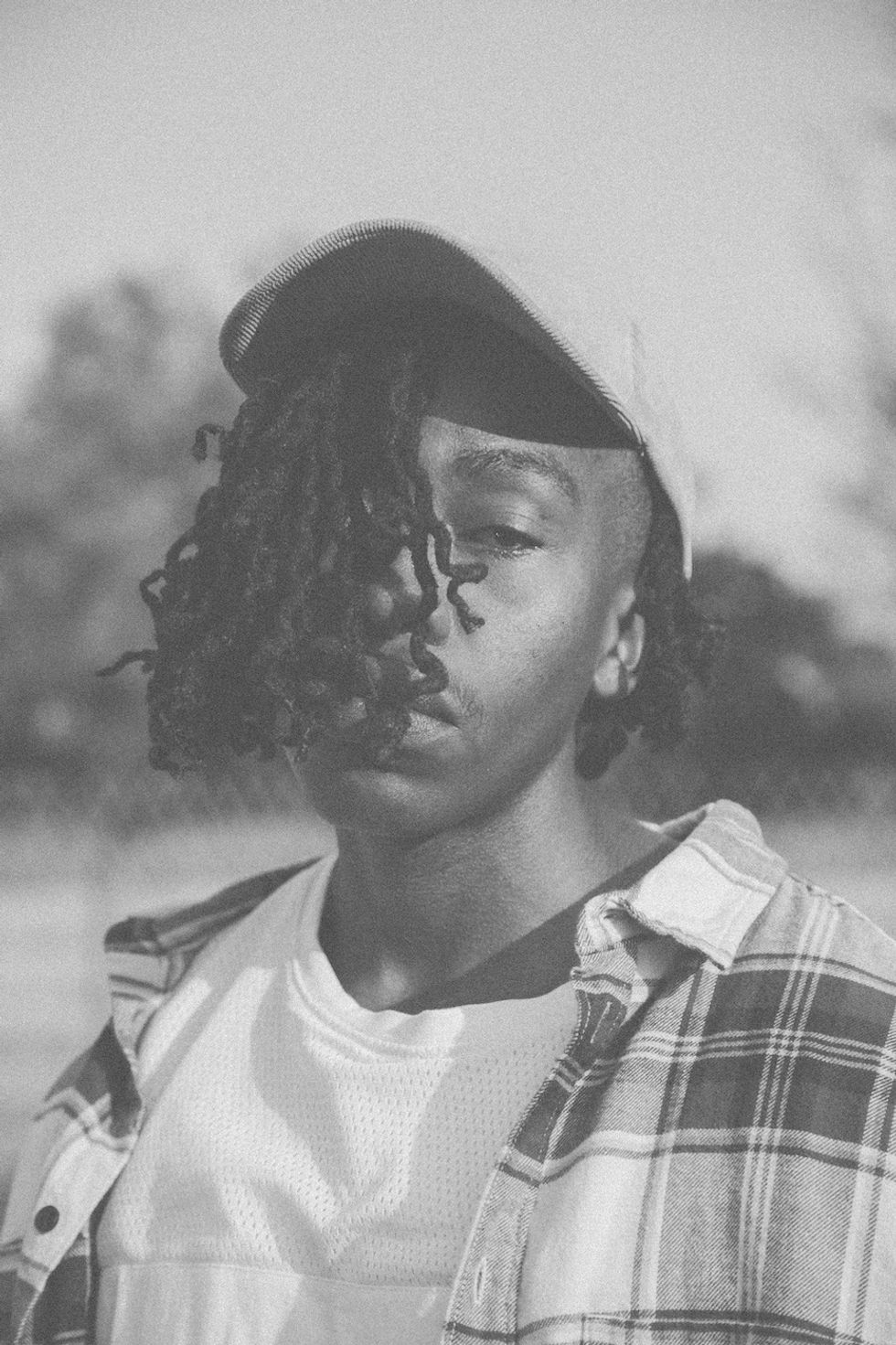 Photo by Sabelo Mkhabela.
You think South Africa is ever going to open up their minds to the kind of music you guys are making?

Yeah. It comes with exposure to different stuff. I feel like everyone should find their own taste, everyone should create their own taste in what music, art and fashion they like. Your house needs to look like your house. I used to have friends who used to ask, "How to find these new tracks?" and "How do you find these new artists?" [And I was like,] "You have the same apps as me, but you always ask me what song I'm listening to. You never browse and listen to what you want to listen to and judge for yourself." For instance, I never used to not like Gunna, my friends were playing a lot of Gunna. But then when I heard "Drip or Drown", everything changed.
How would you describe the innanetwav. to someone who doesn't know about you guys?
I don't know… It is what it is, I don't know what they call us, we're brothers. It feels like we're brothers. We've all been in the same neighbourhood this whole time. So we just made a name for it so you can know what you're talking about when you're talking about us.
On NNNN, what were you trying to communicate, if anything specific? Or is it just based on vibes?
Yeah, when I was making it, it was just vibes. I used to know what I was trying to do with the music a long time ago, but right now it's just vibes, and we'll take it from there.
What are your plans for the remaining five months of the year?
I'm just trying to explore all different avenues that I know. I'm a designer, so I'm just trying to make every artistic dream that I had before come to fruition, because we have a lot of time now. That's five months that we can take as timeout or time in, like you tell yourself, "Oh, I'm starting, I can't do this, I can't do that." There's so much you can do, because there's so much you're away from.
You were Apple Music's New Artist Spotlight for May. How did that feel and what did it mean to you?
It was lit, but I feel like it would have been a lot cooler had I been outside. But that's in the past. You can see something happening to you as something good or bad, like you drop your stuff during the lockdown and everyone's stuck in the house, and you can't do this and that. But the fact that you couldn't do this and that, you'll never know what would've happened had you been in those elements. So yeah, I'm grateful that happened.