Nasty C—born into this world as Nsikayesizwe David Ngcobo—has been on the precipice of even bigger things for a while now. Ever since breaking out onto the music scene as the self-dubbed "coolest kid in Africa," he's constantly been trying to top his previous move. From a fledgling young producer who started creating beats at the age of 9 to impress his older brother in their Durban home, Nasty C has now become a multi-platinum-selling award-winning artist who just made history signing an exclusive pact with Def Jam Recordings.

The 23-year-old's rhymes and beats made him Apple Music's most-streamed artist in South Africa for the past 4 years, buoyed by his mixtapes and albums Bad Hair (2016) and Strings and Bling (2018). His latest album, the forthcoming Zulu Man with Some Power, continues to draw anticipation with each month that passes. It was due out in May but the coronavirus lockdown has meant a readjustment on the release date. Much like a blockbuster movie where the actors can't tell you many details until it releases but they assure you it's going to be good, Nasty promises his fans Zulu Man will be worth the wait.
Nasty C spoke to OkayAfrica during the South African lockdown from his home in Joburg, where he recorded the Lost Files EP he put out on YouTube a few days after the Def Jam news broke.
---
How are you doing during the lockdown?

It's very boring. I've always been the type to stay at home, anyway. But it's bad out there. Deep in the hood, people are being unruly. Breaking into liquor stores and stuff like that.
How long did you have to sit on the secret of your signing to Def Jam?
I've had to keep this secret since about a year ago, in February, or maybe before. My second encounter with No I.D. was when we really started to think that Def Jam might maybe be in the picture. 'Cause at the time it was nothing formal but we were having a lot of dinners and stuff like that every time I was that side [in the US]. So, it's been over a year now.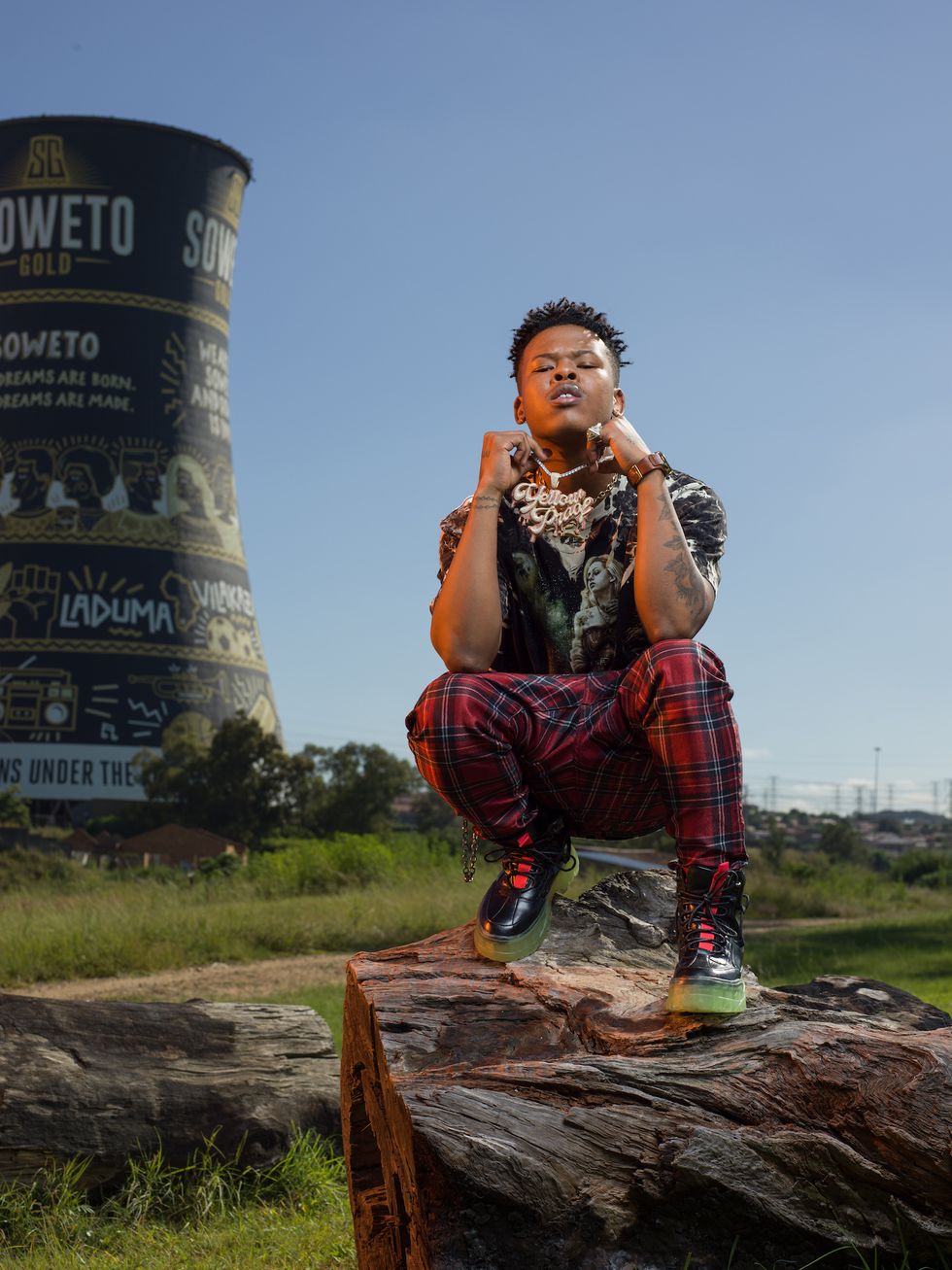 Nasty C.Photo: Osborne Macharia. Courtesy of Nasty C.
How did he end up becoming a mentor to you? I know he was one of the people you always looked up to?

I'm not sure why he came down to South Africa at first, in 2018, but part of his agenda was to meet me. That's when we really started having conversations about music, culture and stuff like that, and really working on a sound that would be distinct enough for people to pick up that's it not from the States, since you're making this global move, but also not too harsh for them to digest, and also not too far from what I've always been doing—because that would just be weird, if I just all of a sudden started [ululates] my music.
When Russell Simmons and Rick Rubin created Def Jam they were also in their twenties, like you are now…
I see myself becoming one of them. I already have a record label [Tall Racks] that I am already working on. It's doing pretty good. But just thinking beyond my music career, about being a boss like they are, that's definitely the main inspiration as to why I'm really doing this. People like them and Hov.
Where did the Lost Files come from—they're songs you discarded over the years?

It's a nice little teaser. Some are very old, "Forever" is 4/5 years old. They're songs that didn't make it onto certain projects, songs that ended up as just ideas, that I never really got the time to finish, or I didn't really want to finish, because I didn't feel like it. I have a lot of those in the vault. Sometimes it kind of hurts seeing myself move on and being so sure that I'm never going to put that song out even though I like it. So we found a way to work around that.
I understand you had to discard some songs for your upcoming album Zulu Man with Some Power, you've said previously you had 47 songs and cut it down to 16, broken down into four sections?
Not any more. When I did that I was too focused on the thematic side of things, as far as the album goes, trying to maintain a theme from track one to the end, and have a nice flow to it. I guess I ended up being a little narrow-minded and so focused on that one thing that I left out some joints that my team members were, like, 'that's my fave song, how could you leave that out?' So when we had the last listening session, I had to bring a couple back in. We're now looking at 20.
Nasty C - There They Go (Official Music Video)www.youtube.com
The album was announced a year after Strings and Bling. How has it changed in the time since you first announced it up until now? Given all the people you've since met and the places you've travelled to like Japan how has that changed the album? Has it?

It changed things, but only on the sonic side. The theme of the album and what it stands for, none of that has changed. It's just getting inspired every time I travel and work with someone new. Being in studio with new producers has shifted and shaped and moulded the sound of it.
It must have been filled with big moments too?

I worked with ATL Jacob, Future's producer. That's one of my favorite producers in the world. That was crazy!
And what about song with T.I.? He was the first rapper you ever liked...
It's a very special, very mellow cool song. Just one of those. It's called "All In." The first time I paid attention to music was him rapping. I have't really met him but I don't think I'd be disappointed. It really felt like everything came back full circle when he reached out to me. The first time he called me was through a song, when I was 9 years old. The second time he called me was to say, 'yo, let's work.' I had to step outside and catch some air for a second.
What song was that, when you were 9?
It was "Top Back," the remix with Young Jeezy on it.
Can you share what the theme of the album will be?
I can't. But I have the first draft of the artwork, which is coming out soon. There's a big visual side to the album. Everyone will get the theme as soon as they see it.
Nasty C.Photo: Osborne Macharia. Courtesy of Nasty C.
Music video director Andrew Sandler went to Durban to shoot the video for your new single "There They Go." What was it like working with him?

That was dope! What I liked the most about it is, whenever you bring an outsider to come see your home base they always recognize some things that might be invisible to you. You might be oblivious to some things because you grew up around them. There's nothing special about them to you. And when he came out here, he really started looking at the scenery in Durban, the landscape, and that made me appreciate Durban a little bit more. It was also my birthday that day. It was a good day for me, plus he had just came back from shooting for Lil' Wayne, who is also one of my idols. That was a crazy week for me!
When you look back, when was the moment you knew people were responding to your words, your raps?

I started copying T.I.'s lyrics or Lil' Wayne's lyrics and then changing a few words to make it sound like it was mine, rapping to my brothers at home. Then I started changing all the words. I started re-making their beats and using my own words. Then when I started sending that out on BBM and mixtapes, people really started to fuck with it, and I got contacted by a rapper from Johannesburg, when I had never left the city. Getting a reach-out from somebody in another city—saying they like music and they want to work with me - that was when I realized, 'oh shit, this could really happen.' That was when I started to take a deep dive into my lyrics and writing my story, and the more I did that, the more people started relating and supporting.
What song are you most proud of writing?
"SMA." The way I was able to write down every single little detail of my breakup and makeup with my girlfriend, it was crazy. When she heard it she cried, so many times. Even after it was out, sometimes it would make her cry. It felt like subtitles to the memories that we had.
How has your songwriting changed since those early days? Do the lines you write ever jump out at you? On Lost Files, the track "Abortion" has the line 'you lucky she didn't abort you' that's had people talking.

That definitely happens. That's when I know I'm on the right track, I should not give up. Sometimes you might doubt yourself a thousand times but when that happens, you feel good. It happens a lot. Sometimes I do that on purpose, like, I focus on the last line of the hook just so that it brings your attention back and it really fucks you up. Sometimes I try and say the most bizarre shit but make it make sense somehow, so that you relate to it, but the way I say it makes you go, 'what the hell?'
You're still writing songs, so will they be added to the new album then?
I might. It depends how hard [a song] knocks. If I'm satisfied, it's definitely going to make it. If not, no. Right now I'm not even trying to think of a number 'cause I know it's going to change. I might make it 23 'cause I'm 23 years old.
You jumped on an Instagram Live with Emtee a some weeks ago.
It's really dope. The energy right now is at a place where we all need it to be. It hasn't been like this for a couple years now, since 2014/2015. The other genres kinda overshadowed hip-hop for a second in SA. That IG battle, the whole idea brought people's attention back to hip-hop and made them appreciate the artists and the roles that they played in the game. There's a whole lot of memories that go with those songs and the times they came out, specially for me and Emtee because our come-up was simultaneous.
We came up the same time, we dropped singles around the same time. Even with the remixes. I had Cassper [Nyovest] and Davido, a South African and a Nigerian artist. He had AKA and Wizkid, also a South African and a Nigerian. And both artists started beefing with each other at the same time. It was a crazy moment. That spark just came back, and it was really fucking dope. Beef is beef, it's part of hip-hop, but I choose not to involve myself in it. I'll defend myself and my honor. A lot of people try to discredit you, especially fucking DJs and shit, so I defend myself but I'm not the one to go rap about you and stuff like that.
You have a lot going for you now anyway.
We're en route. Things are looking crazy—the things we have planned. I finally have a backing strong enough now to make these crazy, creative ideas in my mind come to life. I think I'm going to do something nuts. I don't want to ruin it, so I won't say anything more.