In the last 12 to 18 months, the UK diaspora has been slowly clocking onto the carefree, trance-like sound of amapiano. The buzzing South African genre is set to play a vital role in British summer time this year — but why is there such an attraction and what makes this sound so appealing to the UK's African diaspora?

Charisse C, a DJ and host of the show 'Abantu' on No Signal Radio, believes it's impossible to have a conversation about dance music culture in the UK without talking about South Africa's influence. "What's captivating about amapiano is that there is nothing else that sounds like it."
---
The tempo issue
According to A&R, club promoter and DJ Sef Kombo, "it's a hybrid of sounds." The Yanos, as it's also called, provides a blend of afro-house which is around 120-123 beats per minute (BPM) with the tempo of afrobeats which ranges between 108 and 111 BPM. Paired with a soulful house sound and the added UK influence of bass, funky and garage bass lines, amapiano creates a concoction which smells like UK summer.
"The tempo [some] people have been playing it at is incorrect. Some people can't even Shazam the tracks because they're playing it too fast," Sef Kombo adds. As a DJ myself, I can understand where Kombo is coming from. It's an observation I've picked up on listening back to mixes and hearing the tempo of amapiano tracks increased to an unnatural speed of 120+ BPM, when they usually sit comfortably below that. The UK lifestyle and pace, especially here in London, lends to a more upbeat tempo built on the foundations of garage, UK funk and grime, so it's no surprise that there's temptation to push the tempo beyond its origins.
Juls - Soweto Blues (Featuring Busiswa and Jaz Karis)youtu.be
A track that was instrumental in exposing the sound to a UK audience was Juls' 2020 summer hit "Soweto Blues", which features the distinct vocals of South African artist Busiswa alongside Jaz Karis. Juls, a British-Ghanaian producer, has been a key figure in effortlessly blending sounds native to the continent with a UK twist. His early work with Mr Eazi's 'Banku Music' is one example, a 2020 hit track inspired by a trip to Soweto.

A unifying sound
It's not just the UK that has come to love amapiano. We've also seen a rapid increase in cross-continent collaborations, especially between Nigerian and South African artists. Davido jumped on the "Ke Star'' remix, which was so highly anticipated Focalistic made a brand new video for it. Davido went on to make an amapiano-inspired track for his latest album A Better Time.Naira Marley and Busiswa came together on the tongue-in-cheek track "Coming," and we saw Wizkid and Burna Boy feature on "Sponono," a track from Kabza De Small's 2020 album I Am the King of Amapiano: Sweet & Dust. Additionally, Nigerian newcomer Zinoleesky stole the show with "Kilofeshe," which slapped so hard Busiswa jumped on the remix. The list could go on and the same could be said for the few UK funky house producers attempting their own take on it.
"It's a really cool unifying sound because there's kids in Zambia, Botswana making amapiano, even in Tanzania" says BBC Radio 1Xtra's 'Afro Boss' DJ Edu, the host of Destination Africa. "It's just become a go-to sound, there's now other sub genres that can grow and need to be reckoned with so that everything is not just boxed into one." There is a new lane to be explored within the African market, and amapiano is propelling the narrative that African music is not a monolith.
However, there's also the question of whether or not there'll be an over-saturation of the amapiano sound, leading some to wonder if it'll compromise the quality of music.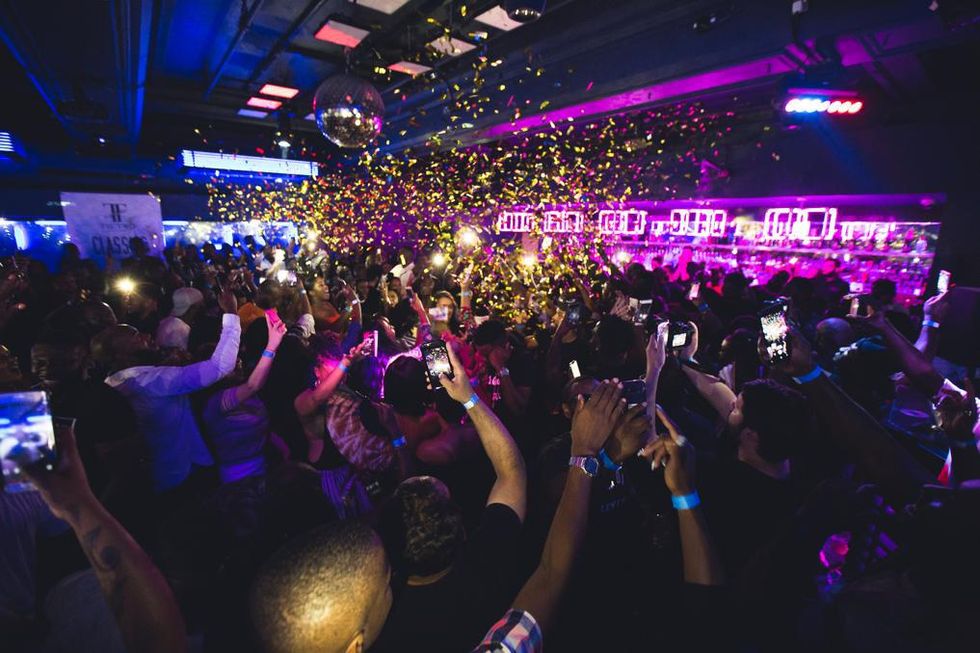 Sef Kombo's 'Til Two' night (pre-COVID).Photo: JRJ
Preserving the origins

DJ Edu says that there's "already a little diversion in the sound. South African amapiano is full of chords and influenced by kwaito. Other styles are now being influenced by amapiano. A lot of producers are not getting the genesis of what the genre is and where it originates from, so sometimes [the new ones trying it] are not always good. Most of the authentic tracks take you to a different place, for them it's more than just a beat or drum pattern, it's more than borrowed sounds."
As the lifestyle travels, us in the diaspora need to think carefully about what we can do to preserve the origins of the sound. DJ Edu believes we're already doing that "by making versions of it and, name checking and sending it back to the source so people who are interested in the sound can go check it out." There's strength in numbers, by sharing and putting other people onto the sound, we will keep pushing it further.
For Sef Kombo who thinks back to hearing amapiano live and experiencing it first-hand, the very first thing is the tempo. He reiterates that it's a big issue that amapiano is being played too fast. It can create a disconnect, because people are often shocked when they find a track on streaming services, because it's naturally slower than they've heard it in a mix. As a promoter of two successful club nights himself, he is adamant that DJs of southern Africa heritage are included on the line-ups "because this is something that they live, fight and die for. It's not just fun and games in all honesty." That's the reason why he has decided not to DJ amapiano himself. "I listened, watched, and realised I should be a spectator."
It's an interesting time of transition here in the UK. Finally, the diaspora kids from the southern Africa space are being given their time and there is a marked cultural differentiation between them and the western African culture that has dominated for so long. Charisse C. believed the lifestyle surrounding amapiano is "infectious. It's a new way of partying for the majority of UK audiences and naturally, that is part of the appeal." This excites me into thinking that the sound has longevity here in the UK, way beyond our imagination. "We haven't even seen the full extent of amapiano's impact yet," she goes on to say. "There are no limits as to where it can go, amapiano is here to change the game and it's here to stay."
Antonia 'Tone' Odunlami's show 'Diaspora Distins' on Wolrdwide FM showcases music from across the African continent and global diaspora.

Charisse C.'s radio show 'Abantu' airs bi-weekly on Tuesdays on No Signal from 5-7pm BST, the Abantu Pod comes out every other Friday on Soundcloud, Spotify & Apple Podcasts. You can listen back to all shows on Soundcloud.
DJ Edu's Destination Africa airs on Wednesdays 9-11pm UK time on BBC Radio 1Xtra
Keep up to date with Sef Kombo here.