In Rema's new single "Women", one picks up elements of the popular South African house music subgenre amapiano. The song is however produced by Ozedikus and Burssbrain, not South African producers as one would expect. Neither does "Women" feature a South African artist.
Nigerian producer, DJ and artist Kiddominant's latest single "eWallet" borrows from amapiano and has birthed a new genre that he has coined as "South Afrobeats". The song features Cassper Nyovest, and is inspired by the South African lifestyle. Kiddominant has spent some time in South Africa and produced "Fela In Versace" and "Jika" for AKA.
Rising to mainstream prominence in 2018, amapiano, which is the most loved sound in South Africa at the moment, has been co-opted by some of the country's biggest stars (DJ Maphorisa, Cassper Nyovest, Busiswa, Oskido etc.) and gave birth to more stars (Kabza De Small, Sha Sha, MFR Souls etc.).
---
[essentials] 7 Amapiano Songs You Should Know!www.youtube.com
In 2019, DJ Maphorisa joined forces with Kabza De Small — one of the subgenre's pioneers—to form the duo Scorpion Kings. Their self-titled debut album earned them eight nominations at the South African Music Awards, the country's biggest award show. The duo managed to win the Best Produced Album award alongside, Vigro Deep and MFR Souls, who co-produced a few songs on the Scorpion Kings' self-titled album.

Samthing Soweto's critically acclaimed album Isiphithiphithi consist of a reasonable number of amapiano songs, and it earned him eight nominations at the SAMAs, including the prestigious Record of The Year nod for his song "Akulaleki" featuring Sha Sha, DJ Maphorisa and Kabza De Small. He walked away with the award for Best Afro Pop album.
MFR Souls's breakthrough single, "Love You Tonight" featuring Sha Sha, Kabza De Small and DJ Maphorisa, has gone gold in South Africa (an excess of 10 000 units sold). The duo is credited as one of the pioneers of the subgenre.
Apple Music recently announced that Kabza's double-disc album I Am the King of Amapiano Sweet & Dust is the biggest South African album in terms of first day and first week numbers. It is important to note that this is the first album from him (and Scorpion Kings) that was released straight to streaming platforms instead of free music sharing sites first.
There have been a notable number of songs that incorporate amapiano, such as Dr Peppa's "What It Is" and Focalistic's "Christian Dior" — which merge amapiano with hip-hop.
From Alex to Lagos
Amapiano's influence doesn't stop in South Africa. The sound that originated from the South African townships of Johannesburg and Pretoria (Alexandra, Vosloorus, Katlehong, Mamelodi and Atteridgeville) has traveled far beyond the borders of the country and is being embraced by the rest of Africa.
As South Africans, we can't really hog a sound. However, what's worrisome is thinking how the global markets could get introduced to amapiano. Will they get treated to the real deal produced in South Africa or the hybridized version of it that contains elements of other genres?
Rema is one of the most promising young artists from Nigeria right now, and he is on his way to global stardom—he has an unreleased "sick song" in the tuck with Drake, as per the Toronto pop star's Instagram live from April in which he played Rema's "Dumebi".
The global audience could potentially be introduced to amapiano via Nigerian artists, the same way the rest of the world got introduced to the Ghanaian pon pon sound via Tekno and Mr Eazi. To the latter's defense, he has spent some time in Ghana and his earlier songs were produced by Juls and Guilty Beatz, who are both of Ghanaian descent.
The pon pon sound eventually became the "new" Afrobeats sound and South African Afro pop acts were also influenced by it and started producing songs that were leaning towards "Afrobeats". Examples include Mafikizolo's "Love Potion", Mlindo The Vocalist's "AmaBlesser", Thabsie's "African Queen" and Bucie's "Thando Lwethu".
Soweto Blueswww.youtube.com
WizKid and Burna Boy are featured on I Am the King of Amapiano: Sweet & Dust, the new album by Kabza De Small, the front runner of amapiano. The song "Sponono", a standout on the album, features both of the aforementioned artists, and it was trending in both South Africa and Nigeria on the day of release.
Davido, while doing an interview with the South African arts and culture website Zkhiphani earlier this year, expressed interest in doing some amapiano records.
Wizkid, Burna Boy and Davido are the biggest African global exports at the moment and they all have albums slated to come out this year. If any of them has an amapiano song on their albums then they might break the subgenre to global markets. One could say it's already happening—Davido is featured on the amapiano-inspired "Won Le Ba" by frequent collaborator Shizzi, which also features the rapper Wale.
The musicians mentioned above are not the only artists outside of South Africa that have been influenced and inspired by the subgenre. "Equipment" by Nigerian artists Masterkraft and Flavour is a straight-up amapiano song. Guilty Beatz's "Uthando" from his Different EP is also an amapiano song. Juls has also jumped on the wave via "Soweto Blues" featuring Busiswa and "Tembisa" featuring Aymos. Niniola's latest single, "Addicted" also borrows from amapiano.
Amapiano elements can be heard on "Of Lagos" by Nigerian artist Mayorkun. "Amapiano is Mayorkun's lockdown love, and he's recorded enough of them to make albums. It's experimental stuff, mixed in with highlife, and other genres for individuality," expressed Nigerian music journalist Joey Akan in an interview he did recently with the artist.
The list of West African artists' songs that reference amapiano is long. There is a possibility of these artists being the ones to introduce the subgenre to audiences in their respective countries, as Mayorkun's "Of Lagos" is already a local hit. Nigerians have even jokingly started to claim amapiano as their own.
Besides Nigerian and Ghanaian artists and producers, the genre has spread out and influenced producers in other southern African countries, namely Namibia, Mozambique, Zimbabwe, and Botswana. There's also a growing amapiano movement in Japan and they have started to produce their own songs. Even American artists like Dreamville's Bas and Soulection's Sango Beats have shown an interest in the subgenre.

Amapiano lost out on a chance to get introduced to the world through South African/Zimbabwean artist Sha Sha a few months ago. The predominantly amapiano vocalist, who appears on some of the genre's biggest hits, recently won a BET award for Viewers' Choice: Best New International Act beating Rema, Celeste and Young T & Bugsey from the UK, and Hatik and Sracy from France. Due to the pandemic, however, the award ceremony was held virtually .

Attending the ceremony physically could have been a great opportunity for Sha Sha to build networks and introduce amapiano to the American audience. Her win is a good look for the genre, and can be seen an indicator of what the outside markets are checking for. Besides her, Vigro Deep and Kabza de Small have also played shows in Europe.
The amapiano scene is disorganised

From its inception, the pioneers of the subgenre were independent and underground artists. They lacked "the machine" that comes with being signed to a record label. They were not getting much airplay and their content was sometimes not tailor made for radio or mass consumption as it included uncensored explicit and inappropriate lyrics, and some songs were not formally registered or available on streaming platforms (this is still true for some artists).
For the more established artists, what perhaps has hindered the crossing over can be attributed to not only vulgar lyrics, but also the lack of artist development—an artist can have a viral video, and the next day get thrown into a studio.
The small number of South Africans in the diaspora is one factor we can't shy away from every time we speak about the crossing over of SA modern sounds. Through a DIY approach, some artists are managed by managers who may not be fully knowledgeable and not possess certain skills that are needed to manoeuvre the music industry. There are also the disorganised and haphazard releases from the artists with minimal promotion beyond social media.
Some of the subgenre's biggest acts have flooded the market with back-to-back releases. In the past year alone, the Scorpion Kings (Kabza de Small and DJ Maphorisa) have released five projects (collectively and solo) and worked on several songs for other artists. The duo JazziDisciples have released three projects (collectively and solo) in the past seven months. The rapid releases could be as a result of how the subgenre used to operate in its infancy and how this managed to help its spread.
When you have spent time being unheard or being the underdog, there is sometimes a strong desire to put out more work even if there are no proper plans or distribution channels in place.
Lessons from gqom and other genres
Such similarities can be drawn to the subgenre gqom and how it managed to travel to Europe, North America and Asia around 2016 through fans sharing songs and links on social media. Gqom has achieved placements in movies (Black Panther) and soundtracks (Black Panther and The Lion King: The Gift). Documentation of the gqom scene helped propel it to the heights it's currently on—artists getting international bookings, associated dance moves going viral globally and artists signing international deals.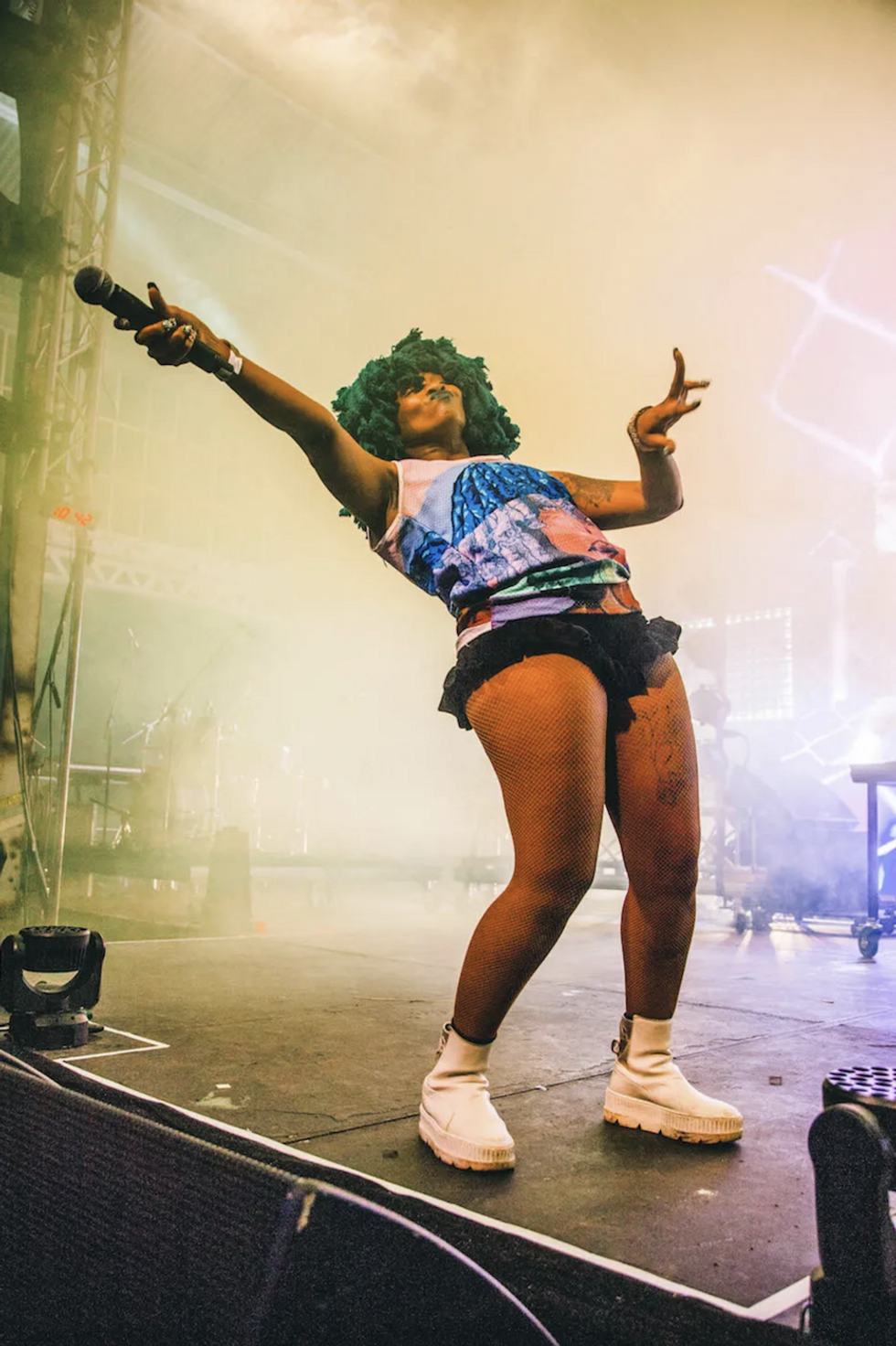 Moonchild Sanelly is one of a handful of South African artists who managed to expand their brands into European and American markets. Photo by Sabelo Mkhabela.
The same trajectory can be anticipated for amapiano. The world is always watching.
Placements in playlists like Apple Music's Africa Now, which is currently the platform's largest African playlist, could mean amapiano artists stand a chance of being discovered by audiences in other parts of the world. Recently, we have seen artists such as Black Coffee, Nasty C, DJ Lag, Moonchild Sanelly and Sho Madjozi cross over as a result of having international agents and management that ensure that these brands are marketed abroad. Amapiano acts can follow the same blueprint.
The producers should collaborate with other artists that are already popular within other genres. DJ Sumbody's Cassper Nyovest-assisted "Monate Mpolaye" had elements of amapiano and the song contributed to the rise of the subgenre in the mainstream. Nyovest's performance of the song at the Global Citizen Festival: Mandela 100 in 2018 is still one of his most memorable performances. Around the same time, Nyovest and DJ Sumbody released another 'piano song "Remote Control". Fusing amapiano with other recognisable genres could also assist in introducing people who do not necessarily listen to dance music and also ensure that the sound is not monotonous.
Nigerian superstar, Tiwa Savage recently released remixes of her single "Dangerous Love", which has been treated to amapiano remixes from South African producers DJ Ganyani & De Mogul and De Mthuda, respectively. Collaborations of this nature should be a norm to ensure that the subgenre is exported in its authentic form.
Amapiano undoubtedly has commercial viability and crossover potential. Now, it's up to all players involved to ensure that the crossover becomes a reality and that they are credited for exporting it, before artists and people from other regions do that on their behalf.
Head here for more amapiano coverage on OkayAfrica.