A few years ago, Adekunle Gold broke out into the scene with a refreshing way of carrying himself, presenting his art and speaking his truth with music. His debut single "Sade" started this journey of chart topping releases, sold out shows, and the constantly evolving sound that graces African airwaves. Gold's self assurance made him stand out from the very beginning, as his sound was delivered with intent, compassion, and stuffed with personal truths.

Not many artists are willing to try new things with their music, and in order to maintain mainstream success, some cling to one sound, one image and direction often crafted from fragments of their first hit. These artists get stuck trying to recreate a capsule in time, while true artists are open to the dynamic of change, and the necessity of renewal.
Adekunle Gold is one of a handful in his profession who draws on a spectrum of experiences to make honest music which is consistent with the self-revelations of a growing man. This has become his biggest strength, allowing him to craft contemplative songs like "Sade" and "Oreke" and still create afropop magic like "Something Different"
---
His latest project Afropop, Vol. 1, shows how much he's grown as an artist and as a person. It was a guided progression from his last album About 30 where he chronicled the transition into his 30s and previewed the pop sound that we've come to love.
We spoke to Adekunle Gold about his growth as an artist over the last few years, his ability to constantly evolve his art without compromising, and speaking up against the government during the #EndSARS protest.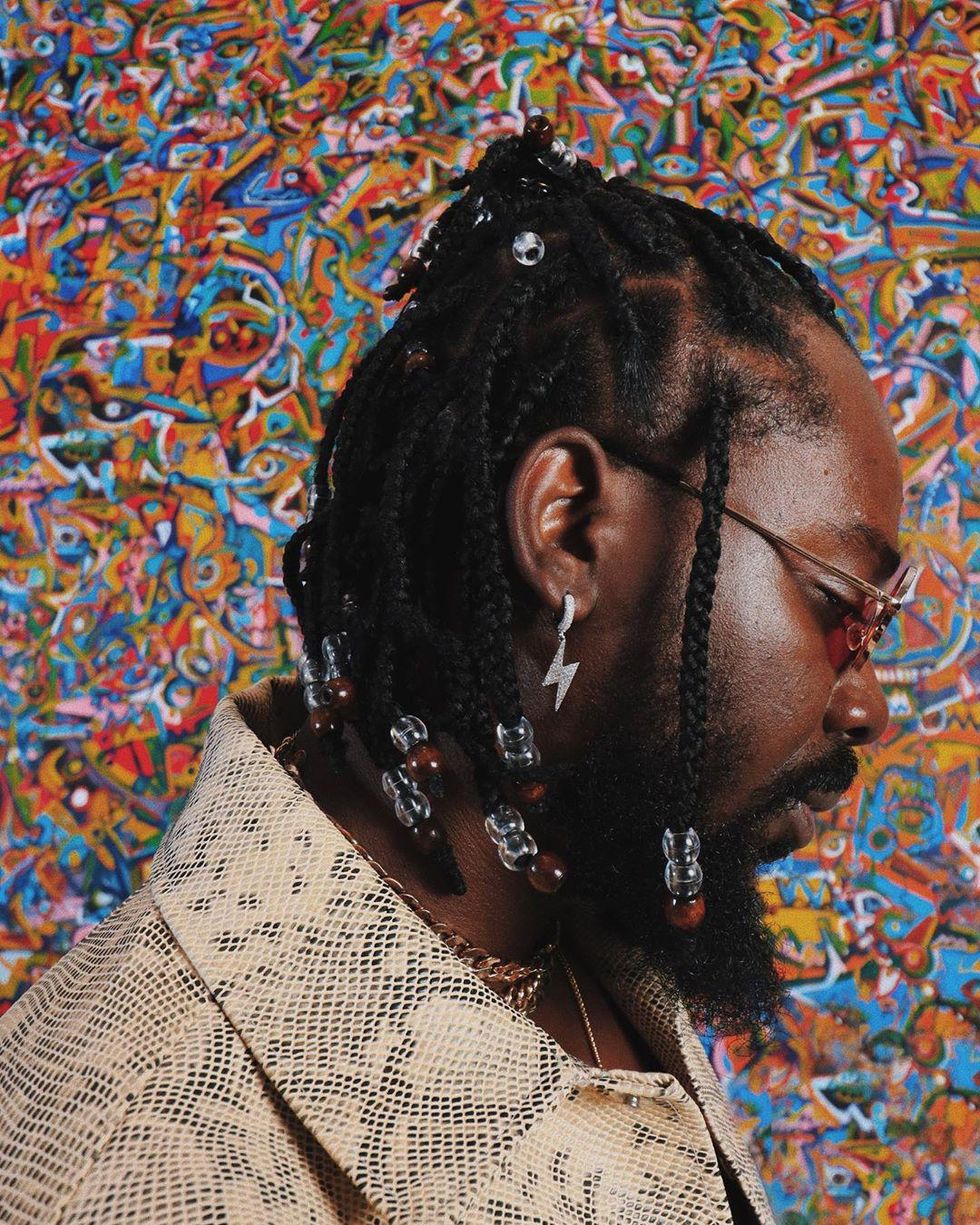 Image courtesy of Adekunle Gold.
What was your childhood like? What were your inspirations?

Everything happened to me. I grew up with three sisters, I lost one. Grew up in a family with teachers as parents. We were Muslims but my dad allowed us to go to church. That's where my love for music came from. So I have experienced both religions, I understand both the Quran and the bible. This helped me be a liberal person about religion.
I actually wanted to do law earlier on but I had to be serious with school and that's the kind of person I am. I thought since I have a flair for the arts I'll just study something along that line. So I studied Visual Arts at Lagos State Polytechnic, I finished as the best student in my class. I majored in Graphics, that's what helped me be the 'king of Photoshop' until music happened. Music has always been there, I've been doing talent shows but I never made it through but kept working so hard and that got me where I am today.
Talking about my inspirations, my dad was a sculptor and painter, he was an all-around artist. So I watched him paint and do graphics, I found my love of art through my dad. For performance art, my dad played a lot of highlife, so I listened to a lot of them growing up. I think that's why highlife is really natural to me. It was inside me. I didn't have a choice, I had to listen to it. But as I grew I started listening to new genres. All of these things I took on earlier in my life really shaped me. That's why I'm a visual person when it comes to the arts because I grew up around art so it influenced me a lot.
What was the definitive moment that made you switch from being just a graphic designer to a full-time artist as well?
The thing is there was really no transition because I'm still both people. I still design for myself, business, and people that I'm close to. As I was making graphics, I was making music. My love for music definitely came from joining the teen's choir, it felt good to sing in the church. I knew I enjoyed music as a listener and someone that attempted to write music. I loved music so much it made sense for me to do it. I generally just enjoyed the process of making music, knowing you can write a song, become a legacy, and be part of people's lives.
Tell me about Adekunle Gold before the Gold album and your first big break "Sade"?
Before the Gold album, I was with a band but the band ended in 2013 when it wasn't really working and I couldn't take it so I started to write my own songs. I wrote "Orente," "Friend Zone," "Beautiful Night," before "Sade."I was just writing songs and making covers, I did "All of Me" by John Legend, "Diamonds" by Rihana. I kept doing this hoping I'll get discovered then I released "Sade" as a cover, Olamide showed interest, signed me and it's been an interesting journey since then.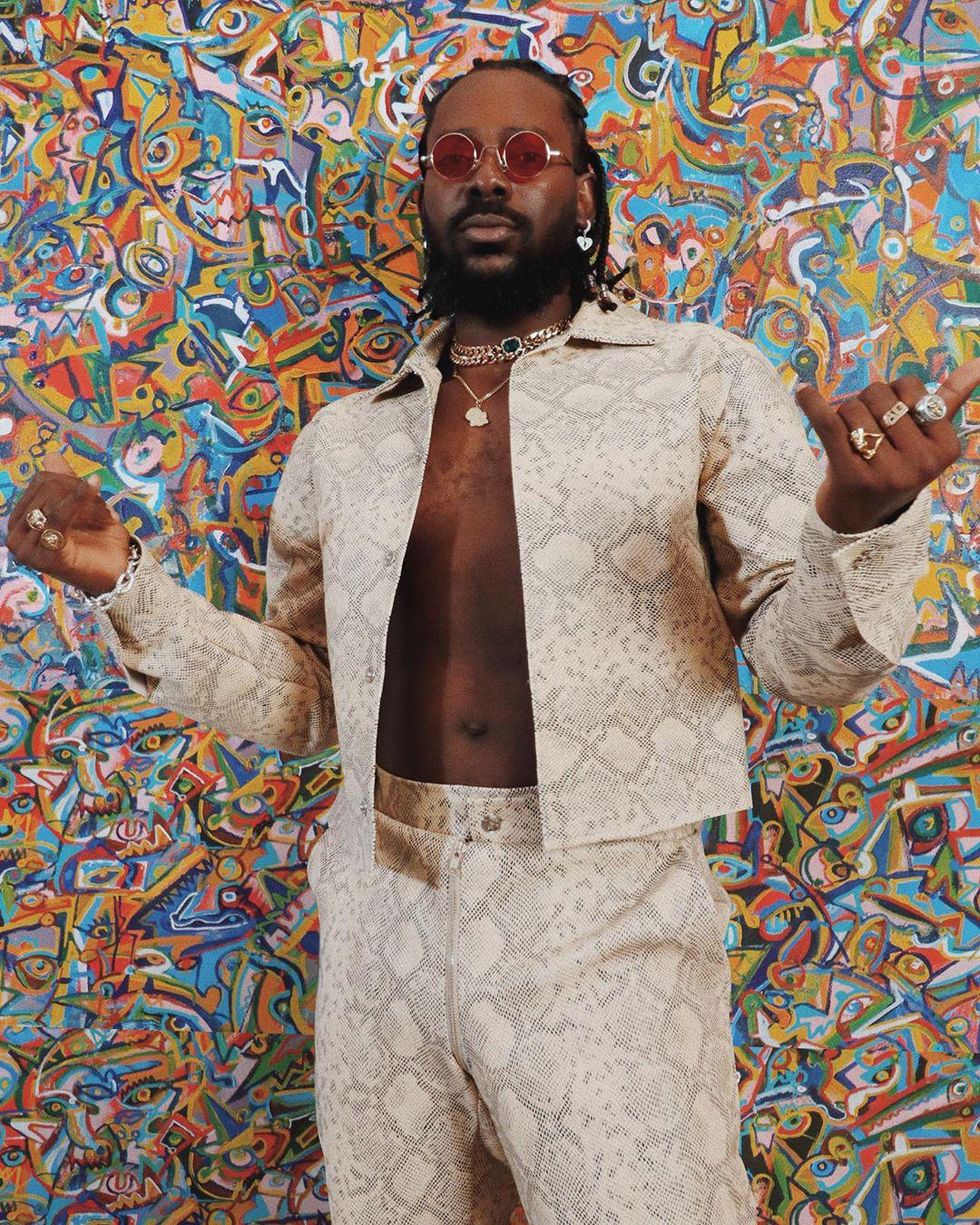 Image courtesy of Adekunle Gold.
After you got signed, you released your acclaimed breakout project Gold which was influenced heavily by your highlife foundations. What was your headspace like then?

It was natural to me because at the time I was making highlife, that was me then. The Gold album was mostly highlife and when I finished it, I knew I wanted the next project to be different, to be an upgrade because my ears were getting tuned to some pop songs, I sounded listening to more pop sounds. I decided the next album would be a bit of highlife mixed with a lot more pop. That's why you have songs like "Call on Me," "Surrender," "Fame," "Ire."
Every project that I've made is how I'm feeling at the moment that I make them. It's in my mind, where my head is at. That's what informs the projects I make. Sometimes artists are afraid to try something new but on About 30, you were able to brilliantly fuse these two sides of you. How did you find the balance and understanding needed to grow? About 30 was inspired by life, I wanted to talk about my thirty years in this life. Made the album when I was about to turn 30. I wanted to talk about the pain, the struggle, the joy, everything.
It's tricky for an artist to change their sounds when they're afraid to try. Thing is, I'm never afraid. Maybe it's because my art is my story, I always want to tell it my own way. It's okay if people don't get it, some people will. When I released the Gold album it wasn't about how people were feeling, it was about how I was feeling. I'll only make my art based on how I'm feeling. So when I decided to switch from full highlife to a bit more pop, it was my decision. As an artist, you're meant to tell the story how they see it. Just like a painter, they paint their expressions, what's on their mind and that's how I see my art and music, my music is my painting. That's how I was feeling when I made About 30, I didn't care if people would like it or not. I've had the idea of Afropop since November 2017, and I was making About 30 when I started Afropop. "Call on Me" was meant to be on Afropop but I decided to put it on About 30 to tease people on what's to come. In totality, my art is mine. It's my story to tell. I'll never make it to suit certain people.
Adekunle Gold - Something Different (Official Video)youtu.be
There was a visual transformation across all albums, with Afropop, Vol. 1 being the most prominent. What are the conscious decisions behind the visual story you've been telling especially with the new project?

I feel the essence of life generally for me is growth. You have to keep moving past where you currently are. I don't see why you should do the same thing over and over again as a creative, It makes sense to break boundaries and sometimes put yourself in tricky situations but for the fun of it just do it. I always say my biggest regret in life would be that I didn't live, I didn't do what's on my mind. As I said, the idea for Afropop came in 2017 that proves it's not about a trend, it's always been about my vision and I'm living it in 2020. I decided to just grow into it, and not force it. I went through the journey of being confident to be able to do it.
As for my visual image, when I came out I had punk hair. That was me then, I was young. It always took a lot of hair grooming to make the punk hair upright in every image and video you saw of me. Then morning I woke up, my hair was rough but I realized it actually looked good, and that's the day I stopped combing my hair to be that perfect. So my hair was rough, and I also decided not to button my shirts all the way anymore. This was around the moment I decided to stop wearing Adire, just simple white tees, wear sneakers instead of boots. This is just an idea of how spontaneous I am. I don't really create a mood board for any of this. The day I think about these things, I just start. Before the Afropop album cover, I was already experimenting a lot with my style and I was also growing my hair out because I wanted my look and feel to show the new confident Adekunle Gold. It's not like it's a clear cut plan, I'm just doing me.
You're one of the artists that raised your voice during the #EndSARS protest and spoke out against the government on issues like the Lekki Massacre. What are your thoughts on how the government reacted to the situation and why do you feel it's so important for you to speak out as an artist?
I've always spoken about anything that's wrong with the system. I have a lot of followers, so when I feel there's something messed up going on in society, I like to talk about it. Regarding #EndSARS, I've always spoken about it. I was just in the spotlight this time, it's not about me. I just want to speak about what's not right. I think no matter the platform you have, you should speak up. It's a civic duty of any citizen in a country that's not working to speak out, I'm not a happy citizen where I'm from and I'm just complaining. It messed with me to know that as the world is growing we're still tackling basic shit in Nigeria. I would never think that asking to not be killed will result in more killings. We're not even asking for 24/7 power supply, social amenities, what we're asking for is hard enough that we almost have nothing. Just stop killing us while we make opportunities for ourselves, don't profile us. Not everyone is a fraudster, the fact that I have people I call abroad or I have words like the client on my phone, you automatically think I'm a con. It's ridiculous to think that's where we are now.
We have young people making apps now and selling them for millions of dollars, using social media and making money off it. People who left school without jobs available for them are being innovative and making money by themselves. These same people are being profiled, and are being killed, getting sent to prison and no one knows about it. You've not done anything for us yet you're killing us. This is what we're fighting against but see how everything is turning out. They're freezing accounts, arresting people from their homes, seizing passports for people just because they were at the forefront of the protest. It is mind-blowing how the people we put in power think. The joy I have is that they know their time is almost up and we're coming for everything they've deprived us of. I can only say we need to keep the faith.
What does a legacy and making timeless music mean to you?
My quote has always been "the goal is to be timeless." I want people to look back and say he lived, to be able to look back at my music no matter when and still be impressed. I make my music for it to outlive me.