News
Dec. 14, 2015 08:20PM EST
Okayafrica's 2015 Holiday Gift Guide
The year's best streetwear, accessories, books and more from Africa and the Diaspora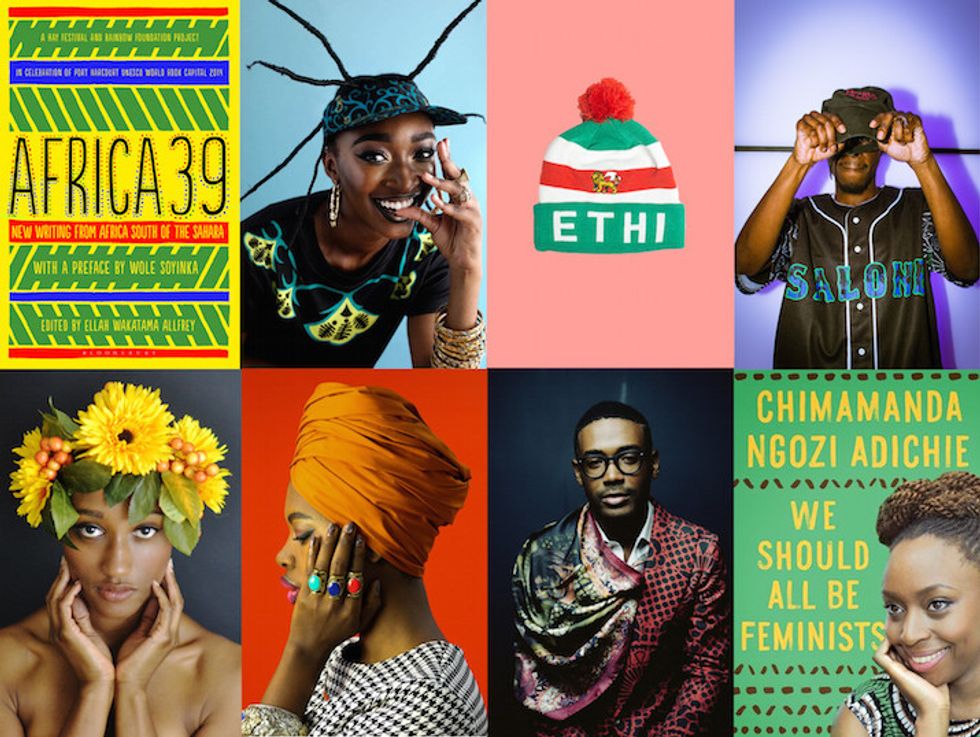 Top Left to Right: 'Africa39: New Writing from Africa South of the Sahara; STREETCHIEF; Modern Pharaoh; Mizizi. Bottom Left to Right: Caven Etomi; Fanm Djanm; Ikire Jones; Chimamanda Ngozi Adichie's 'We Should All Be Feminists.'
Throughout the year, we here at Okayafrica have spotlighted hundreds of small business owners and creatives making outstanding strides in fashion, film, art and beyond. With the holiday season upon us, what better time to delve deeper into these entrepreneurs' one-of-a-kind works than now?
We've rounded up the best and brightest brands and products guaranteed to eliminate any last-minute shopping crises and elevate one's gift-giving game. The creators behind these picks selection hail from all over; their signature styles as distinct as their home bases, representing cities like Monrovia, Brooklyn, London, Abidjan and Washington D.C. So, it's safe to say that there's something for just about everyone on your holiday gift list. Browse through our entire guide for some overall inspiration or head straight to a particular category by clicking below.
---
APPAREL

Source: Llulo's Facebook Page
Love, strength and peace: those are the core values of the fashion and lifestyle brand Llulo, according to the company's website. Sweatshirt lovers will gravitate towards their Africa Love and Leather Mother Land hoodies and crewnecks, while those repping Naija or Liberia can snag ones showcasing their national colors. The online shop also offers everything from Ankara leggings to a variety of unconventional pillows.

Source: Dpiper Twins Beanie via Zuvaa
An online global marketplace for African Design. According to founder Kelechi Anyadiegwu, Zuvaa is not just an online store, but also a community, a movement. "We are fashion lovers worldwide who not only seek to support ethically manufactured and produced pieces, but look to make a statement," Anyadiegwu states in her about page. "We are all about making Bold Statements in Bold Prints. Zuvaa, inspired by the Shona language of Zimbabwe word 'Zuva' meaning sunshine, represents the vibrancy and radiance of African culture and how our customers' personal light shines through African aesthetics."

Caven Etomi's Wax Print beauty tee for Spring 2015. Courtesy of Caven Etomi.
Bootstrapped by Doreen Caven, Joan Caven and Oseyi Etomi, Caven Etomi was born out of a perceived need for modern casual wear inspired by both historic and current day contemporary African art. Shoppers can peruse everything from gorgeous, lush floral headbands to statement-making graphic T-shirts and wall art.

STREETCHIEF'S 'Nima Girls' collection. Photo: William Ukoh. Model: Jessica Bentu. Courtesy of STREETCHIEF.
Ghanaian fashion designer Jesse Frimpong created the streetwear brand STREETCHIEF in 2013 to bridge an identified gap he noticed within himself and among his peers. The brand is a reflection of many African youth in the diaspora who are [torn] between traditional principles of the African culture and the hip hop influenced urban culture of Western world," the Canadian-based designer told Okayafrica.

Loza Maléombho's 'Zaouli' SS16 Collection. Courtesy of Loza Maléombho.
Brazilian-born, U.S.-raised fashion designer Loza Maléombho runs her eponymous brand out of Côte d'Ivoire, where she works closely with local artisans on stunning products crafted from Indigo dye fabrics, natural burlap, cotton Batik and 100-percent women Kente. Her mission to empower Ivorians also extends to the brand's small workshop where local young women produce the Loza Maléombho collection.

BLKKANGAROO's Spring/Summer 2015 'BLKKMARKET' Capsule Collection. Courtesy of BLKKANGAROO.
According to their brand statement, BLKKANGAROO "fuses an African sensibility with a dose of pop culture." The Toronto-based streetwear label traces its launch to the 2012 Afropunk Fest, when Nigerian designer Seye Ogunlesi began selling his If found return to the Motherland t-shirts out of his backpack. Since then, the operation has expanded into a team of three, with Ogunlesi joined by Emmanuel Obayemi as art director and Nick Bahizi as fashion director. According to Ogunlesi, their latest collection, titled The BLKKMARKET, has to do with his 2014 trip to Lagos and Accra.
"I noticed that people were almost always transporting something to be sold – on their heads, on the back of an Okada, in a jerry can, in the ubiquitous BAGCO super sac or the iconic tartan print 'Ghana must go' bags," the designer says. "Africans are the world's most resourceful people. We are always on the go, commerce is always on our minds, and BLKKMARKET is our hommage to that."

AfriTribe's 'The New Diaspora' Collection. Courtesy of AfriTribe.
Nigerian-born designer Ayo Omolewa says he founded his Maryland-based streetwear label with the intent of bridging the gap between Africa and the Diaspora. Afritribe's latest collection–titled The New Diaspora–features an assortment of socks, hats, shirts (including the Chale tee) and tank tops inspired by "a certain lack of options of showing ownership of being African by those living in the Diaspora, 'forgetting where you came from' in a sense," Omolewa tells Okayafrica.

Mizizi's All-Star Roster Lookbook. Photo: Andrew Hodges. Courtesy of Mizizi.
University of South Florida students Paakow Essandoh and George Kariuki founded their streetwear line in 2014 as a way of showcasing African culture throughout their home state. After officially debuting earlier this year with a collection of street-ready jerseys for Kenya, Ethiopia, Eritrea, Ghana, Nigeria and Egypt, the Florida-based label will soon expand their All-Star Roster to include Morocco, Sierra Leone, Cameroon, Somalia, Sudan, Liberia and both Congos.

Modern Pharao's Ethiopia Winter Cap. Courtesy of Modern Pharaoh.
Liberian-born creative Adam Smarte's apparel and lifestyle brand Modern Pharaoh launched a series of winter caps for Somalia, Eritrea and Ethiopia just in time for the holidays.

Ikire Jones SS16 '...& Other Stories By Our Stolen Children'. Photo: Rog Walker. Courtesy of Ikire Jones.
Walé Oyéjidé and Sam Hubler are the brains behind Ikiré Jones, a Philadelphia-based menswear brand dedicated to making carefully tailored West African-inspired clothing with a focus on storytelling and political context. Their Spring/Summer 2016 collection, …& Other Stories By Our Stolen Children, showcases a striking mix of high-end tailoring and casual streetwear with intricate patterns, artful textiles and colorful scarves.

Courtesy of Bantu Wax.
In 2014, the surf and beachwear brand Bantu Wax expanded into streetwear with the launch of their first t-shirt line. This year they opened up their flagship retail location in Dakar. Of course, their signature swimsuits are still available for purchase online along with their Logomania tees.