Interview
Interview: TG Omori Is Breathing New Life Into Nigerian Music Videos
The young director responsible for 2019's most audacious music videos—from Naira Marley "Am I A Yahoo Boy" to Tekno & Zlatan's "Agege"— talks about his creative process, working with greats and all the trials that got him here.
It's no secret that most of the buzz about Lagos comes from its ever expanding creative scene. The rise of a bold, eager generation has taken charge, pushing the boundaries of acceptance of creative expression in Nigeria. The younger generation tries to upset conformed notions with acts of radicalism, overflowing with streams of individuality, and their most important tool: the internet. A place which allows them to show the world every step of their evolution.
This Nigerian creative boom has also spurred an era of photographers and filmmakers with fresh interpretations of age-old phenomena. Music videos have become a more pronounced manifestation of how music is consumed too. Since global music networks MTV and Trace arrived and dominated African screens, maintaining mainstream relevance through popular videos has become the norm.
The yearning for better music videos increases daily, with Youtube and Instagram serving as an infinite pool of inspiration. Recently, directors such as Meji Alabi, Moe Musa, and Daps, have usurped the class of Clarence Peters, DJ TEE, and others.
One director in particular, who is responsible for around half of the videos on the summer 2019 charts on MTV and Trace is 24-year-old Thank God Omori, popularly known as TG Omori, a new face on the scene staking his claim.
---
TG Omori at home. Photo: Kelenna Ogboso.
TG is known for his outlandish videos, taking on controversial issues and reimagining them into visual stories or dancing cues. His work can be seen in music videos ranging from Naira Marley's "Am I A Yahoo Boy" and "Soapy," to Olamide & Wizkid's "Oil & Gas" and Tekno & Zlatan's "Agege," the last of which earned him a call into police questioning.

TG grew up in Agungi, Lagos, from a modest middle-class background, seeing the stars only on his TV screen. Today, he works with the current top crop of afrobeats acts.
Before I met TG, I waited in his new apartment in the urban side of Lagos and could feel his vision pulsing through his then partly furnished home. "I think one one of my strongest points from my childhood is the ability to think of crazy ideas and concepts," TG mentioned. "Like I have something in my head, this very moment I can create a concept, my concepts are always very weird. So I had friends who were scared of me."
"My creativity is inbuilt, I have this thing in my head already, I know I can create, but I just need to train myself through the process of creating," he said as we began our conversation. They are the words of someone certain of what he wants and is ready to take on his new found fame, almost like he's been waiting for this all his life.
Read ahead for our chat with TG Omori, the director breathing new life into Nigerian music videos.
Naira Marley x Zlatan - Am I A Yahoo Boy (Official Video)youtu.be
You opted out of attending university. Was there a particular moment you realized the path you would rather take?

TG Omori: School was not my thing, I wanted to be an entertainer. I wanted to go to film school, a musician, an actor. I just wanted to be in the entertainment industry. I just woke up one day, was online and I saw ad on WAP TV for PEFTI, a Nigerian film institute, so I decided to make enquiries, made the requirements to get in. That's how I switched to a film school, while my parents still thought I was in university. It was heart-breaking when I told them that I wasn't in university. Basically all through my life as a kid I touched different parts of creativity. At a point in my life I was a dancer, a rapper, stand up comedian, actor, but I ended up as a filmmaker.
What made you select filmmaking?
I always wanted to be an actor, I was more of a stage actor. In film school I got picked from time to time to go act on Super Story, Papa Ajasco and every time I got on set I was loving the energy. I wanted to be big, I went for auditions, I wanted to be in the movies, but in the process I got hungry and bored cause getting roles wasn't easy. Even when I got roles, the pay was not nice. I had family, myself, people to take care of and every director made it feel like they're doing you a favour on the set. Sometime they wouldn't pay; other times it was very low. So I looked around the film set for who was actually making money; is it the actors? or this man always holding the camera and director? I was like okay, what does it take for me to be a director? What does it take for me to be a cinematographer? What does it take to be bigger than Moe Musa? Sesan? Those guys were doing awesome.
TG Omori at his home. Photo: Kelenna Ogboso.
How did you start progressing from a stage actor to a filmmaker?

I started doing research, I went online, Youtube, learnt how to set a camera. Luckily for me, at that period I got a job in a production house. I was working as a writer, I wrote scripts, sitcoms, skits, commercials, a friend of mine worked there as a camera operator, so when the production house needed a writer, he recommended me to the boss. At that time, I still wasn't thinking of being a cinematographer. I just wanted to express myself. I got the job and worked as a writer, wrote a few skits. I figured it was my best shot, they had cameras, editing systems, internet, so I was like I want to be a director. This is my best opportunity to learn how to. If I want to learn how to edit they have editing systems here, at midnight when nobody is working I can come play with it. If I want to learn cinematography, they have top notch cameras here, all I need to do is beg one of my guys to smuggle one out and I go play with it.
I had crazy ideas, but I wasn't a cinematographer, I couldn't bring it to life. I kept researching. At a point I felt I was okay to try out what I've learnt. I called my friends who already knew me from acting, shared my crazy concepts to them and they agreed to it with a budget of 20,000 Naira ($55 USD), which I used to rent cameras and pay for a location for a viral video, I'll add like 10,000 Naira ($28 USD) and go rent a Canon 5D Mark III camera, get a tripod, two lenses, and we'd go out on the streets and start shooting. That's how I started making videos.
Seven months later my friend invited me to come to their studio, he introduced me to Lucas James, who managed ES+, he liked my work. So he told me they had a budget of 500,000 Naira to shoot a video. That amount of money was like 50 million for me. I knew this was my shot. It was the first time I shot with a Red Dragon camera, I had never seen a Red Dragon in my life, I had to pay someone else to be a camera assistant on set, just in-case I go wrong with the camera but I did not allow him to shoot because I knew what I wanted. I said to myself I wanted the best for the video. I shot that video and it made it to Television, Soundcity TV loved it, the video was all over. This was 2015. I got a call from someone in Chicago some days later trying to book me to shoot a video for her artist, Minz. I charged them 1,000,000 Naira ($2800 USD) and they beat it down to 700,000 Naira ($2000 USD). That was how I shot the video for "Aunty Patricia."
Olamide - Oil and Gaswww.youtube.com
How did this lead to your first big break?

I kept shooting and more people started recognising me and my videos. This was in 2016/2017, I had a video for Dremo, I had a video for DJ ECool, shot a video for Jinmi Abduls & Mayorkun. I was breaking into the mainstream at this point and my name was circulating in the A-list circles.
In December 2018, Ycee's manager hit me up and asked to me shoot the video for his song "My Side," the video blew up. One of the highlights of the video was it felt like a foreign video even though I shot it in Nigeria. So people started asking questions about who shot the video, from there Yung L had a song with Reekado Banks, I shot a video for him.
Then I shot a video featuring Zlatan, he was my friend, we were guys from way back. We stayed together at a point. I had a project with a guy who featured him and wanted me to shoot the video, which I did and it was mad, that was in March 2019.
Zlatan liked the video, and he had a song with Naira Marley and he recommended me to shoot the video for "Am I A Yahoo Boy." Naira Marley hit me up on IG, liked my work, sent me the song and said we should work. The song was the most controversial song at that point, and I took up the video and shot one of the most controversial videos on TV then. All eyes were on Marley then so I gauged that if I finessed the video the world would watch it. In between that period, I shot "Murder" for King Perry, like a week before this. The two videos dropped the same week. So I got more publicity, all over my socials.
Tekno & Zlatan - Agege (Official Video)www.youtube.com
Following that, I shot videos for Olamide, "Oil and Gas" and "Totori" with Wizkid, then Fireboy, Timaya, Tiwa Savage, and D'banj, Tekno. Naira Marley reached out again because he had another controversial song, "Soapy," and he believed I was the only one that could deliver it. I constructed a prison and replicated his experience in prison and made it fun because it's a fun song. I shot another controversial video for Tekno and Zlatan which pissed off the police, and had them call me for questioning.

Why do you like controversy? Do you like your videos hitting a nerve?
People tend to say my videos are controversial because they are different. The first thing I do when I hear a song, 'cause all Nigerian songs sound the same (I'm sorry to say)... If I have ten Nigerian songs, five sound alike, so I have five songs that sound alike but want five different videos. So what I do is when I hear a song, I match it with other similar songs and try to make my video idea different from what they've shot. I rather think of ideas that have not been done. So most times when I'm conceptualising the first thing I'm thinking of is what has not been done and what is going to spark? That's why I don't watch videos to create. I just come up with risky ideas and try it. It's always risky, that's what I consider an outstanding creative, you either fail or you're applauded. I think because it's different from what others have done people are scared of it.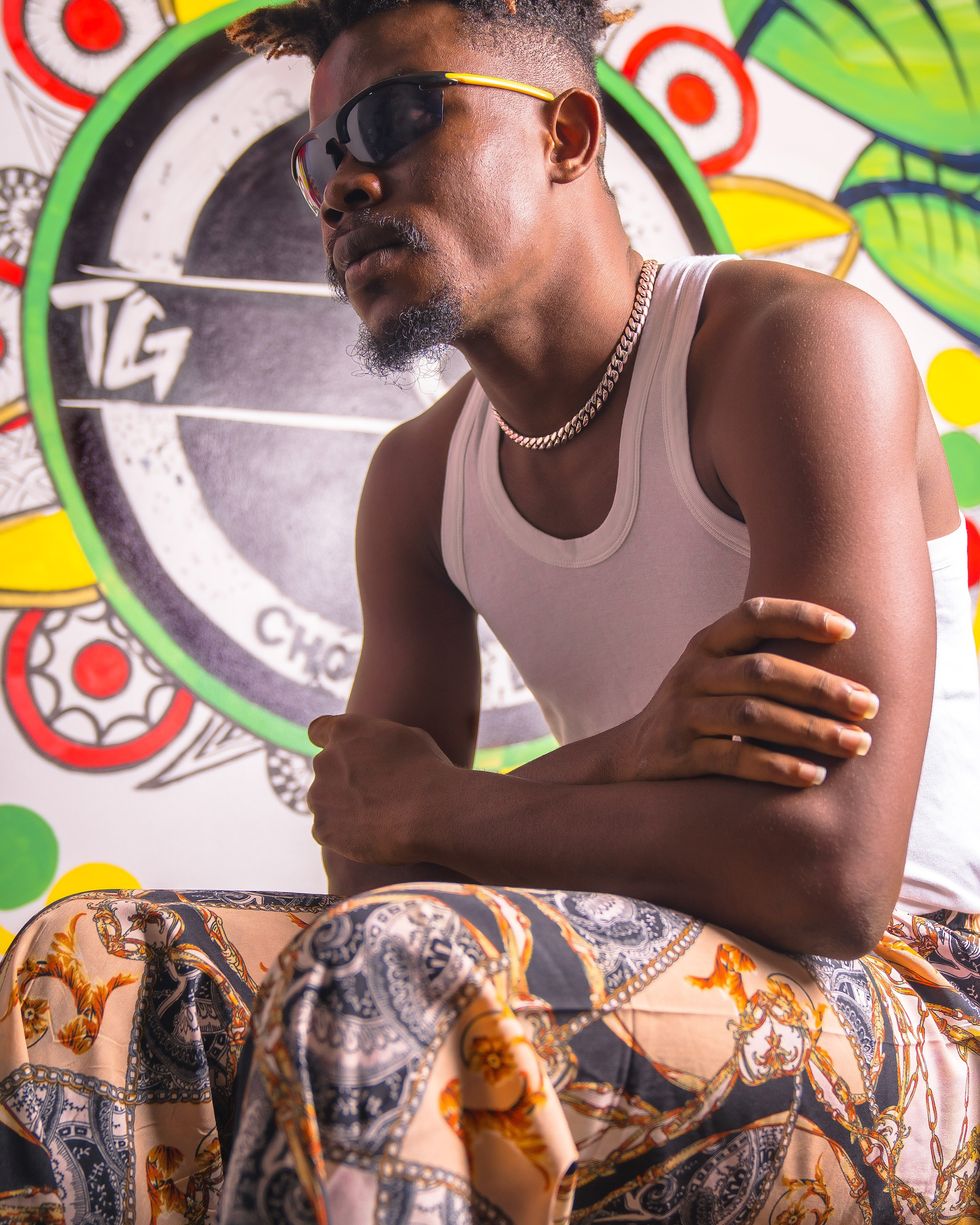 TG Omori at home. Photo: Kelenna Ogboso.
Do you see yourself going into filmmaking full time?

Yeah, I'm going create films when I'm older. I don't think I want to shoot videos forever, I want to be a filmmaker and produce videos. But if I have an idea for a film before then, I can attempt it. I'm a spiritual person I work with the spirit.
What is next for you, now that you're in a position of attention?
I want to bring the world to Africa, I want you to want to come shoot in Nigeria. We're painting Africa as a culture everyone wants to be apart of. The same way you want to shoot pop videos in America, I want them to come shoot afrobeats videos in Africa, to make afrobeats a lifestyle the whole world wants a part of. I want Beyoncé, Jay Z, J Hus to want to shoot a video with me here in Nigeria. I want my videos to be a point of reference.
Follow TG Omori on Instagram.