Growing up in London, as a second-generation mixed Ghanaian, I was exposed to a melting pot of music: highlife and afrobeat being the main forces in my household. Waking up to the sounds of E.T Mensah, Gyedu-Blay Ambolley, Ebo Taylor, Kojo Antwi, Ofori Amponsah and the Ghanaian aromas of my mother's cooking on a Sunday morning was routine. I associate these genres of music with most things joyful, as do many West Africans.

Ghana is the landmark of hospitality. You may not be Ghanaian but once the hot air kisses your skin, Ghana suddenly becomes home. The blazing sunrise is the alarm clock for the hustle and bustle, where cars, bikes, and people become one. The generous Ghanaian spirit is what makes this country so magical. Culturally rich with historical mythologies and traditions, alongside the trend-setting popular new urban culture with music being one of the many contributions that Ghana has gifted to the world.
---
Highlife came into being during colonial time in the early twentieth century and grew extremely popular between the '50s and '70s. This resulted in President-to-be, Kwame Nkrumah, declaring it Ghana's national music during his fight for independence, which he won in 1957. Highlife is a medley of sounds, originating from Palm Wine Music, which arose on the West African coast. Caribbean, Portuguese and Spanish sailors, bringing their guitars and traditional music, influenced local musicians, creating a new synthesized musical alliance. The lyrics often revealed important messages and stories passed down through elders. It was a time where music had the power to deliver wisdom, social commentary, and effect change.
Local palm wine sellers and musicians blended indigenous Ghanaian music with foreign genres, using Western instruments to create what we now know today as highlife. The legendary Ghanaian highlife artist Gyedu-Blay Ambolley grew up during this experimental era. We spoke on how his environment and upbringing impacted on his original sound. He gave me an insight on how he began his journey with Highlife music.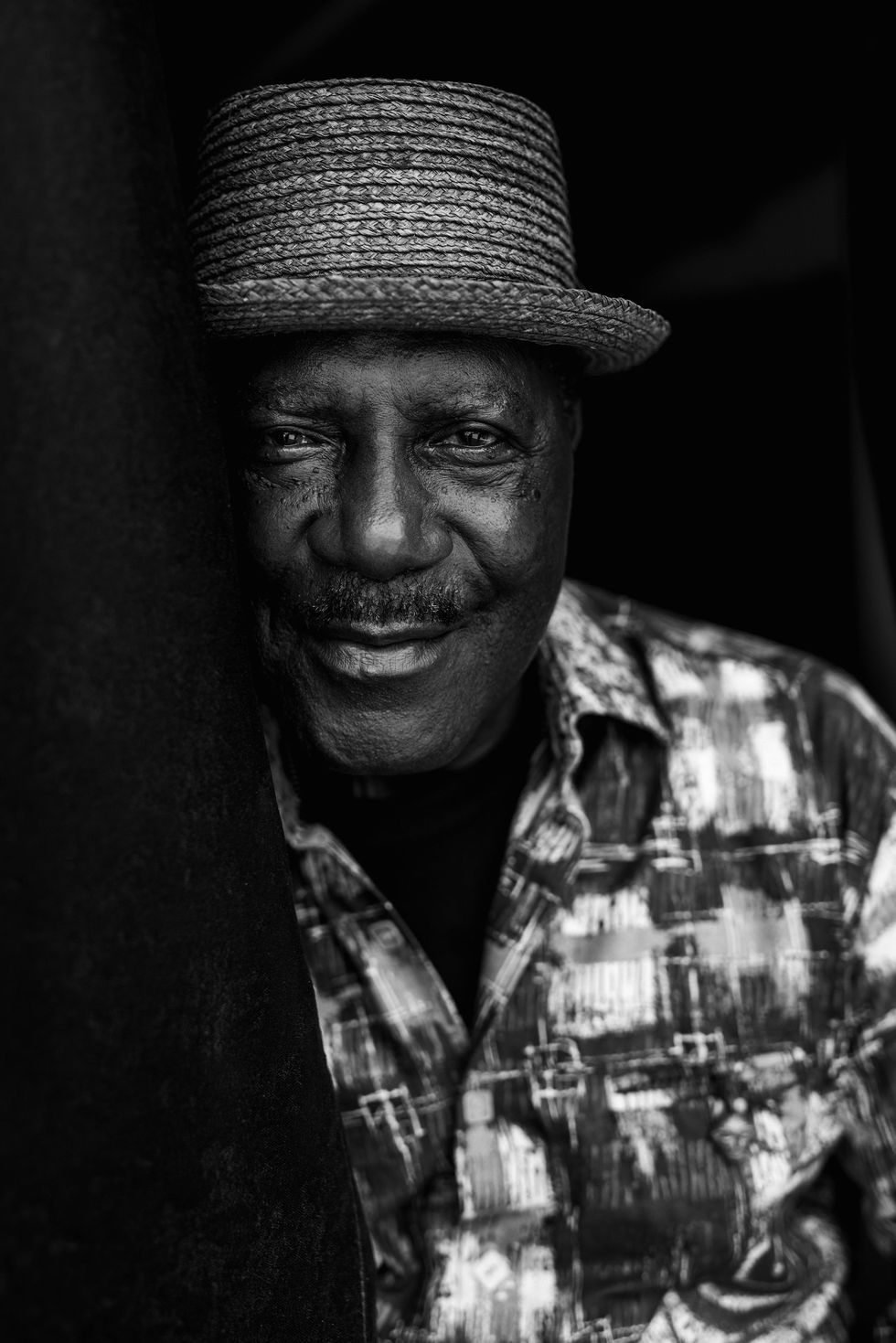 Gyedu-Blay AmbolleyPhoto: Chantal Azari.
"Ghana has been the basis of most of the music that we heard coming from the diaspora," says Gyedu-Blay Ambolley. "I'm talking about calypso, jazz, funk, salsa. I've been exposed to all these forms of music. Where I grew up was in a port city, people were working on ships that were traveling outside of Ghana and coming back with music. This exposed me to jazz and funk music. All of these genres were coming from North, as well as South America. At any given time that I wanted to compose music, all these forms of influence came into it."

"It's a blend, like cooking soup," Ambolley continues. "If you have good ingredients the soup will become tasty. That's how it is with my music. To me, my experimentation is in everything I do. Even when I was outside of Ghana it led me to know that people can feel themselves through my music."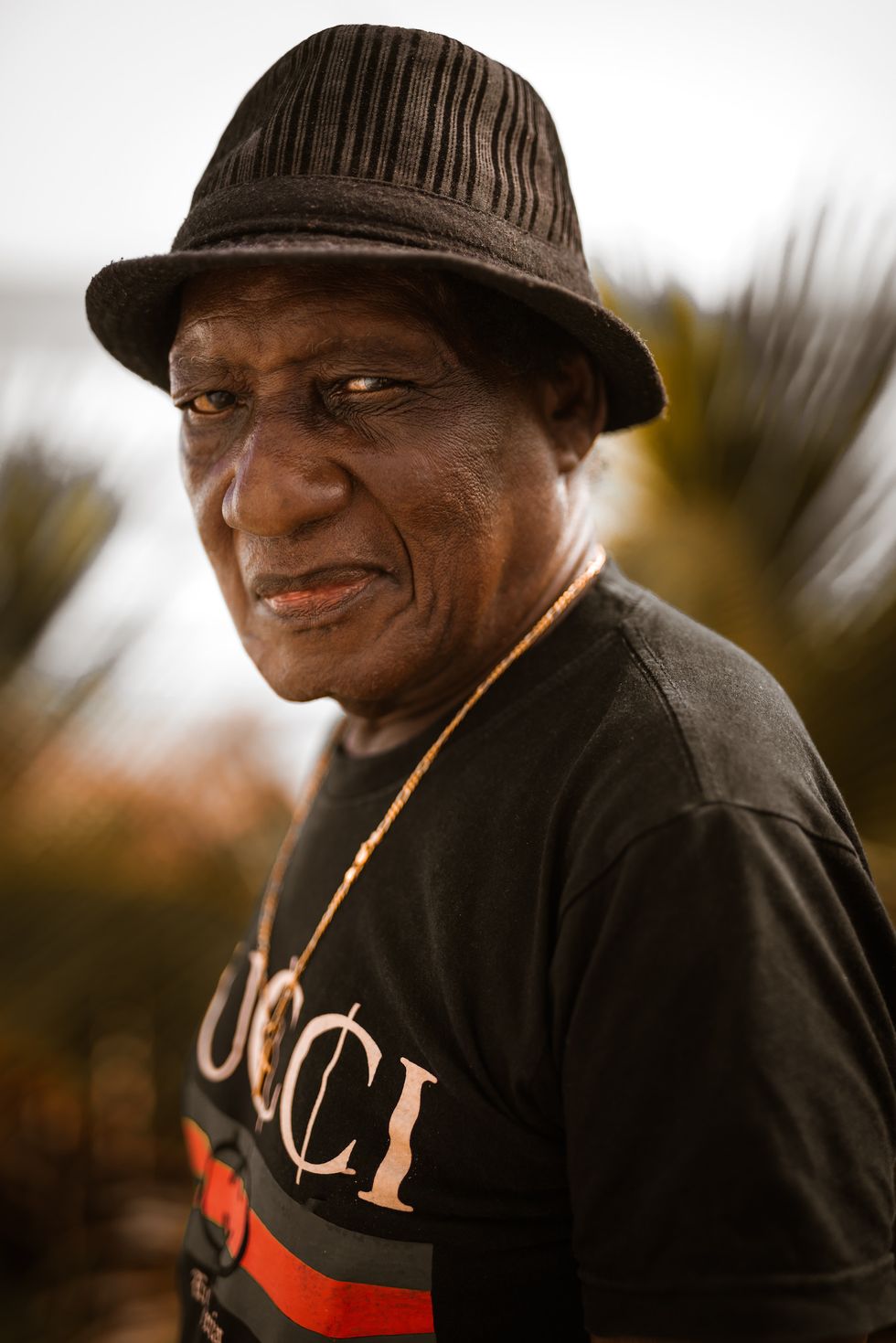 Ebo TaylorPhoto: Chantal Azari.
Highlife's effervescent sound started in Ghana, birthing the pioneering likes of Ebo Taylor, Jacob Sam, C.K. Mann, Appiah Adjekum, Nana Ampadu, A. B. Crentsil and many more. It quickly dispersed to other West African countries, most notably Nigeria, influencing many artists such as the king of afrobeat, Fela Kuti, who was first inspired by highlife.

During his musical development, Fela created a highlife band called the Koola Lobitos. At the time, many artists coming out of Nigeria were also creating highlife, such as Victor Olaiya, Orlando Julius, Rex Lawson, Bobby Benson, and more. It became and remains popular today, providing infectious dance music for all occasions, ceremonies, and celebrations. As you walk through the vibrant streets of Ghana, you will hear the rhythms and vibrations of this compelling sound. A true gem sitting in plain sight.
On my recent visit to Ghana, I chose to explore how highlife has influenced the current sound of a new generation of artists. I photographed and interviewed some of the rising talents coming out of Accra to discover their perspective. Ghanaian chart-topping recording artist, King Promise, explains his upbringing and the inspiration which led to the creation of his immensely popular music.

"I grew up on highlife music, which plays a major role in the direction of my sound and that's mainly because of my environment," explains King Promise. "The way of life and growing up in Ghana has shaped me musically. When you listen to my sound, you hear a blend of highlife, R&B, dancehall and, to some extent, hip-hop! I grew up on so much diverse music that all of these influences have molded me into the artist I am now. Some of my heavy influences are Ofori Amponsah, Kojo Antwi, Drake, Sarkodie, Chris Brown, John Mayer, and R2bees, just to name a few."

West African music today has many sub-genres beyond just afrobeats. The history of migration can be traced through the music. Artists started to travel outside of Africa and absorb foreign influences such as rock, pop, funk, and more, incorporating these styles into their music.
Later, in the early '90s, live music took a back seat in Ghana and the younger generation began producing computer-generated music called hiplife. This interpreted mix of highlife with the American influence of hip-hop and R&B created an exciting new urban culture amongst the youth. An emerging new party scene filled the clubs and bars, influencing the fashion and lingo.
Many new artists cultivated their sound in this new and culturally immersive space, surfacing acts such as Ofori Amponsah, Kofi Nti, Daddy Lumba, Obrafour, Kojo Antwi, Daasebre Gyamenah, and the list goes on. Ghanaian megastar, KiDi, has created a unique fusion of these traditional and contemporary influences. We spoke on how the artists listed above would inspire a lot of the young talent coming out of West Africa today.
| | |
| --- | --- |
| KiDiPhoto: Chantal Azari | |
"My dad was a huge Daddy Lumba fanatic, he was obsessed," mentions KiDi. "Every morning I would wake up to him playing a Daddy Lumba record. I didn't know who he was, but passively you keep hearing these songs every day and singing along to them. When I went to primary school I started to listen to R&B music a lot, from Chris Brown to Usher and Neyo. I would say my inspiration is a fuse of foreign R&B artists and local highlife artists. I love R&B, if I lived in another country, I would probably be an R&B artist. In Ghana, you need to always find the middle ground, never compromising on your talent whilst still giving the people what they know."
In the digital age, sampling became all the rage. In the same way that highlife was born by way of Palm Wine Music, the new generation had found creative ways to repurpose music that inspired them and blend it with their styles. Many popular African artists, such as Wizkid, borrowed from legendary highlife and hiplife melodies and lyrics. His song "Manya," for instance, was heavily inspired by the hiplife group VIP's well-known song, "Ahomka Wemu." Recently, this same song was sampled by Nigerian-British Afropop artist, Kida Kudz, with his song entitled "1 AM."
Burna Boy became the king of sampling, often using remixed afrobeat and highlife references in his music and particularly channeling Fela. For example, his popular song "Soke" sampled Fela's famous track "Lady." King Promise also combines old and new, with his recent collaboration with legendary highlife artist Kojo Antwi with their original song "Bra."
Photo: Chantal Azari.
Highlife and afrobeat have been pulled, interpreted and recreated for decades. Many don't know the origins of their current favorite afrobeats records. Afrobeats, being the banner under which many Nigerian and Ghanaian artists have gathered is now, more than ever before, gaining global recognition. It's our individuality is what makes us great.

As a creative, I also seek inspiration from old and new. I strive for my photography to portray a timeless approach. I aim to not copy but absorb, feel and decipher my inspirations to create a style that is personal to me. It is paramount to keep the originals alive but also is of significant importance to be respectful to the pioneers and find our own way. Gyedu-Blay Ambolley is the perfect example of this. His hybrid style of highlife, funk, soul, and rap allowed him to stand out during a time where the demand for highlife was saturated. He explained to me the importance of originality whilst also taking the time to learn from the ones who paved the way. Here are his thoughts and wisdom on the new age of music.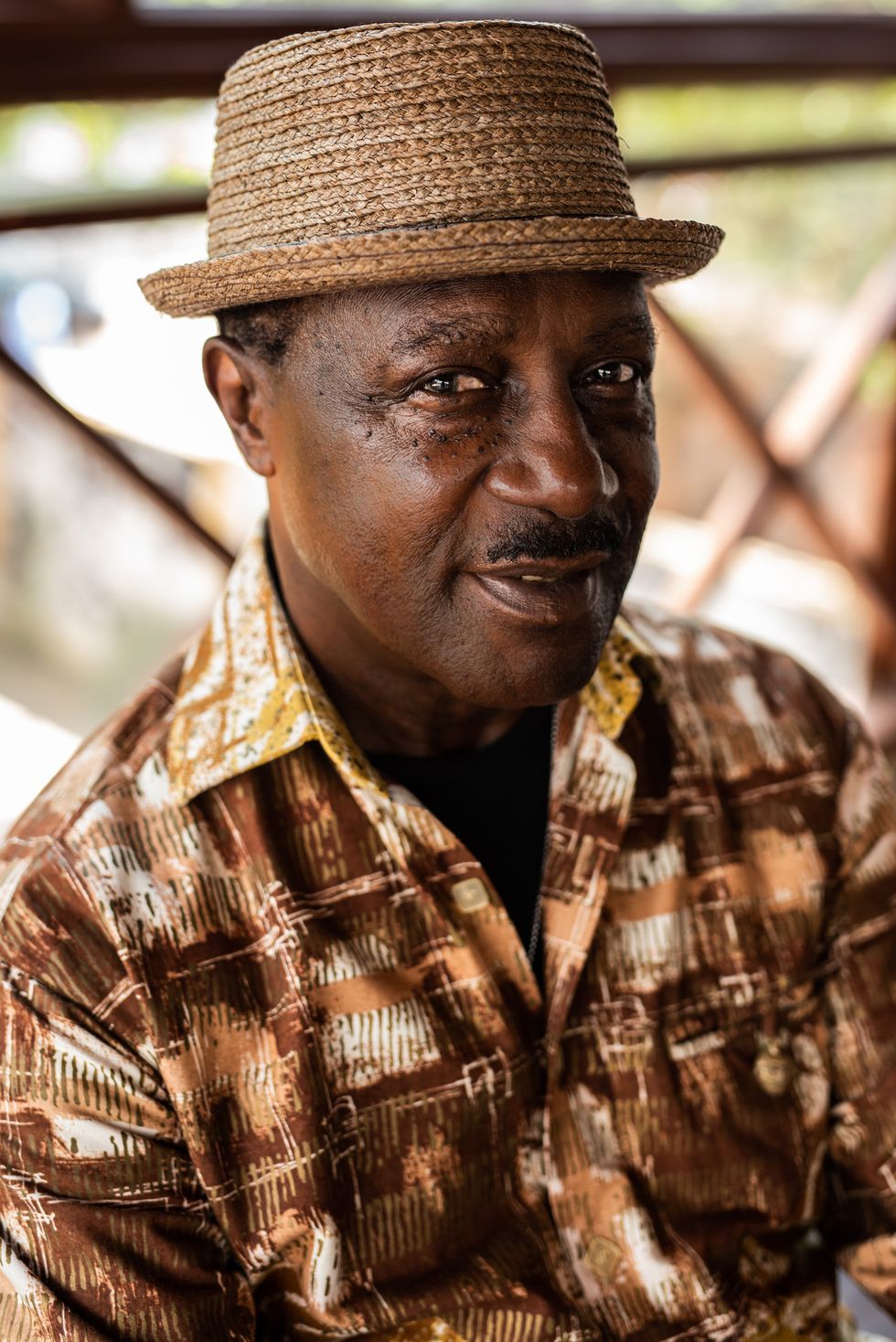 Gyedu-Blay AmbolleyPhoto: Chantal Azari.
"I listen to the younger ones, but it seems like some of the younger ones don't know what is music. They are capitalizing on the sounds that have already been put into the computer, forgetting that those who made the computers and put those sounds in are not Africans. The computer as a machine is there, you have to utilize it for your own benefit," Gyedu-Blay Ambolley mentions.

"My message to the younger generation is that music is a language, you have to learn the language of music, you have to learn the rudiments of music, you have to learn the instrumentation, the composition, arrangements and all of that," Ambolley continues. "If you know all of this, it strengthens you up to be able to portray all you have. You need to be armed with the knowledge of music, so when you go out there, you can let them know this is where I am coming from, this is what we have and this is what I'm going to give you."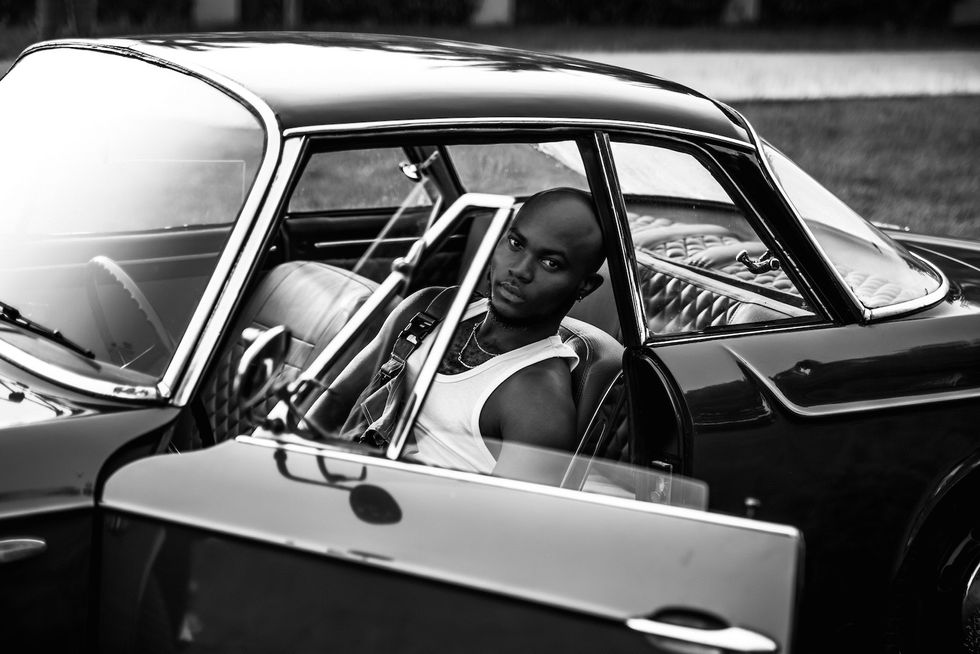 King PromisePhoto: Chantal Azari.
"Life inspires me to create! I believe whatever I write/create has to mean something to someone," adds King Promise. "People should be able to connect with the music. I'm always writing about things we all experience, the good, the bad, joy, heartbreak, everything we all go through. Things we can all relate to. Sometimes they are my own stories, sometimes it's something a friend has experienced or even something I might have seen on tv. Bottom line is that people should be able to feel and relate to the music."
Cameroonian/German artist T'Neeya is currently living in Ghana, creating a charming fresh spin on afrobeats. With her bilingual lyrics and distinct soulful voice, T'neeya has impressively added her original contribution to the genre. I spoke with her to find out what provokes her creativity.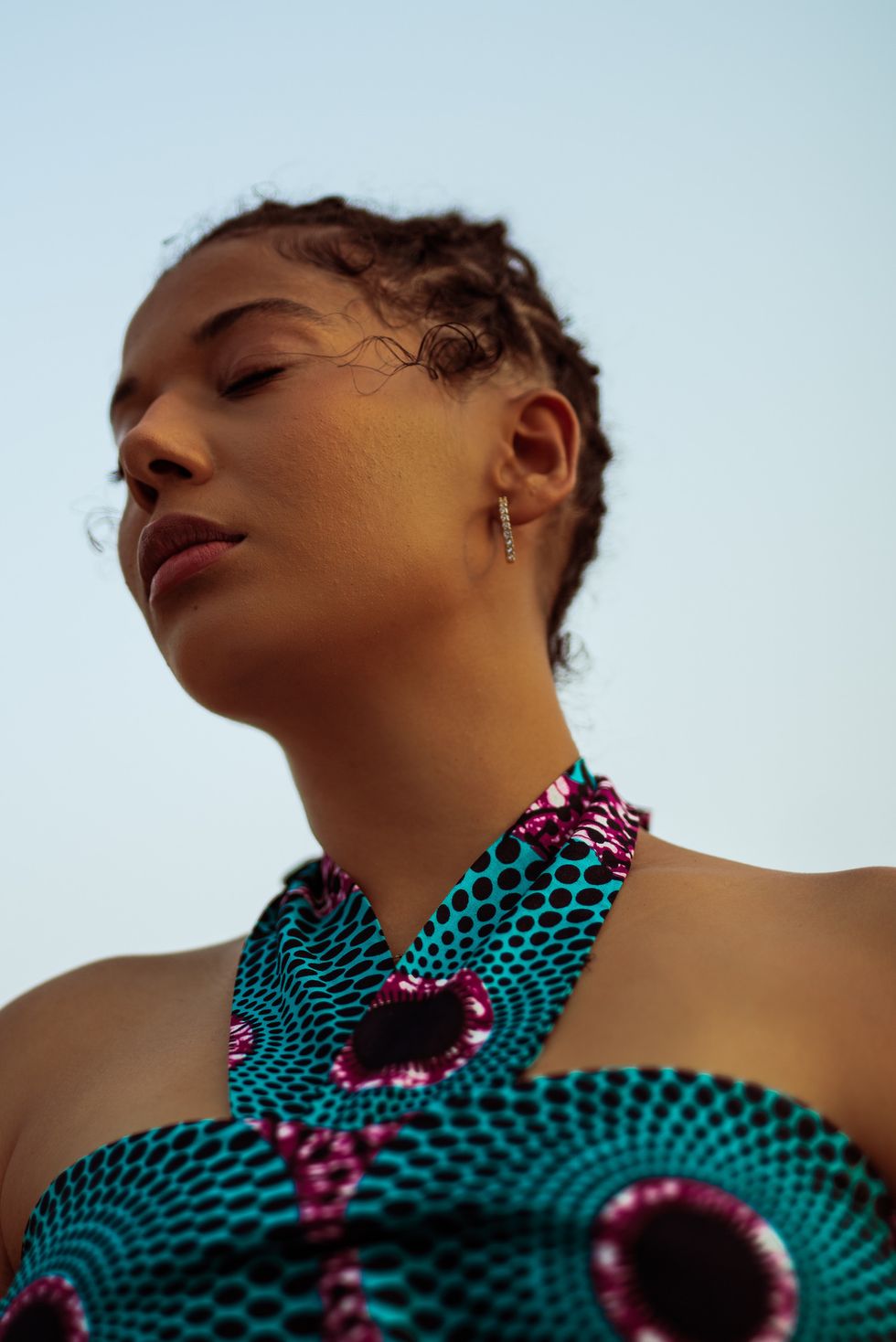 T'neeya.Photo: Chantal Azari.
"I travel a lot, the people I meet and my experiences have influenced my music," T'neeya mentions. "In Ghana, it would definitely be the people and the culture. Growing up I would listen to many styles of music such as makossa, pop, zouk, and afrobeats to name a few. If I could work with any artist dead or alive It would have to be MJ or Bob Marley. I also still have a long list of artists that I want to work with in the future!"

Music is a product of your environment. It is one of the many things that can subconsciously shape you as a human. It controls your interests, your style, and even your outlook. As an African, music runs through my body and spirit. It is more than a sound, it is a vivacious feeling. It is planted deep in our roots and culture, passed down from our ancestors and handed to us as a colorful interpretive gift. It is what we do with it that will shape our culture and the future for generations to come.
"I would like to be remembered by the guy who delivered nothing but great music," says King Promise, "that elevated Ghanaian/African music to world standards! People like Wizkid, Mr Eazi, Burna Boy, are doing this very well right now and I intend to carry on and even hopefully take it a notch higher by God's grace."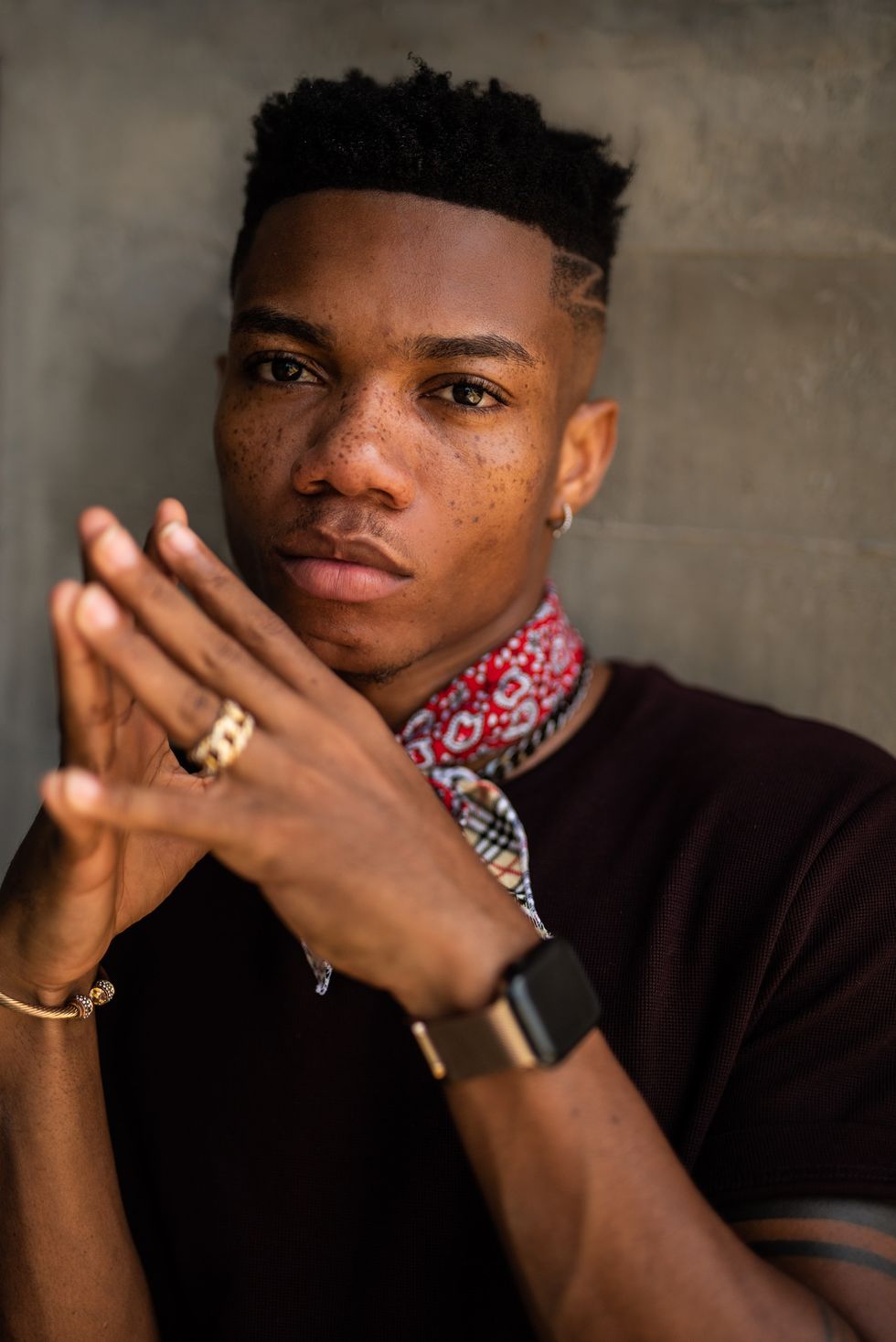 KiDiPhoto: Chantal Azari.
"I always tell myself that it should go beyond music," mentions KiDi. "If one day I am no longer here, I love the idea that my music will live on. I always want to have something more than just music. People should remember me not just for the records I put out but something greater, a bigger vision. Whatever path I add on should complement my music, it should be just as big as the music so that when I'm gone people feel my absence. I'm just praying to God that he gives me the strength to achieve all of these things. "

"The remembrance of me is going to be what I'm doing now. Whatever that I am doing, I'm truthful to myself and the music that I put out. Even in Ghana, I have been able to make my mark with my experimental style. The language and dance that I have created will live on. Even children call me by the language of my music. These children weren't even born when I made this music, for them to now be a part of it I think is a great achievement. It means I'm leaving something for them to remember. Whatever I am doing, I think my music will leave my name in the realms, not only in Ghana. I know by the end of it when they look back at the names of the big African musicians like Fela, they will remember Ambolley too. I know that will happen, my name will be part of it, I have the confidence in that."