This year, although only seven months in, has and continues to be an eventful one across all fronts. While the entire world is collectively reeling from the effects of the ongoing COVID-19 pandemic, there have been considerable shifts on the socio-political landscapes of many African countries. As a result, there have been a number of mass demonstrations taking place across the continent as those who are fed up by the alleged corruption, increasing poverty and inequality at the hands of their respective governments, have said "no more". From anti-government protests in Algeria to youth protests against police brutality in Kenya, here is a list of the major protest action currently taking place (or that has already taken place) across the continent.
This list is in no particular order.
---
Ethiopia, January 2020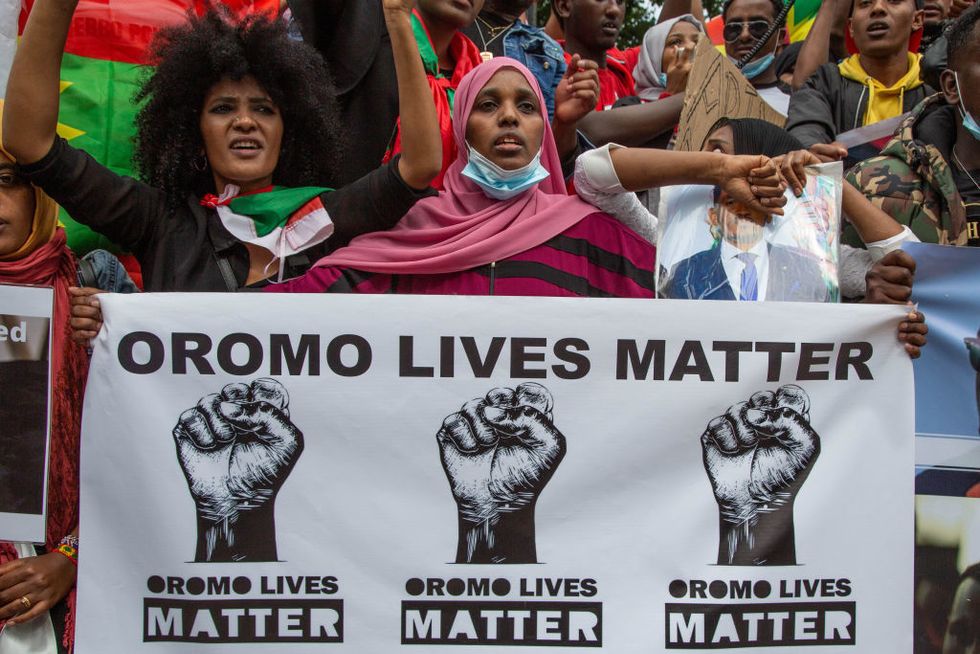 Protesters holding a banner saying, Oromo lives matter,
Photo by Thabo Jaiyesimi/SOPA Images/LightRocket via Getty Images.
Ethiopia's most recent protests come after the death of popular Oromo musician Hachalu Hundessa, whose music is credited for giving voice to the Oromo Lives Matter movement. Hundessa was gunned down last month in Addis Ababa although the details around his death are not yet known. Almost two weeks ago, protests erupted in the Oromia region and led to the death of at least 145 civilians and another 10 in the capital, according to the BBC. Ethnic tensions in Ethiopia continue to worsen under Prime Minister Abiy Ahmed.
At the beginning of this year, thousands of Ethiopians took to the street to protest against the government's failure to locate 18 students who had been abducted towards the end of 2019. The students, who are from the Amhara community in the northern parts of Ethiopia, were studying at Dembi Dollo University. Although some believed that the Oromo Liberation Army was behind the abductions, the army refuted the allegations and cast the blame on the government instead.
Guinea, January 2020
Protesters confornt the army in the streets in Conakry on March 22, 2020, during a constitutional referendum in the country.
Photo by CELLOU BINANI/AFP via Getty Images.
There have been massive anti-government protests in Guinea since last year. The protests come after President Alpha Condé announced that his government would be looking into a new constitution which would allow him to remain in power for a third term. The protests, which are largely concentrated in Conakry, Boffa and N'Zerekore, have resulted in the deaths of at least seven people thus far. Additionally, six protesters were recently killed following clashes with the police over measures put in place to curb the spread of COVID-19. Citizens were reportedly frustrated by alleged corruption at the hands of authorities.
Zimbabwe, January 2020
A doctor with a loud hailer shouts slogans during a protest march by senior medical doctors in Harare, on December 4, 2019.
Photo by JEKESAI NJIKIZANA/AFP via Getty Images.
Anti-government protests have been taking place in Zimbabwe since last year. While the government, under current President Emmerson Mnangagwa's leadership, has been condemned for the police violence targeting protesters from the opposition, there have been additional protests led by health professionals in the country. Doctors downed their tools and took to the streets for over four months demanding better pay and working conditions––conditions which have only worsened during the COVID-19 pandemic. The protests eventually came to a halt when Zimbabwean telecoms billionaire Strive Masiyiwaannounced that he would set up a fund which would help doctors manage living costs.
Fresh protests threaten to erupt, however, following the arrest of prominent journalist Hopewell Chin'ono whose work has exposed the alleged corruption by the government during the ongoing COVID-19 pandemic. Chin'ono was arrested alongside opposition leader Jacob Ngarivhume and kept on charges of "incitement to participate in public violence".

The Gambia, January 2020
Demonstrators against the regime of Yahya Jammeh, the former President of the Gambia, gather in the streets during a demonstration asking for Yahya Jammeh to be brought to justice in Banjul on January 25, 2020.
Photo by ROMAIN CHANSON/AFP via Getty Images.
The protests in The Gambia are complex. Initially, protests at the beginning of this year were in support of former President Yahya Jammeh's safe return from exile after the politician claimed he had been "driven out of the country". Jammeh ruled the West African country for over two decades and subsequently lost to current President Adama Barrow in the national elections back in 2017. On the other hand, many other Gambians, along with the Gambia Center for Victims of Human Rights Violations, insisted that Jammeh return so that he could be arrested, charged and prosecuted for the crimes committed during his rule. There have also been continued protests calling for President Barrow to step down. After being sworn into office in 2017, President Barrow was only meant to be in office for three years. However, he has recently backtracked on that commitment which has subsequently given rise to the "Three Years Jotna" movement.
Liberia, January 2020
Liberia has been engulfed in anti-government protests for a while. Protesters have called for current President George Weah to resign following what they describe as a failure to resolve the country's dire economic situation in addition to rampant corruption by government officials. Back in June of last year, Liberians protested for the first time since President Weah took office in 2017. Failing to adequately address an investigation which uncovered the disappearance of millions of dollars, the government then restricted internet and social media access shortly before the protests took place.
Uganda, February 2020
Stella Nyanzi (C), a prominent Ugandan activist and government critic, is arrested by police officers as she organised a protest for more food distribution by the government to people who has been financially struggling by the nationwide lockdown imposed to curb the spread of the COVID-19 coronavirus, in Kampala, on May 18, 2020.
Photo by SUMY SADURNI/AFP via Getty Images.
There have been numerous protests which have taken place in Uganda since last year. Students at Makerere University staged "Fees Must Fall" protests towards the end of 2019 while anti-governments protests against President Yoweri Museveni have been led by opposition leader Bobi Wine earlier this year, in the run-up to the 2021 presidential elections. More recently, activist Stella Nyanzi was arrested after protesting against the slow distribution of food during the country's lockdown.
Algeria, March 2020
People chant slogans at a weekly anti-government demonstration in the capital Algiers on March 13, 2020.
Photo by Billal Bensalem/NurPhoto via Getty Images.
Protests in Algeria began last year in February shortly after then President Abdelaziz Bouteflika announced that he would be running for a fifth term in office. While the statesman eventually stepped down, following a two-decade long rule, mass demonstrations continued every week thereafter with protesters demanding that his entire government step down as well. In March of this year, protesters called off the weekly demonstrations for the first time in over a year amid the COVID-19 outbreak.
Mali, April 2020
There have been ongoing anti-government protests in Mali as protesters call for political reforms and the resignation of current President Ibrahim Boubacar Keita. This comes after Malians headed to the voting stations in a long-delayed election this March. At least 11 people have been killed in the most recent protests where police and security forces used lethal force to disperse crowds of protesters. Both regional and international bodies have condemned the use of lethal force by the Malian government with the presidents of Senegal, Ivory Coast, Ghana, Nigeria and Niger set to meet with President Keita in the hopes of mediating the ongoing conflict. The West African country has been engulfed in jihadist conflict since 2012 and at least 600 civilians have been killed as a result.
Namibia, October 2020
Protesters hold placards while they gesture during the second day of the #ShutItDown Protests, where hundreds of Namibian youth protested against gender-based violence by shutting down Windhoeks Central Business District, in Windhoek, Namibia, on October 9, 2020.
Photo by HILDEGARD TITUS / AFP) (Photo by HILDEGARD TITUS/AFP via Getty Images).
Following the death of a 22-year-old Namibian woman named Shannon Wasserfall, who reportedly went missing in April of this year, Namibian youth have since taken to the streets to protest against gender-based violence (GBV). Dubbed the #ShutItDown protests, demonstrations outside government buildings have been taking place with young women, university students and high school girls at the helm. The Southern African country has reportedly recorded at least 200 cases of GBV every month.
Nigeria, October 2020
#EndSARS: Nigerian protests against police brutality.
Photo by Rachel Seidu.
Over the past few weeks, Nigerian youth have taken to the streets to protest against continued police brutality in the country. The #EndSARS protests have called upon President Muhammadu Buhari to disband the Special Anti-Robbery Squad (SARS) which has been implicated in the harassment, abductions, torture and murder of Nigerians since its establishment back in 1992. However, while there are reports that SARS has been disbanded, these are in conflict with other reports that the Inspector General of Police, Mohammed Adamu, plans to reform the unit instead. Additionally, the 2020 protests are not the first. Protests calling for the disbanding of SARS in Nigeria were reported as far back as 2017.